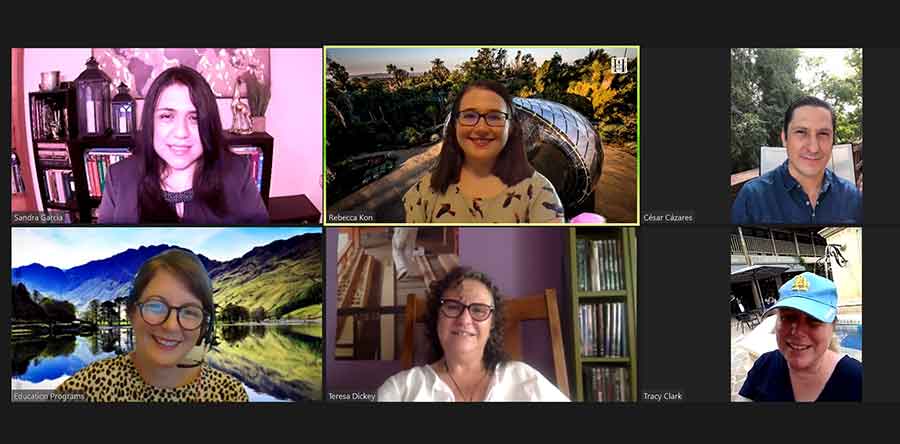 A four-member Teacher Advisory Panel meets regularly with The Huntington's Education staff to develop new classroom resources and lesson plans based on The Huntington's collections. During the pandemic, the meetings have been held online. Top row, left to right: Sandra Garcia, secondary social studies and dual immersion program teacher with the Glendale Unified School District; Rebecca Kon, curriculum development specialist at The Huntington; César Cázares, Spanish teacher at Pasadena Waldorf School. Bottom row, left to right: Louise Hindle, associate director of school partnerships and programs at The Huntington; Teresa Dickey, English instructor at Marymount High School, Los Angeles; Tracy Clark, English teacher at Torrance High School. Photo by Rebecca Kon. The Huntington Library, Art Museum, and Botanical Gardens.
Notebook paper, No. 2 pencils, colorful new backpacks. Hand sanitizer? Some back-to-school essentials never change, but the COVID-19 pandemic has turned an annual rite on its ear. Many students are returning to their classes via laptop computers at home, while others have added face masks to their back-to-school wardrobe. For museum educators, the start of the academic year looks very different, too. There will be no familiar yellow school buses pulling up at the curb, filled with excited children embarking on docent-led tours.
And that has presented educators at The Huntington with some fresh challenges as well as exciting opportunities. The result is an array of innovative new resources for teachers, activities for students and families, and programs for lifelong learners.
In any "normal" year, The Huntington hosts nearly 20,000 student visits, including 15,000 children participating in free docent- or educator-led programs. "The opportunity for students to visit a museum and be introduced to art, culture, and botany—often for the first time—is an important educational tool," says Louise Hindle, associate director of school partnerships and programs. "School programs are about providing students with opportunities to interact with the world and to build their own understanding of how a museum's collections connect with their lives."
The 2020 school year, however, promises to be anything but normal. And that, says Hindle, meant quickly shifting gears, working as a team, and taking a fresh approach.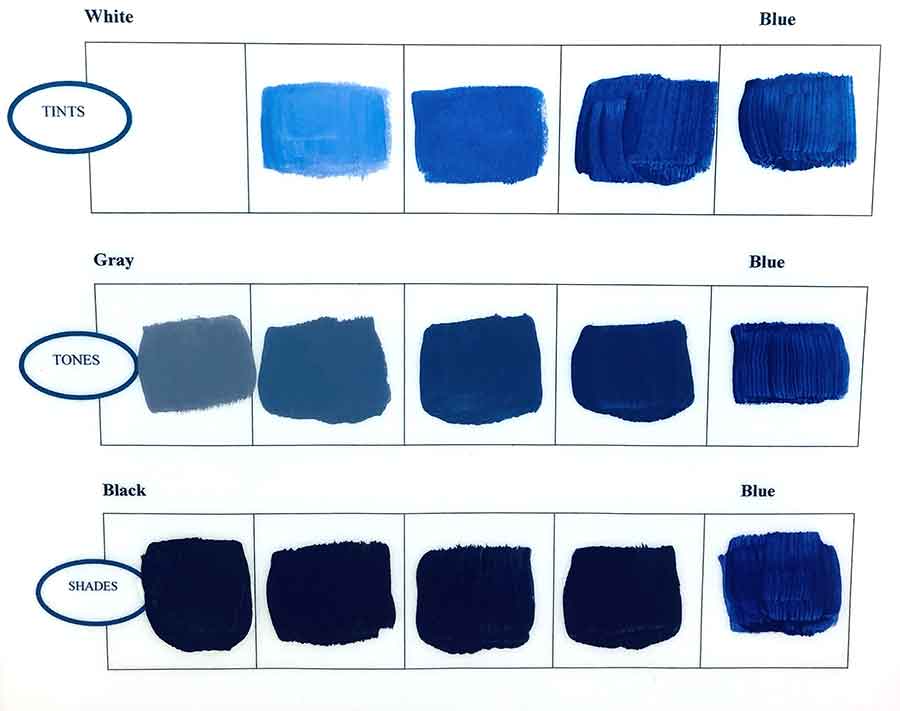 Interdisciplinary activity guides were developed for teachers to help students dive deeper into the collections. One new guide focuses on the art and science of painting conservation, inspired by the recent "Project Blue Boy" exhibition, and includes an activity in color mixing to achieve different tones, tints, and shades. The Huntington Library, Art Museum, and Botanical Gardens.
"We've had to think creatively about what we do and implement innovative strategies that involve new technology," explains Amanda Hernandez, school partnerships manager. "Since we will not be taking students inside the gallery spaces, we've had to look at the collections through a different lens, identifying objects in the collection that will work for virtual experiences."
The "virtual experiences" got underway in June when the first of three summer institutes for teachers, "Huntington Voices," moved to the Zoom video conferencing platform. Eighteen K–12 instructors spent a week learning how to use The Huntington's digital collections creatively to develop lesson plans designed to strengthen their students' voices through writing, performance, and the visual arts. Two more summer institutes followed—"Nature, California's Place, and the American Dream," and "Huntington Scientists"—serving a total of 51 teachers.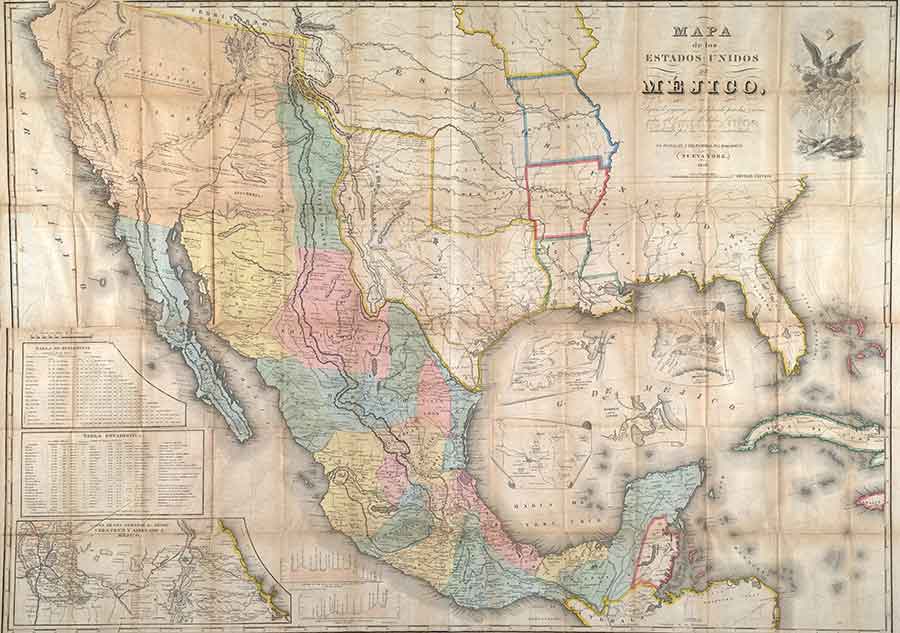 An 1847 treaty map used to redraw the border after the Mexican-American War is one of the primary source materials from The Huntington's collections used in a new lesson plan for teachers. Students evaluate the ways these primary sources either challenge or support the U.S. government's justification for the conflict. The Huntington Library, Art Museum, and Botanical Gardens.
"We had teachers doing activities on screen with us, sharing ideas in chat boxes, and going in to Zoom break-out rooms to plan resources," Hindle says. "They enjoyed the content as well as the pedagogy; and they commented that, at this moment in time, being able to collaborate and see one another's faces—without a mask—was nice. It made the experience feel more intimate and connected."
A number of new classroom resources, created by teachers and for teachers, were developed in collaboration with The Huntington's four-member Teacher Advisory Panel, a group of Los Angeles area instructors appointed to the inaugural panel in 2019 and serving a second term this year. They have worked closely with Hindle and her colleagues to craft lesson plans in line with state and national standards. One example is a new lesson titled "Texas, Polk, Lincoln, and the Mexican-American War," authored by panel member Sandra Garcia, a social studies and dual immersion program teacher with the Glendale Unified School District. In the lesson, students in grades 8–12 analyze maps and government documents in The Huntington's collections, evaluating the ways these primary sources either challenge or support the U.S. government's justification for the territorial conflict that roiled the Southwest from 1846–48 and redrew the border between Mexico and the United States.
Other new resources, for both classroom at at-home instruction, include a series of activity guides that explore the intersections of art and science in the collections—from the "Orbit Pavilion" exhibition and rare astronomy works in the Library to the art of painting conservation, as seen in the recently completed project to conserve Thomas Gainsborough's masterpiece, The Blue Boy . The Learning at Home series offers standards-aligned video content, virtual tours, and activities for students that support remote learning.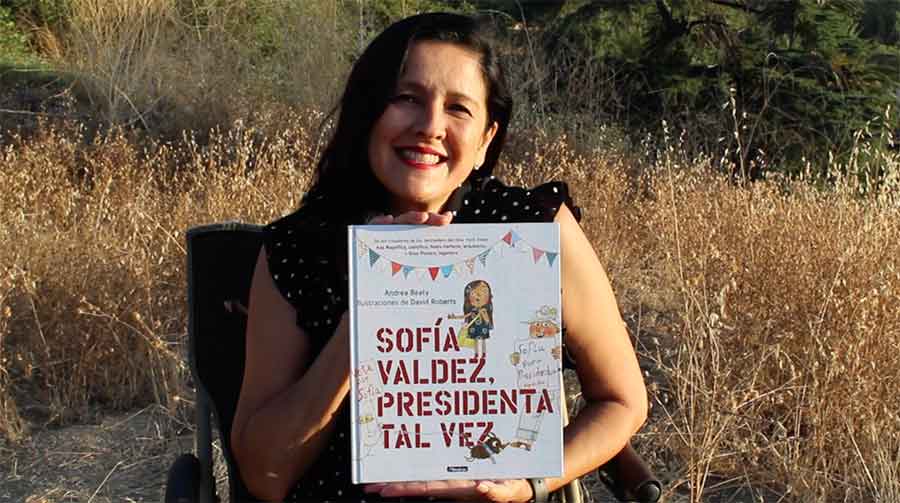 Guest storyteller Cris Lutz from The Huntington's Advancement office reads the Spanish-language children's book
Sofia Valdez, Presidente Tal Vez
(Sofia Valdez, Future President) in a recent video offering. A reading of the same book in English is also available. The Huntington Library, Art Museum, and Botanical Gardens.
And making its debut Sept. 8 is The Huntington Comes to Class, a program that provides teachers and students with live, virtual learning sessions presented by Huntington educators. Designed to engage students in active inquiry, conversation, and close-looking at Huntington primary sources, these sessions are available by reservation and can be booked by teachers online.
Of course, not all education takes place in a classroom, virtual or otherwise. Nor is it limited to the school year. Kate Zankowicz—manager of youth, family, and community engagement—faced the challenge of how to make learning experiences accessible to The Huntington's broad audience, from the very youngest learners to adults, after the pandemic forced in-person programs and workshops to be shelved in March.
"The Huntington is 130 acres of amazing, and it is a full-body, multisensory experience," Zankowicz says. "How do we bring that to a screen?" The answer: with a great deal of resourcefulness and imagination. She and her colleague Joy Harding learned how to produce cellphone videos at home and introduced a popular Story Time series, spotlighting books for young readers on collections-related themes. They tapped into social media with the Creativity Lab, sharing fun at-home projects via Instagram, with illustrated how-to posts for making "leaf buddies," plant collages, mix-and-match word poems, talking cactus cartoons, and more. Selected programs for adult learners also moved online, including a video version of the popular ArtBites cooking demonstrations by chef Maite Gomez-Rejón. (Avocado-coconut sorbet, anyone?)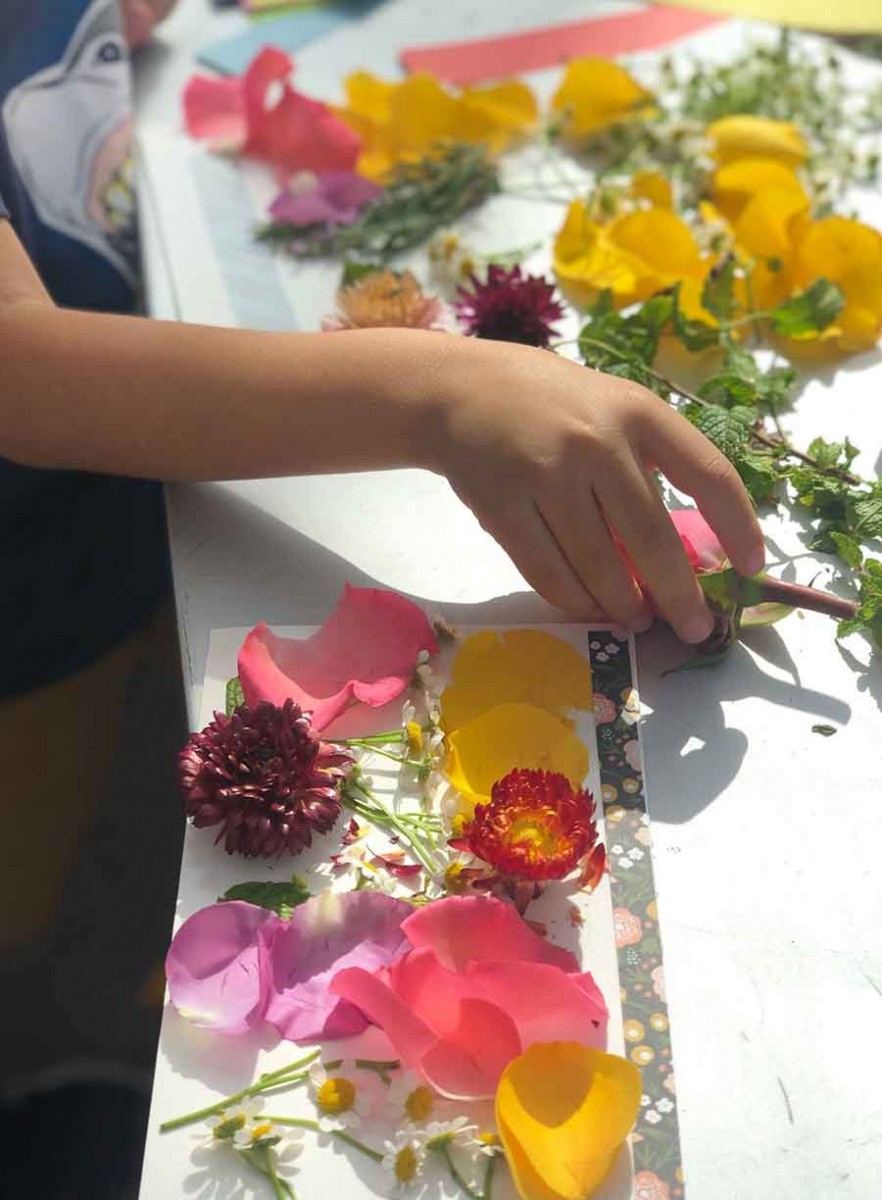 The Creativity Lab series, shared via Instagram, features activities for children and families to enjoy at home, such as making fragrant plant collages. Photo by Maria Ahverdyan. The Huntington Library, Art Museum, and Botanical Gardens.
"We're making sure that the content we develop represents the diversity of Los Angeles and includes multiple community perspectives," says Zankowicz, emphasizing an institution-wide commitment to diversity, equity, and inclusion.
"The pivot to developing online content has meant that more people can be part of the conversation," Zankowicz says, but she acknowledges that online content is not always available to everyone. "The digital divide is real, and many of our community members don't have access to an internet connection to participate in our free online offerings." It's a challenge that educators nationwide have been grappling with during the pandemic, but many school districts and some internet service providers have been stepping up to help.
And what about the volunteer docents who would typically be preparing for the fall influx of students disembarking from school buses for tours in the gardens, galleries, and Library? Temporarily sidelined by the pandemic, they too are benefiting from opportunities for online learning through special lectures and webinars designed to expand their already broad knowledge of the collections. When field trips become feasible again, the docents will be ready.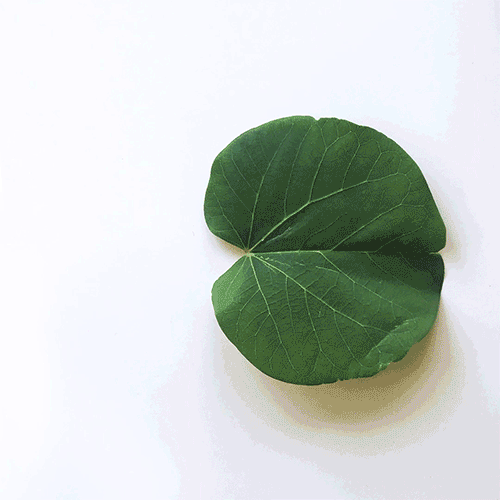 Activities such as "leaf buddies" not only spark creativity but encourage children and families to get outdoors and take a closer look at nature. Photos by Kate Zankowicz; animation by Deborah Miller. The Huntington Library, Art Museum, and Botanical Gardens.

While The Huntington's Education staff and their counterparts at museums around the world have successfully leveraged digital technology to provide cultural connections during an unprecedented time, they long for the in-person experience and look forward to a post-pandemic return to normal.
"The Zoom-based learning I've done personally has left me feeling unsatisfied," Zankowicz admits. "I don't think it can ever come close to being in a place, with a real object or artwork. People are starved for the communal experience. I think there will be an efflorescence in experience-based learning rooted in touching or seeing real things in real time. Screen-based learning won't go away, and it's a great addition to our educational toolbox. But humans are social creatures, and there are lots of people who prefer to learn and experience things with others. Learning, for me, is a profoundly social act."
The Huntington extends special thanks to its Corporate Partners for supporting virtual education initiatives.
Lisa Blackburn is senior editor and special projects manager in the Office of Communications and Marketing at The Huntington.