The Blue Boy
After major conservation project, The Blue Boy is back on view. See it now in The Huntington Art Gallery.
The gardens, store, 1919 café, and select galleries are open. All visitors, including Members must reserve tickets online in advance. TICKETS/INFO >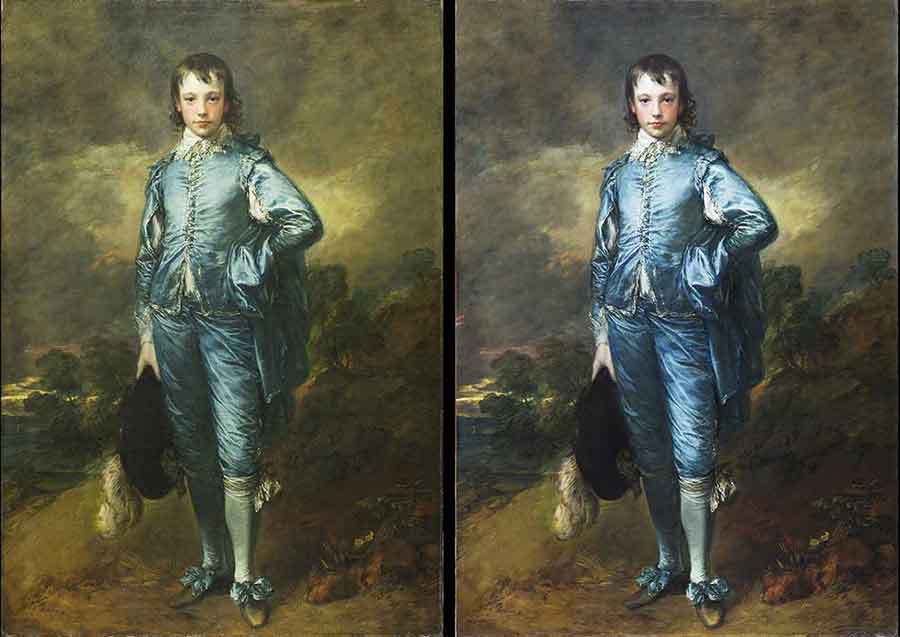 Thomas Gainsborough's (1727–1788) iconic painting first appeared in public in the Royal Academy exhibition of 1770 as A Portrait of a Young Gentleman, where it received high acclaim, and by 1798 it was being called "The Blue Boy"—a nickname that stuck. Henry E. Huntington (1850–1927) purchased The Blue Boy in 1921 for $728,000, the highest price ever paid for a painting at the time. By bringing a British treasure to the United States, Huntington imbued an already well-known image with even greater notoriety on both sides of the Atlantic. But beyond its cultural significance, the painting is considered a masterpiece of artistic virtuosity. Gainsborough's command of color and mastery of brushwork are on full display in the painting, made even more apparent as a result of the conservation and restoration of this priceless portrait in the 18-month initiative and exhibition, "Project Blue Boy ." 
Project Blue Boy
In 2017, conservators began a preliminary analysis of The Blue Boy using a range of imaging techniques. This was followed in 2018 by "Project Blue Boy," a restoration project that offered visitors a glimpse into the technical process of conserving one of Gainsborough's finest works. During the public phase of the project, visitors were able to interact with The Huntington's senior paintings conservator Christina O'Connell while she worked to conserve the painting in-gallery. Now off view for final inpainting, varnish, technical study, supportive backing, and framing adjustment, the project concludes on March 26, 2020, with the restored Blue Boy returning to its original place in the Thornton Portrait Gallery.