Ongoing Water Conservation Efforts at The Huntington
Increasing Efficiency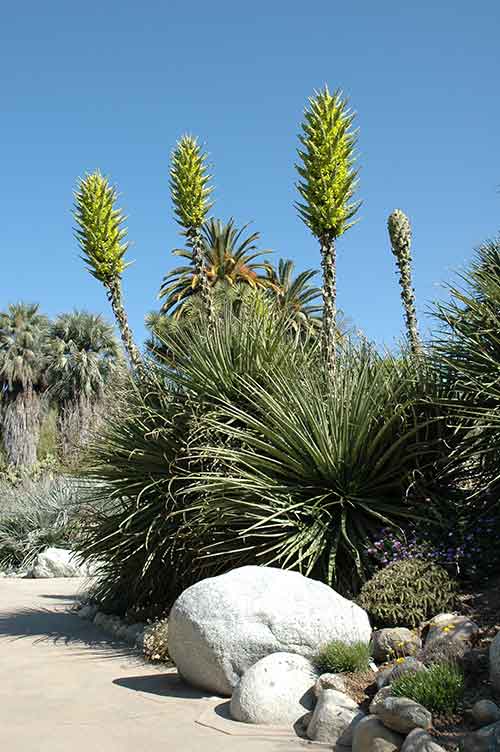 The Huntington has redesigned old irrigation systems to reduce waste, and we continue to retrofit all older systems with more efficient technology. Additional water-saving strategies, such as mulching around plant beds and watering more deeply but less often, have allowed us to reduce water use dramatically in many areas, including the Rose Garden.
Conserving Groundwater
Most of the irrigation water used on the property comes from wells that tap into the Raymond Basin aquifer. In conjunction with the other Raymond Basin groundwater users, The Huntington has reduced its groundwater rights by 30 percent in an effort to help raise groundwater levels.
Highlighting Drought-Tolerant Plants
The use of drought-tolerant plants for landscaping around all new installations is a top priority. The Steven S. Koblik Education and Visitor Center, for example, features six and a half acres of California natives and dry-climate plants replacing the lawn that surrounded the old entrance complex.
Reducing Lawn
Of the 207 acres at The Huntington, about 18 acres historically have been covered with lawn. We are lowering that number by half. We began the process in 2013 by eliminating most of the lawn in the entrance area, and we are continuing this transition by eliminating lawns that are not used for public activities and access. However, lawns play an important role in any botanical garden or historic estate, so we are focusing on maintaining grassy areas that are of use for collections and for visitors.
Partnering with the Community
The Huntington partners with a number of civic and nonprofit entities to share information, resources, and water management expertise. For example, The Huntington and Pasadena Heritage cohosted a meeting that addressed a number of local concerns, including protecting the health of trees during the drought.
Educating the Public
Through classes, workshops, lectures, school programs, and tours, The Huntington shares the expertise of knowledgeable individuals about how to garden sustainably, during droughts and beyond. 
If you have questions or comments please contact us at [email protected] or 626-405-3505.