President's Welcome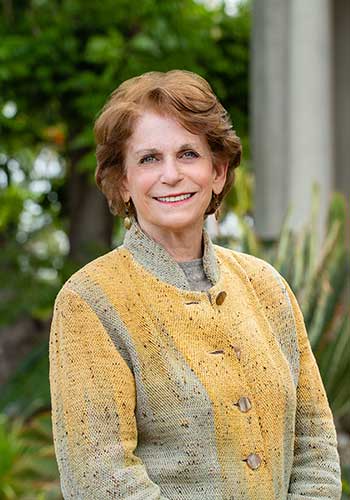 Moving Forward
As we move into what we hope is a final shift away from the COVID pandemic, The Huntington has responded with a renewed fullness of purpose.
To mark the 100th anniversary of the purchase of our Gainsborough portrait, The Blue Boy, we sent the iconic work back to London for a short, but momentous, exhibition at the National Gallery in London that garnered international acclaim. In reciprocity, the National Gallery loaned us a masterpiece by Joseph Wright of Derby, "An Experiment on a Bird in the Air Pump," which we displayed in an exhibition with related objects from our library. This loan fits perfectly with the Huntington's unique combination of historic collections in science and art, and received widespread critical acclaim as well as coverage from NPR and The Wall Street Journal.
In the Library, we installed "Mapping Fiction," an inspired exhibition that explores the way both authors and map-makers build fictional worlds. The exhibition draws on works from our collections, from a suite of maps of Dublin based on Joyce's Ulysses, to manuscript notes and drawings by Octavia E. Butler. The exhibition of maps, diaries and illustrations commemorated the 100th anniversary of the publication of Ulysses, and a well-attended national conference, "Joycean Cartographies: Navigating a New Century of Ulysses," our first since the pandemic ground such gatherings to a halt in 2020, complemented the exhibition. Participants voiced what we, too, had been feeling: it was great to be back in person!
As part of our "Why It Matters" series, initiated three years ago, Board of Governor member Bob Davidson and I interviewed Lonnie G. Bunch III, Secretary of the Smithsonian Institution, before a full house in Rothenberg Hall. The conversation addressed the fundamental question of why libraries and museums like The Huntington and the Smithsonian exist. Secretary Bunch commented that "too often many Americans look for simple answers to complex questions-----and museums, especially museums that explore history – help us embrace ambiguity, help us explore nuance, subtlety, and change."
As spring arrived , the botanical gardens exploded with color and vitality; and, not surprisingly, attendance at the Huntington is the highest it's ever been. Membership, too, has increased to a peak level, at more than 50,000 households.
In the midst of all this activity, we've updated our mission statement and produced a five-year strategic plan. The plan strongly reaffirms our values as stewards of our three unparalleled library, art, and botanical collections that are foundational to our robust research and educational programs. It highlights as well The Huntington's great potential to further share its collections to provide multidisciplinary contexts—historical, cultural, and ecological—for helping us understand contemporary challenges, such as climate change and issues of social injustice, to name two—and to magnify our impact even more widely.
The Huntington is fortunate to have remarkably generous donors and volunteers, enthusiastic members and visitors, and a talented and deeply committed staff. Together, we will support scholarship, foster learning, inspire creativity, and offer transformative experiences for diverse audiences.
Karen R. Lawrence, President