President's Welcome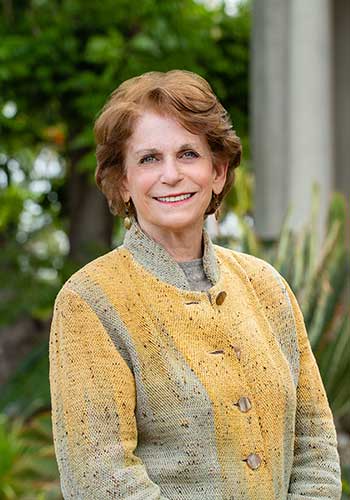 As the Year Turns
In spite of these difficult times, the transition from 2021 to the new year provides an opportunity to reflect on all we've accomplished together. Although 2021 opened amid a COVID-19 surge, there was much promise for vaccines, yet uncertainty as to when they would become widely available. Nevertheless, we persevered. As we were greeted by countless individuals thanking us for keeping the gardens open, we realized that we are a critical respite for many during a very challenging time. I continue to be humbled by the hard work of the staff, who has kept The Huntington functioning through it all.
It has been more than one year since the first COVID-19 vaccine was given in the United States, and—despite the recent and worrisome Omicron surge—the vaccines have made a huge difference. In April, with the pandemic finally relenting in LA, we were fortunate to be able to reopen our galleries and finally show visitors Thomas Gainsborough's restored Blue Boy. Following 800-plus hours of painstaking work by paintings conservator Christina O'Connell, Gainsborough's portrait continues to dazzle and charm.
Simultaneously, we opened "Made in L.A. 2020: a version," which was delayed for 10 months because of the pandemic. A collaboration with the Hammer Museum, the show was met by critical acclaim, drew thousands of visitors, and showcased 30 artists, several of whom created works in specific response to The Huntington's collections. These artists demonstrated the ongoing relevance and inspiration that our collections provide for contemporary artists as well as scholars. In October, we installed Kehinde Wiley's new work, A Portrait of a Young Gentleman, a response to the Blue Boy himself, with the present speaking to the past, across 250 years of history. This, in a nutshell, is the essence of The Huntington.
We also collaborated with the Los Angeles Public Library and Library Foundation of LA to create an installation in Chinatown, showcasing works in both LAPL's and The Huntington's collections that provide a window into Chinatown's fascinating and complicated history. Consisting of a fence-wrapped installation at a vacant lot, this project includes an online component as well. The possibilities for additional off-site experiences are great, given the nature of our collections and the multitude of stories we can tell.
Here on-site, we continued to roll out new features in the Chinese Garden: a new art gallery with an inspiring inaugural exhibition, "A Garden of Words," focusing on the art of Chinese calligraphy; as well as a great new restaurant adjacent to the gallery, the Jade Court Cafe.
In August, we partnered with our colleagues at the California Science Center, transporting one of our about-to-bloom and wildly popular Amorphophallus titanum plants (aka Corpse Flower) to the center so that visitors there might experience this wondrous and endangered botanical phenomenon. Collaboration continues to be a key focus for The Huntington to achieve greater reach and impact.
We also announced a major new chapter in our ongoing partnership with The Ahmanson Foundation, which is committed to providing funding to augment our collection of historic masterpieces in ways that will inspire our visitors and future generations. The inaugural purchase resulting from this new agreement was the monumental Thomas Cole landscape Portage Falls on the Genesee (ca. 1839).
More recently, we've reopened the Library Exhibition Hall, where we display remarkable works in our collection: the Ellesmere Chaucer, Gutenberg Bible, and Audubon's magnificent Birds of America, along with some new documents of significance, including the work of Octavia E. Butler, and material from the Y. C. Hong archives and civil rights attorney Loren Miller.
During this time, work on our 320-year-old Japanese magistrate's house continues in the Japanese Garden, enriching our cultural history in one of our oldest gardens. Reconstruction is largely complete; artisans have placed thousands of roof tiles, smoothed new plaster along the walls, and created a gatehouse that will serve as the entryway. In the coming months, we will put the finishing touches on the landscape of this much-anticipated historic house. We plan to open it next fall.
These are but a few highlights of an incredibly busy year. Looking ahead, we're in the process of developing a five-year strategic plan, which should be completed in the spring. In a time of great challenge—and opportunity—we see The Huntington as a wonderful place for visitors from Southern California and around the world. We know that by exploring our collections, we can learn about social issues—such as climate change (and the practical challenges associated with managing a 207-acre property!) and societal change (and what history has to say about political and social turmoil)—as well as about ourselves and our diverse constituencies.
The Huntington is fortunate to have the gift of remarkably generous donors and volunteers, enthusiastic members and visitors, and a talented and deeply committed staff. Together, even in the face of daunting times, we're not only making it through—we're thriving!
Karen R. Lawrence, President