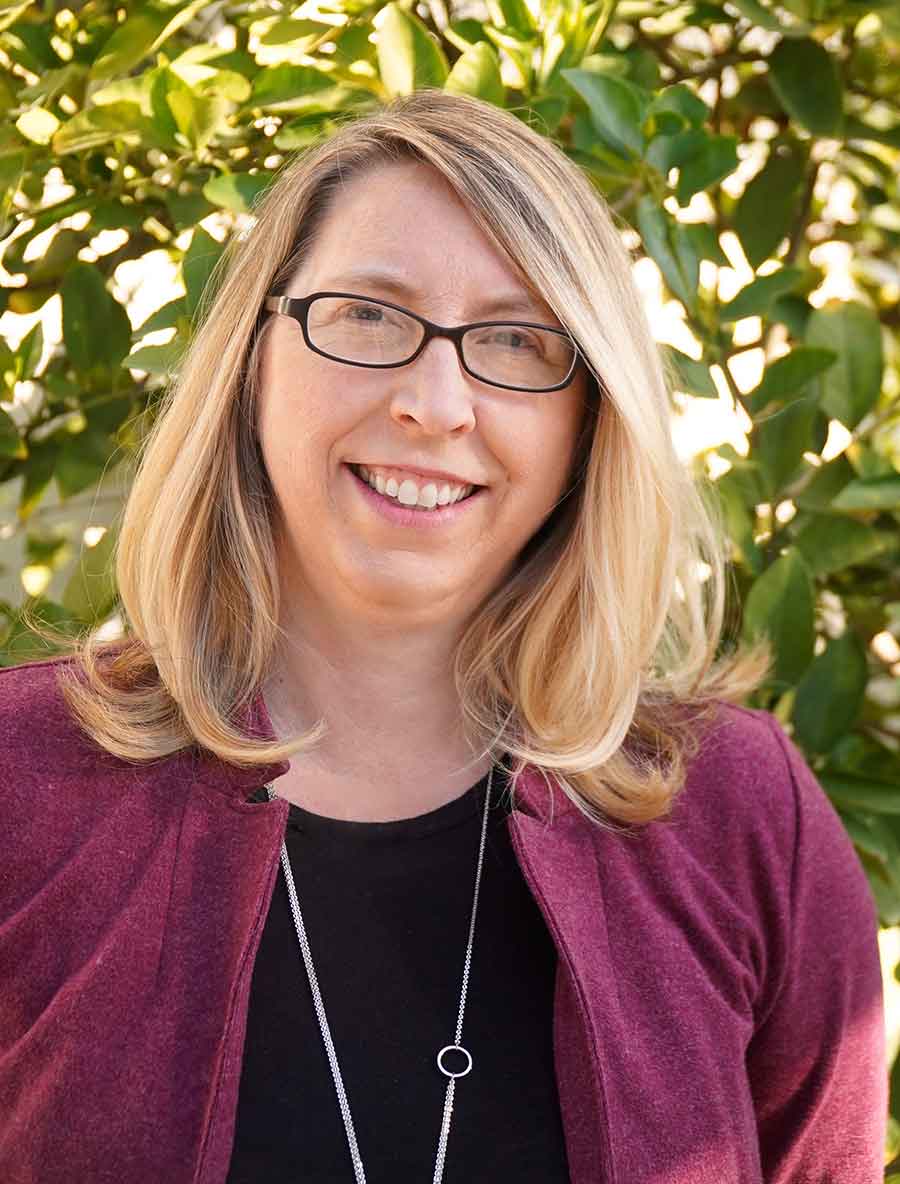 Melinda McCurdy has been promoted to curator of British Art at The Huntington. Photo by Ian McCausland.
You never know what will happen when Melinda McCurdy's phone rings. "Sorry if I'm late!" she breathed at the start of our interview about her recent promotion to curator of British Art. "I was on a call with the Met." That's impressive, but it also could have been a call with the National Gallery in Washington, D.C., or the National Gallery in London, for that matter. Or it could have been with a potential donor, as it was when she took a call from the owner of a David Wilkie painting a few years ago. Like many of her conversations with collectors, dealers, auction houses, and Huntington supporters, that particular call resulted in an important addition to The Huntington's permanent collections.
McCurdy has long been a go-to expert as a curator at the Huntington Art Museum in charge of one of the best British art collections of its kind in the world. She knows 18th to early 19th-century British painting inside and out, and she has steadily expanded her expertise during two decades in a series of roles at The Huntington to encompass 16th to 20th-century British art across media.
Melinda McCurdy in 2018 with donors Nancy Berman (left) and Alan Bloch (right), looking at a selection of prints by artist Henry Moore, part of a gift from the Philip and Muriel Berman Foundation. Photo by Sarah Golonka.
In her new job, McCurdy plans to accelerate the institution's embrace of works relating to all corners of the former British Empire, as well as contemporary art. Artists have long found The Huntington's British art inspiring—from Robert Rauschenberg to Kehinde Wiley, Alex Israel, and Carolina Caycedo. "It might have felt a little out of my comfort zone at first," McCurdy demurred about adopting a wider scope that includes contemporary art, "but we can't expect to stay rooted in centuries-old British art. We need to better address the fact that Britain was a global economy throughout history. Museums like us can tell these stories and integrate a range of voices with the collections."
The Huntington was a different place when McCurdy first arrived in 1999: The Education and Visitor Center was still a parking lot, the paint was hardly dry on the MaryLou and George Boone Gallery, and the American art galleries were a third of their current size. McCurdy's graduate advisor had suggested that she meet with curator Shelley Bennett, and so the young student found herself pushing open the heavy double doors of the Huntingtons' Gilded Age mansion one day and walking through the Huntington Art Gallery's famous display of European paintings, sculpture, and decorative arts. She climbed the grand double staircase and found a little door in one of the galleries, "and that was Shelley's office!" McCurdy recalled. "She sat at a big mahogany desk, with a Henry Raeburn portrait of an older gentleman, sternly staring down at me, behind her." But unlike the portrait, Bennett turned out to be warm and generous, and in charge of a fantastic collection. McCurdy knew instantly that "it was a no-brainer. I wanted to be here."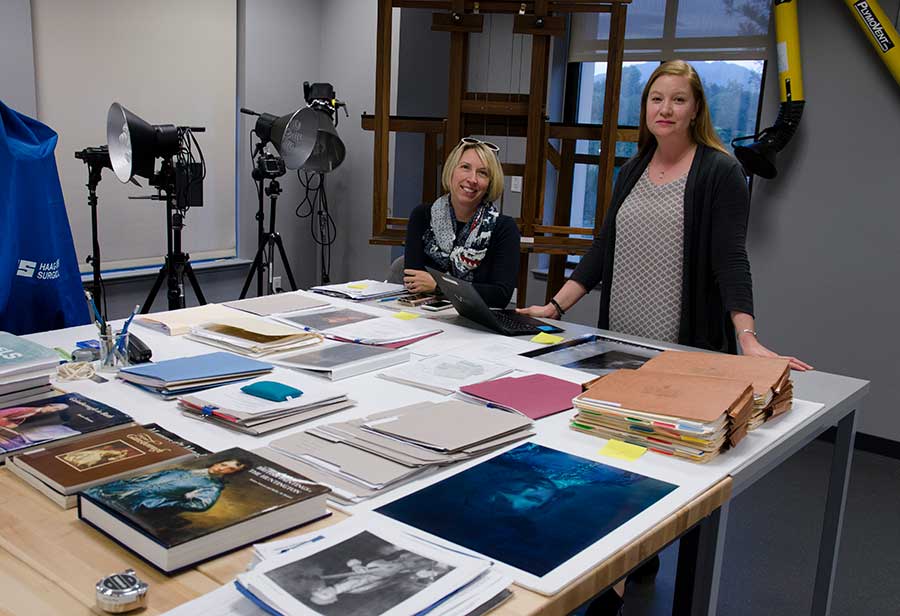 Melinda McCurdy in 2018 with Christina O'Connell, Mary Ann and John Sturgeon Senior Paintings Conservator, preparing for the exhibition "Project Blue Boy." Photo by Lisa Blackburn.
And The Huntington wanted her here, too. She landed a fellowship, providing the opportunity to work as an intern and research assistant. She soon found herself deep into research for British Paintings at The Huntington (Yale University Press, 2001), a definitive catalog. Then, during the following 20 years, as McCurdy's titles morphed into assistant curator and then associate curator, she produced a stream of publications. These included her co-authored Blue Boy & Co.: European Art at The Huntington (The Huntington and Delmonico Books/Prestel, 2015), entries for European Paintings and Sculpture from Joslyn Art Museum (Joslyn Art Museum, 2020), and a forthcoming contribution to Bloomsbury's Cultural History series.
Publications are a crucial contribution to the field, but McCurdy is equally proud of her work training the next generation of art curators. A caring, patient mentor, she has championed the use of the Works on Paper Room as a space for graduate students to try their hands at exhibition curation, with the golden opportunity to mine The Huntington's massive collection of British prints and drawings. The result has been years of creative thematic installations, including "Royals, Courtiers, and Confidantes: Early British Portrait Drawings from The Huntington's Art Collections," an installation curated by an entire class of Claremont McKenna College students (July 28–Oct. 29, 2012). In addition to working with guest curators, McCurdy has filled many of the exhibition slots herself, with such shows as "Prospects of India: 18th- and 19th-Century British Drawings from The Huntington's Art Collections" (March 2–June 10, 2019), "Friends and Family: British Artists Depict Their Circle" (Dec. 5, 2015–March 28, 2016), and "Gainsborough in Print: Selections from The Huntington's Art Collections" (June 22–Sept. 23, 2013).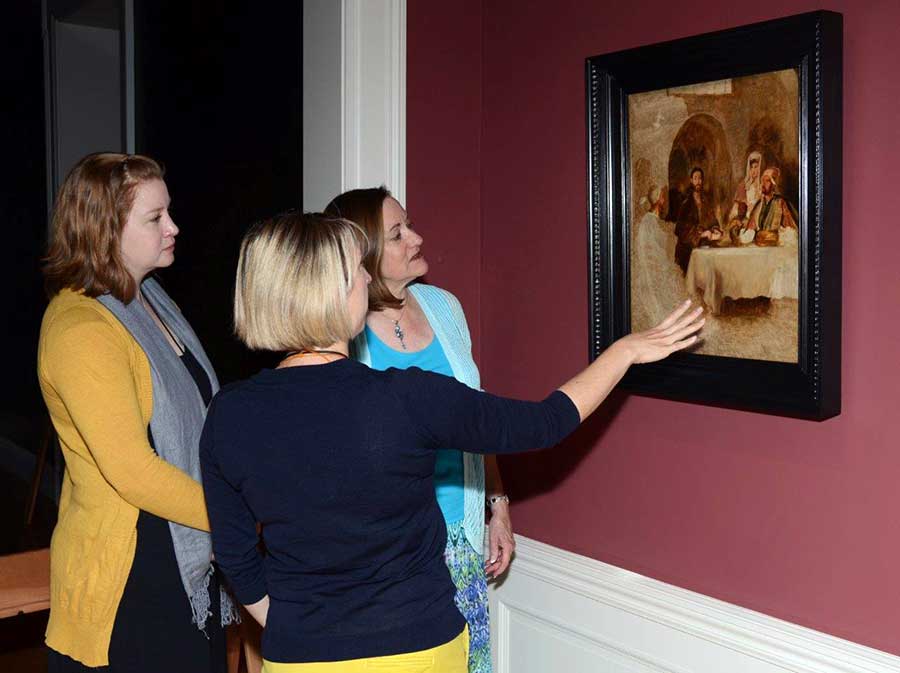 Melinda McCurdy (center) in 2015 with donor Tooey Durning (right) and Christina O'Connell (left), viewing David Wilkie's
Supper at Emmaus
at the Huntington Art Gallery. Photo by Lisa Blackburn.
What is next for this indefatigable curator? Look out for the major exhibition "100 Great British Drawings from The Huntington's Collection," which is scheduled to open in 2022, and its rigorously researched catalog, Excursions of Imagination (Lund Humphries in association with The Huntington, forthcoming in 2022).
With so many projects in process at any given moment, it is a wonder that McCurdy picks up her phone at all these days. But she does. Director of the Art Museum Christina Nielsen explained why. "When Christie's auction house approached Melinda about an important private sale of an Edward Burne-Jones painting, we ended up with a gorgeous, promised gift from Art Collectors' Council members Hannah and Russel Kully," she said. "Melinda is a jewel, and we are incredibly fortunate to have such a talented, authoritative advocate on our side."
Thea Page is the assistant vice president of Communications and Marketing at The Huntington.