School Partnerships
The 2022 application period to become a Huntington School Partner has closed. Applicants will receive an email about the status of their application by Friday, April 15. For questions, please email [email protected]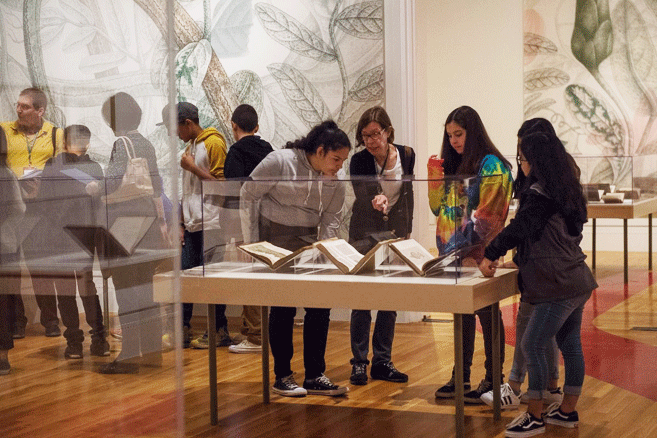 School partnerships are two-year collaborations between the Huntington and Southern California schools to provide selected schools with meaningful, collections-based programming in a specific collection area through a blend of classroom and museum education. Through this collaboration, teachers at partner schools will be empowered to utilize The Huntington collections to enhance their curriculum and inspire curiosity and wonder in their students.
Collections-based Partnerships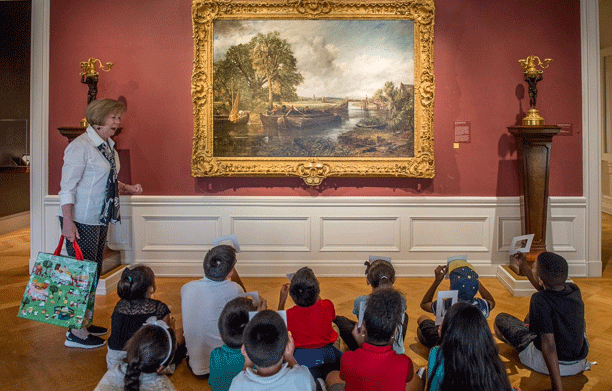 About Collections-based Partnerships
Schools can apply to be partners in the following collection areas:
Art
Botanical
Library
Science & Art
Performance
Benefits of school partnership include:
Free admission for all students and staff for the duration of the partnership with the presentation of a school identification card (up to four people per student/staff)
Early access to School Programs on topics relevant to the partnership collection area
Deep Learning Days with hands-on activities in the collection area topic
Weekend Family Day at The Huntington
Benefits vary depending on the focus of the partnership, and may also include:
Collaborative projects with community arts partner organizations when relevant
Classroom visits from Huntington educators with interactive and engaging lessons
School event attendance (e.g. family nights, activity fairs)
Teacher professional learning opportunities
School Partner Requirements:
Commitment to a two-year partnership between your school and The Huntington with regular school programming throughout the partnership
Participation in a May mandatory planning meeting and a summer or fall kickoff event
Ongoing collaboration with Huntington staff to support meaningful classroom-museum connections
Frequently Asked Questions
Schools who want to partner with The Huntington should submit an application during the next open application period. The 2022 application period has closed. All applicants will receive an email about the status of their application by Friday, April 15. The next application period will be in spring 2024.
Schools selected as partners are able to effectively demonstrate the need for partnership in the collections-based area of focus. We also look for schools whose core values advance our goals of supporting inclusion, providing opportunities for meaningful collections-based teaching and learning, and building a community of inquiry and life-long learning.
Schools who were not accepted in previous application periods are invited to reapply. However, we encourage these schools to use a new project idea or make adjustments to a previous application to align with our partnership core values of inclusion, meaningful collections-based teaching and learning, and encouraging inquiry and life-long learning.

FOR NEW PARTNERS
While each school partnership will have unique collaborative programming that aligns to the collection area of focus, there are benefits that all school partners enjoy, including free admission for all students and staff for the duration of the partnership (with the presentation of a school ID), access to School Programs, Deep Learning Days with hands-on activities, and a Weekend Family Day. Other benefits will vary depending on the focus of the partnership and may include collaborative projects with community arts partners, classroom visits, school event attendance, and teacher educational opportunities.
If a teacher who applied and was accepted to a school partnership changes schools, the partnership will remain with the school and a secondary teacher will become the partnership point of contact. However, we encourage teachers who change schools to reapply in the following application period for a school partnership with their current school.
Yes, please email us if any teachers or administrators in your group have changed since you submitted the application.
We use a MOU to help clarify goals and expectations for all parties in the partnership. For partner school teachers, in addition to regular communication, we ask that you share at least one lesson plan that your group created as a part of the partnership. We also ask that you help support the impact of on-site programming by preparing students in advance or following up with Huntington videos and/or teacher resources. We also expect the school administration to attend required meetings and regularly communicate with teachers and Huntington Education.

FOR CURRENT PARTNERS 
School partnership benefits, including free admission with school ID for up to four people, extend to the entire partner school. 2019-2022 School partners include All Souls World Language Catholic School, Carson High School, Chandler School, Cleveland Charter High School, Mildred B. Janson Elementary, Marshall Fundamental Secondary School, Merced Elementary School, Sonia Sotomayor Magnet for Arts and Sciences, Temple City High and Woodrow Wilson Middle School. If you have questions about other district or school partnerships, ask your administration or email the School Programs & Partnerships Manager, Sarah Thomas, at [email protected].
Partner schools' students and staff can bring up to four people to The Huntington per visit at no cost. This number includes the student or staff member from the partner school, who must be present at the time of the visit.
School partnership benefits, including free admission, will expire on August 1, 2022 for current collections-based partners.
Partner schools do not need to make a reservation to use their free admission benefits on non-holidays. However, they must reserve a ticket in advance on holidays including Easter weekend, Mother's Day, and Memorial Day Weekend. Note that school partners enjoy regular admission, which does not include extra member benefits. When planning your visit, please also keep in mind The Huntington is closed on Tuesdays. Make your reservation.