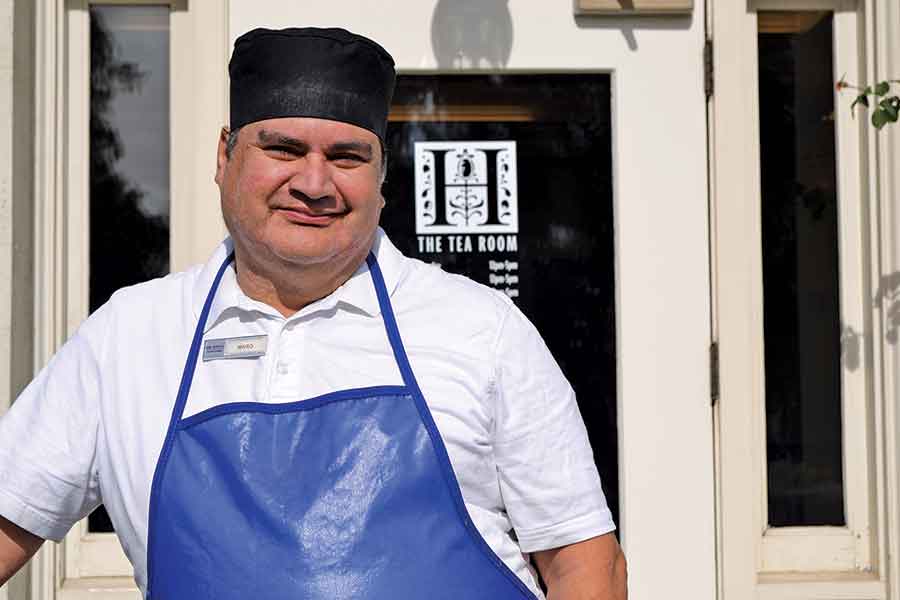 Mario Ahumada poses with pride outside his workplace, The Huntington's Rose Garden Tea Room. Photo by Lindsey Harrison. Courtesy of Villa Esperanza Services.
Today is World Autism Awareness Day, and to celebrate, we are republishing the following story, which first appeared in the Winter 2019 issue of Chirp, the newsletter of Villa Esperanza Services, a Pasadena-based nonprofit that serves intellectually and developmentally disabled individuals in Los Angeles and Ventura counties.
It's midmorning at The Huntington, and the kitchen of the Rose Garden Tea Room is abuzz with activity. Staff bend over trays of delicate pastries. Over the clang of dishes and spray of water hoses, directives are exchanged. For Mario Ahumada, the bustle is welcome. As the Tea Room's dishwasher, he thrives off the kitchen's energy. A coworker breezes by, and Ahumada asks, "How many people for lunch?" The reply comes quickly: 87. "87 is easy," says Ahumada, unfazed. He preps the industrial washer and rolls up his sleeves, ready to get to work. "It's kinda like going in a car wash!" he exclaims.
Ahumada is one of seven clients of Villa Esperanza Services working with Bon Appétit Management Company, The Huntington's dining and catering service responsible for the campus's vast network of eateries. Villa's partnership with Bon Appétit began at two other local businesses: DreamWorks Animation and Woodbury University. The experience went so well that Villa explored the possibility of joining Bon Appétit's crew at The Huntington.
Renowned for its contributions to the humanities, arts, and botanical science, The Huntington soon added another notable distinction to their record: They became a proud ally for individuals with special needs. With The Huntington's vision and support, Villa's partnership with Bon Appétit blossomed. Michael Greene, director of Villa's Pasadena Employment Services Program, explains, "It's down to finding the right people and connecting them with the right opportunities. The whole process of applying, interviewing, understanding the organization and their culture—we take that on so that by the time our folks get to the job, they know the routine and expectations."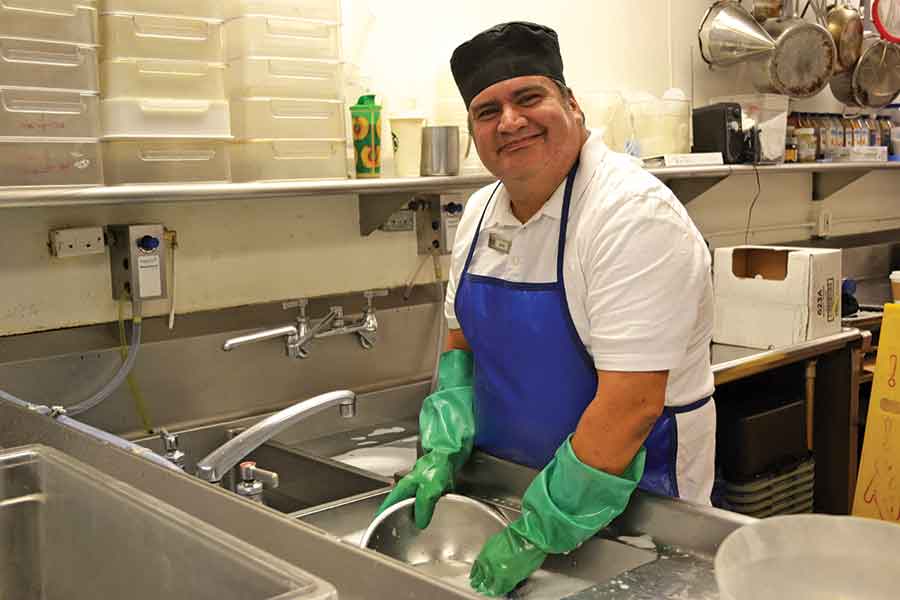 Mario Ahumada in his element, enjoying the bustling atmosphere of the kitchen. Photo by Lindsey Harrison. Courtesy of Villa Esperanza Services.
For many individuals like Ahumada, navigating the job market is a daunting prospect. Villa's Employment Services Program offers participants the chance to develop self-reliance and experience the pride of earning a paycheck. Partnerships with businesses like Bon Appétit are life-changing for Villa's clients, and Ahumada is no exception. Before joining the team, he was earning sub-minimum wage as a janitor, but he yearned for a job that was more challenging and lucrative. After an in-depth Villa intake process—which took into account his individual goals, strengths, and past experience—he completed a three-day assessment in the kitchen. With preparation from Villa's job coaches, Ahumada passed the test with flying colors and quickly distinguished himself as a positive addition to the crew.
Ahumada couldn't be happier. "I love this job," he says. "I've got a lot of good friends here. I've been here almost two years now." He has enjoyed the beautiful campus—so immense that he nicknamed it Huntington University—and likes the work environment. "It's peace and quiet here," he says. "But in the kitchen, it's more noisy!" Once Ahumada settled in at the new job, he treated his girlfriend to a meal at The Huntington's Tea Room and a stroll through its Rose Garden. "We went everywhere," he recalls. "It was pretty cool!" Ahumada even saved up his earnings to purchase an electric bicycle that he rides to work each day. Reflecting on his success thus far, Ahumada explains, "Sometimes I have problems understanding about things, and that's why I need some assistance . . . sometimes I don't understand, but at least I always try."
It's that can-do spirit that has made Ahumada such a valued asset in the Tea Room kitchen. When Ahumada falters, or the activity in the kitchen becomes overwhelming, he receives the guidance he needs from Villa's dedicated job coaches.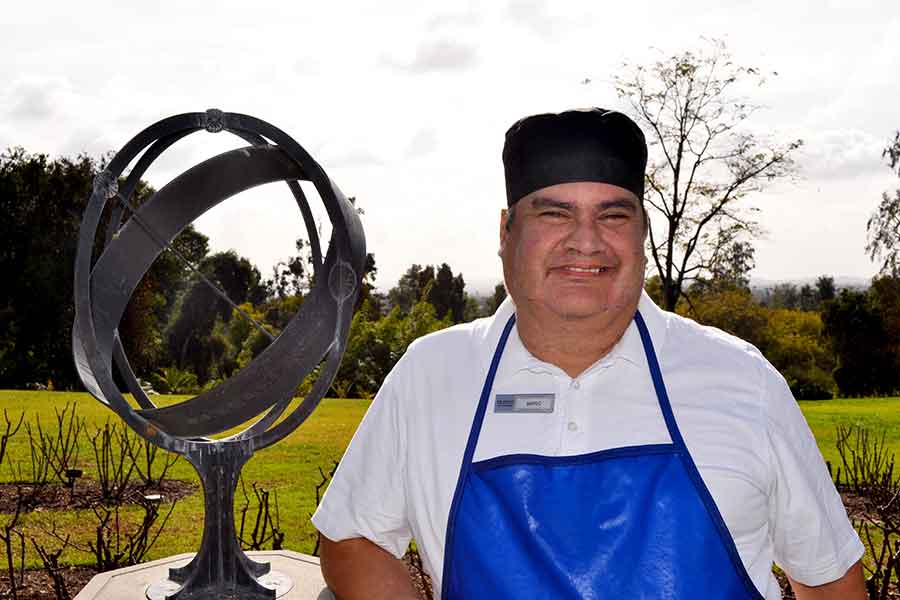 Mario Ahumada outdoors at The Huntington. Photo by Lindsey Harrison. Courtesy of Villa Esperanza Services.
Mario also has the support of The Huntington and his Bon Appétit cheerleaders—such as Randy Shulman, The Huntington's vice president for advancement. "Mario is an important part of our food services team," says Randy. "We are delighted that Bon Appétit, our food services partner, has brought him aboard and glad to have him as part of The Huntington's extended family."
Bobby Bognar, Bon Appétit's director of operations, echoes Shulman's sentiment: "Mario is enthusiastic and happy to be working, and those are two qualities I wish I had in every employee," says Bobby. "Working with the Villa staff, the benefits far outweigh any difficulties we've had. I'd encourage other people that have the opportunity to utilize this service to recognize that they can improve their communities, not just their workplace."
Katherine Evans is a writer at Villa Esperanza Services.