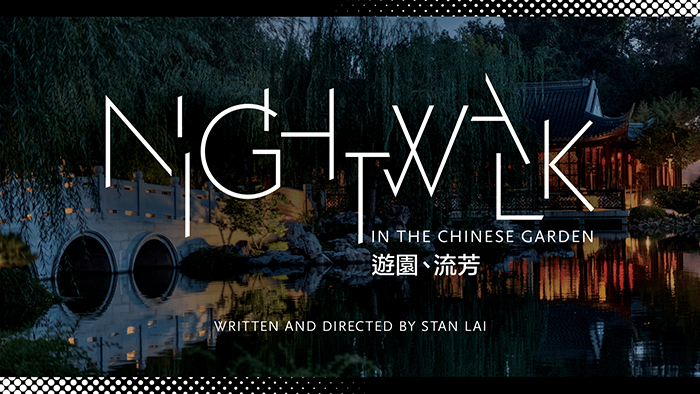 The Garden of Flowing Fragrance at The Huntington is the inspiration for playwright Stan Lai's new site-specific work,
Nightwalk in the Chinese Garden
, which is having its sold-out world premiere through Oct. 26, 2018. Photo by Martha Benedict. The Huntington Library, Art Collections, and Botanical Gardens.
It was an auspicious omen. At dusk, during a mid-September rehearsal of Nightwalk in the Chinese Garden—The Huntington's first-ever, site-specific, evening theatrical production—"these huge wild geese came in formation and they flew down and sort of circled us and left," says playwright-director Stan Lai. "That felt so wonderful. Sort of like they were blessing us."
Lai, an acclaimed figure in contemporary Chinese-language theater in China and Taiwan, has staged Nightwalk (the sold-out run ends October 26) in collaboration with The Huntington and CalArts' professional Center for New Performance. The piece is inspired by The Peony Pavilion, a romantic tragicomedy by 16th-century Chinese dramatist Tang Xianzu about a maiden who dies of love for a man in her dreams; the dream man is given real-life existence, and the couple's fated love trumps death.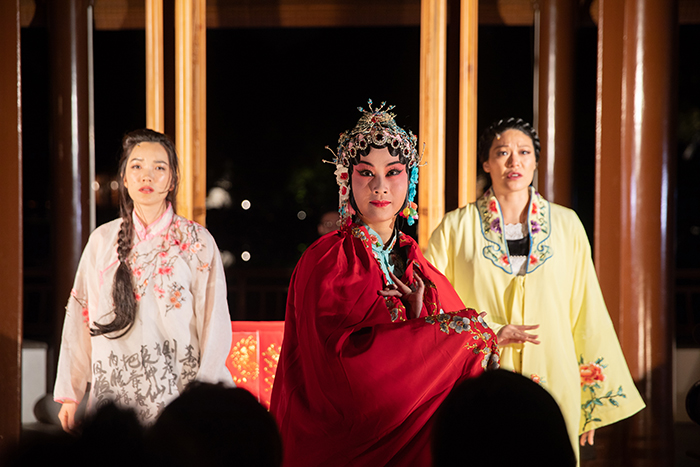 Jessika Van as the Maiden, Chenxue Luo as the Opera Singer, and Christine Lin as Fragrance. Photo by Rafael Hernandez. Courtesy of CalArts Center for New Performance.
"Isn't that wild?" Lai asks. "I've always thought the 16th-century Chinese playwrights were so avant-garde. If you see [the 2010 film] Inception, you say, wow, that's cool. I say, well they did it long ago."
In Nightwalk, performed in English, a Ming dynasty playwright is tormented by his love for the maiden of his creation; in a parallel story, a 1920s Latino artist is smitten with the portrait of a girl who has died, and with her ghost. The play is about "dreams and reality and the border between them," Lai says. "It's about life and death and the border between them, about borders and immigration, and the abstract borders between people."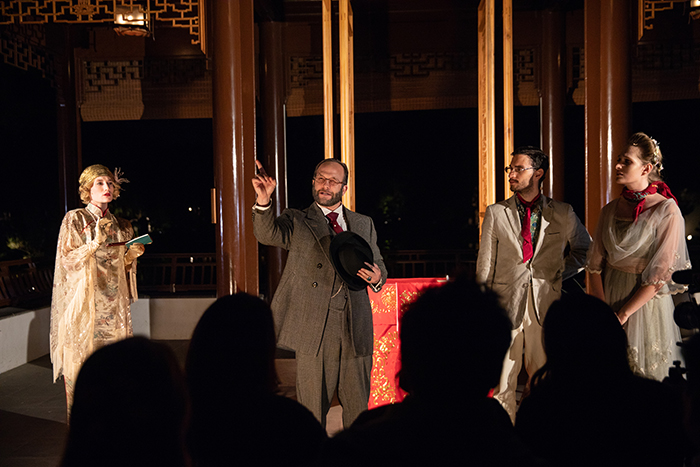 Sarah Schulte as the Curator, Adam J. Smith as Mr. Huntington, Peter Mark as the Artist, and Lizinke Kruger as Bella. Photo by Rafael Hernandez. Courtesy of CalArts Center for New Performance.
Audiences in separate groups follow lantern-bearing guides through the Chinese Garden, viewing scenes on bridges, in the graceful pavilions, and on pathways through shadows cast by massive limestone rocks. One group first sees the play in the setting of 16th-century China; the other group's perspective is 1920s Southern California. (Henry Huntington, portrayed by CalArts faculty member Adam Smith, appears; Gainsborough's The Blue Boy, The Huntington's iconic painting, is a haunting element.) At the halfway mark, the groups change places. "You see all the scenes in their entirety," Lai notes, "no matter which direction you go, but in a different sequence. It really is a journey."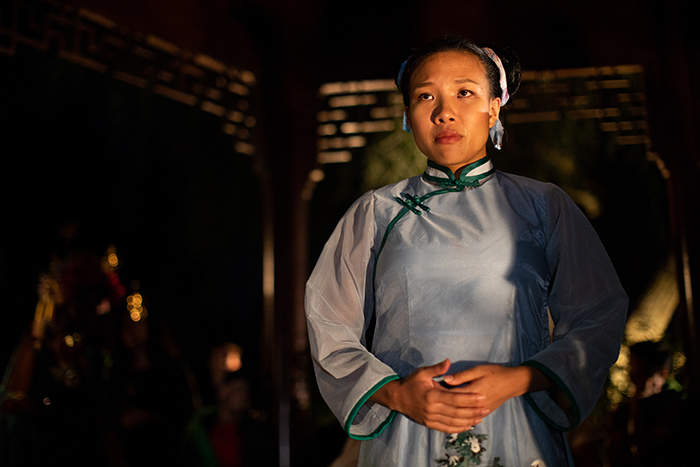 Reggie Yip as the Maid. Photo by Rafael Hernandez. Courtesy of CalArts Center for New Performance.
Lai and Travis Preston, dean of CalArts' School of Theater and artistic director of their Center for New Performance, credit mutual friend Judy Yin Shih with sparking Lai's idea for a theater piece in the Chinese Garden. Shih, a member of The Huntington's Board of Overseers, "brought me into the Garden," Lai recalls, "and said, 'would you think of doing a piece in here?'" Lai flashed back to his production of Six Plays of Samuel Beckett, staged decades ago in a garden in Taipei, Taiwan. "It was quite a memorable performance under candlelight at night," he says. Lai's response to Shih: "Yes! I can foresee something here." A year later, in 2016, Lai came to CalArts to shape Nightwalk with Preston and the Center for New Performance, a process that culminated in a workshop production.
"The Huntington was very receptive to our ideas," but "a little cautious," Lai says. "We had long discussions about what we can and can't do in the Chinese Garden, and they have been wonderful. We've been careful not to abuse that trust."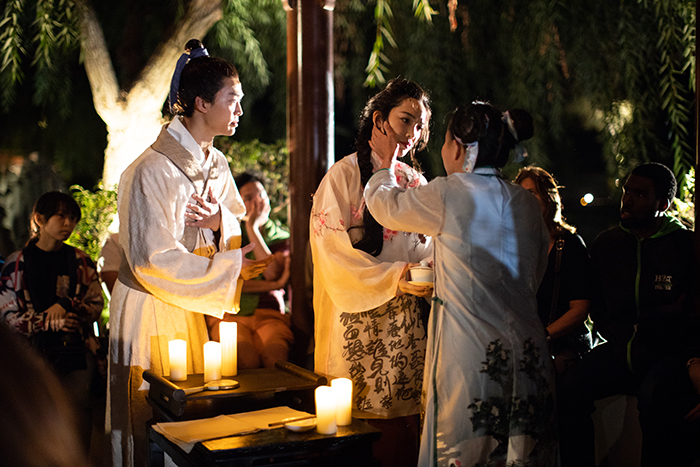 Hao Feng as the Playwright, Jessika Van as the Maiden, and Reggie Yip as the Maid. Photo by Rafael Hernandez. Courtesy of CalArts Center for New Performance.
The play's large cast encompasses Los Angeles-area theater professionals, CalArts second-year MFA students, musicians, and a luminary of China's kunqu opera: singer Luo Chenxue of the Shanghai Kunqu Opera Troupe, as the Opera Singer. CalArts alumna Aubree Lynn designed the sets. Costumes are by E.B. Brooks, and lighting is by Christopher Kuhl; both have extensive credits in regional and local theater.
Nightwalk, says Phillip Bloom, the June and Simon K. C. Li Curator of the Chinese Garden and director of the Center for East Asian Garden Studies, is "a perfect expression of one of our Chinese Garden's primary missions—to inspire creative expression that is rooted in the past but speaks to the present." Bloom notes that Nightwalk draws on both the operatic traditions of Ming-dynasty China and the early history of The Huntington, "but does so to treat universal concerns with art, love, and borders—particularly the seeming borders between times, cultures, and realities."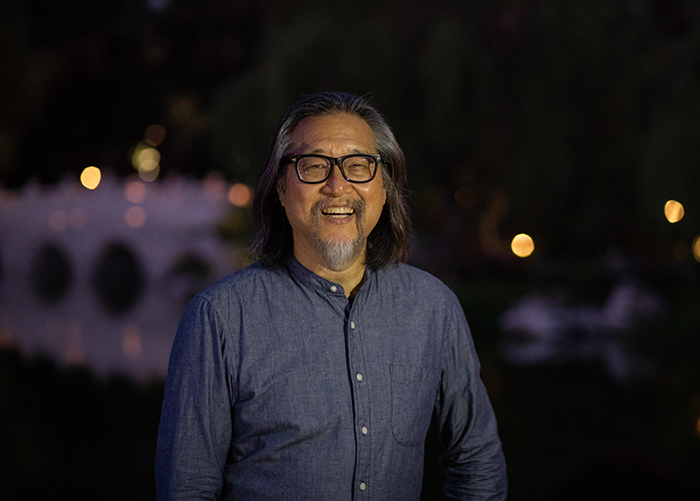 Playwright Stan Lai in the Chinese Garden at The Huntington. Photo by Angel Origgi. CalArts Center for New Performance.
For Lai, the concept of The Huntington "in its entirety" is inspirational. "It's like a collection of beautiful things in its own unique configuration," he says. The Chinese Garden "has a real life of its own, a real character, a real soul of its own. The pavilions and the bridges are so beautifully conceived to be unique, and yet they fit into the whole. I guess that's the philosophy of the Chinese cosmology and just the whole outlook of the universe: the harmony of everything, but also the diversity of everything."
Lynne Heffley is a freelance writer and editor based in South Pasadena, Calif.