Nightwalk in the Chinese Garden
Date:
Fri., Sep. 21, 2018 | 7:30 p.m.–9:30 p.m.
Event Notes:
Members: $140 / Non-Members: $150. Tickets available Aug. 1
Add to Calendar
09/21/2018 07:30 PM
09/21/2018 09:30 PM
America/Los_Angeles
Nightwalk in the Chinese Garden
Visit page - https://www.huntington.org/events/nightwalk-chinese-garden
The Huntington
Become an integral part of a contemporary theater production in an unparalleled setting this fall as The Huntington and CalArts Center for New Performance, in association with the Shanghai Kunqu Troupe, present Nightwalk in the Chinese Garden, created and directed by acclaimed playwright Stan Lai.
The site-specific work, written exclusively for the Chinese Garden, premieres at The Huntington Sept. 21–Oct. 26, 2018.
Set against the mystical backdrop of the garden, lake, and pavilions at night, the play weaves together elements of the famous 16th-century Chinese romantic tragicomedy The Peony Pavilion with tales of early 20th-century California. During the month-long run of the show, a small audience of 40 individuals each night will be able to immerse themselves in the performance, moving through the garden as the story unfolds around them like scenes from a Chinese scroll painting.
The play is performed in English with some passages from The Peony Pavilion sung in Chinese to the original music.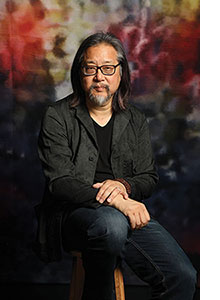 About the playwright: One of the preeminent voices in contemporary Chinese theater, Stan Lai helped revolutionize modern theater in Taiwan in the 1980s, and his work has influenced a new generation of artists and theater-goers throughout mainland China. His 35 original plays include many acclaimed Chinese-language works, including Secret Love in Peach Blossom Land  (1986),  The Village (2008), and the epic, eight-hour A Dream Like a Dream (2000). Performances of his work in the United States have included a production of Secret Love in Peach Blossom Land   at the Oregon Shakespeare Festival in 2015, and his direction of Dream of the Red Chamber  for the San Francisco Opera in 2016.
Nightwalk in the Chinese Garden is made possible by the support of many generous donors.