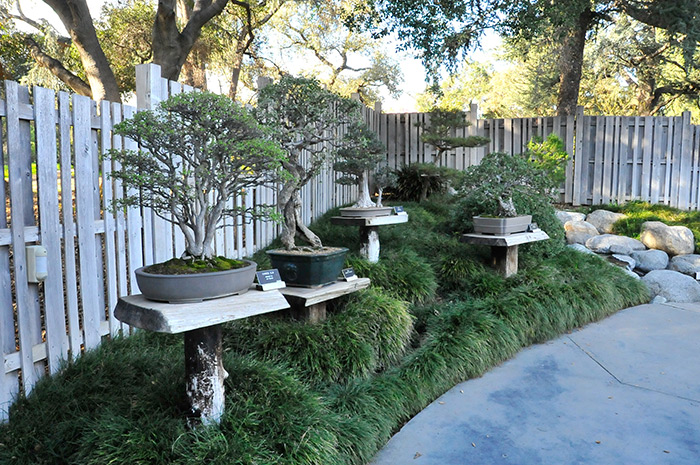 Two recent gifts, a Chinese elm (left) and a coast live oak (right, foreground), are exquisite specimens representing the highest ideals in bonsai artistry. They'll be on view this weekend in the Frances N. Brody Botanical Center for the Bonsai-a-Thon event, and then will move back to the Zillgitt Bonsai Court of the Japanese Garden. Photo by Andrew Mitchell.
One of the most iconic images of California is the coast live oak (Quercus agrifolia). With its rugged trunk, twisting branches, and broad canopy, it adds both power and grace to our native landscape. We're fortunate to have more than 200 coast live oaks on The Huntington property. We also have a very small and special one that expresses the iconographic qualities we associate with our native oaks.
The tree is one of two important gifts we received this past year from respected Southern California bonsai artists. Al Nelson of Irvine, Calif., donated the oak. Jim Barrett of Arcadia, Calif., gave us a classic Chinese elm (Ulmus parvifolia), which is styled in a clump form.
Both gifts are exquisite specimens, representing the highest ideals in bonsai artistry. And both are large (by bonsai standards), old, refined trees, which were developed over several decades by their donors and today are well-known in the bonsai world. They are very welcome additions to the more than 400 bonsai in our collection, which comprises those owned by The Huntington and others displayed here by the Golden State Bonsai Federation.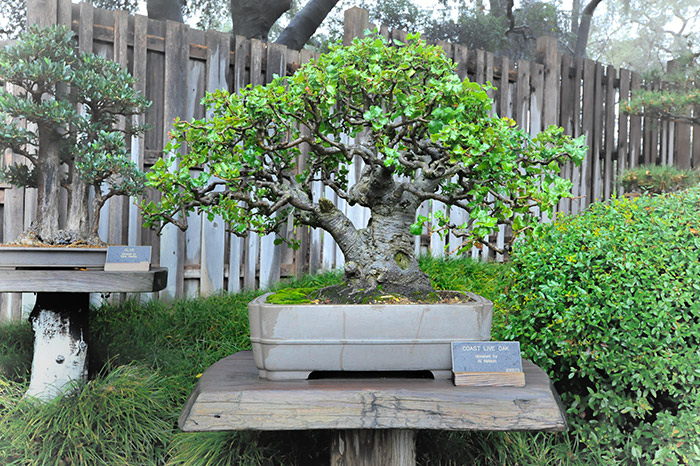 The rugged trunk, twisting branches, and broad canopy of this coast live oak bonsai displays all the signature characteristics of a full-size oak. Photo by Andrew Mitchell.
The Nelson oak is a powerful brute, with a massive wrinkled and scarred trunk that erupts into a burst of muscled silver branches that undulate and divide again and again, ending in clusters of small dark green leaves at the tips. Resting solidly in a stately gray Japanese pot, the tree displays the unique blend of power, elegance, and proportion that is manifest in the most ancient of this species.
Collecting trees in the wild is often the best way of producing showstopper bonsai. Nelson received special permission to remove some specimens from a private ranch near Lompoc, Calif., that was renowned for its stumpy, cattle-browsed oaks. He dug up this one in the late 1980s. The trunk was already estimated to be around 150 years old when he found it. Since then, he's developed the branches with a range of bonsai techniques, including directional pruning, shaping the branches using fishing weights, attaching wires to the branches to pull them down (guy wires), and inserting props to spread the branches. Oak branches scar easily, so Nelson avoided using wires on the branches. That partially explains why it took 20 years to develop a bonsai of this character and proportion.
The result is a majestic bonsai created by someone who has spent a good part of his life studying and working with our native oaks, learning about what gives them their unique character, and teaching others how to reproduce that form and feeling in a container plant.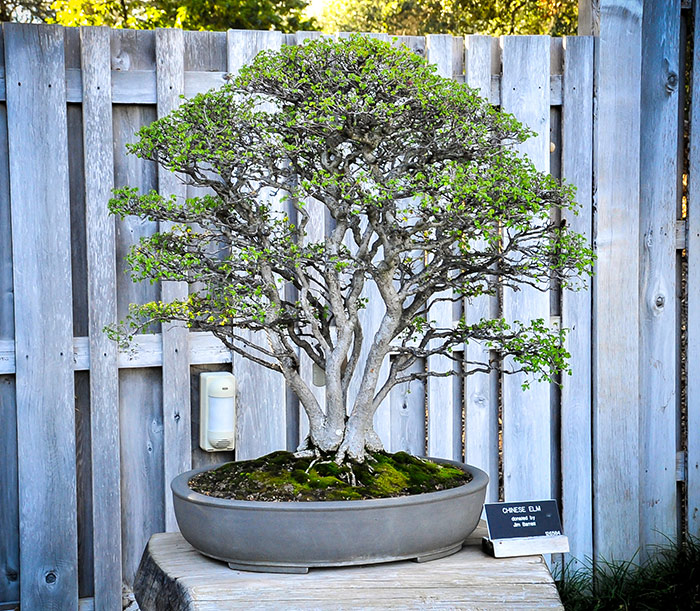 Jim Barrett started this unique Chinese elm bonsai in 1960. At the end of a long day potting seedlings, he put a last bunch of seven specimens together in a single training pot. Photo by Andrew Mitchell.
The Barrett gift has its own intriguing story. It comprises a group of seven Chinese elms that were planted as a "fist" clump. Barrett is a respected leader in the bonsai community, a long-time bonsai teacher, and one of America's most renowned bonsai potters. He has a deeply personal understanding of classic Japanese bonsai that is evident in the trees he creates—and especially in this one.
This bonsai is well known, partly due to the lore connected with its inauspicious beginnings. The elms were part of a large group of saplings that Barrett had propagated as cuttings in 1957. In 1960, he was tired at the end of a long day spent separating and putting the plants into pots. He grabbed the last bunch of seven in his fist and put them in a single 4" training pot. He repotted them in 1964 and again in 1969, when they went into their first bonsai container. Today, the bases of the trees have thickened and fused into a solid mass at the soil line.
One of the unique aspects of this group is that Jim allowed it to grow in a natural style, selectively letting branches extend their reach and then thinning them rather than using the hard topiary-style pruning that produces clearly defined pads. He also experienced some dieback but, in another unusual choice for a bonsai, he left dead branches on the tree to lend an element of character.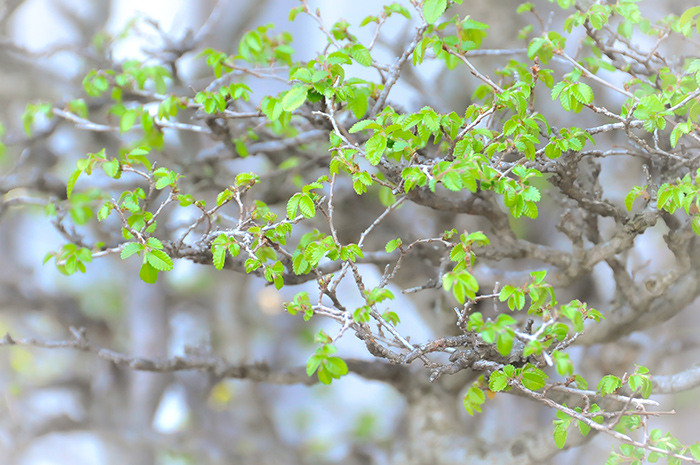 An early spring eases tiny serrated leaves from the delicate branches of the Chinese elm. Photo by Andrew Mitchell.
The resulting group of trees is an expression of age and harmony, with all the trunks and branches gently flowing and dividing, reaching out and spreading into a network of fine twigs, all of which give this bonsai exceptional proportion. Less stylized than some bonsai, they look like trees you might see while walking around The Huntington, though much smaller. Another appealing aspect of this tree is its exfoliating bark.
After a short stint in the Brody Botanical Center for this weekend's Bonsai-a-Thon event, both trees will return to the Zillgitt Bonsai Court near the Japanese Garden's ceremonial teahouse, Seifu-an. Why not take a stroll to observe them? Each vividly displays how decades of wisdom and artistry can be contained in a small pot.
The Golden State Bonsai Federation's annual Bonsai-a-Thon event takes place Feb. 25–26, 2017, in the Brody Botanical Center. Free with admission. The event includes exhibits, demonstrations, prize drawings, and a live auction at 3 p.m. each day.
Related content on Verso:
A Prairie Boy's Passion for Bonsai (Sept. 11, 2015)
Ted Matson is The Huntington's resident bonsai master.