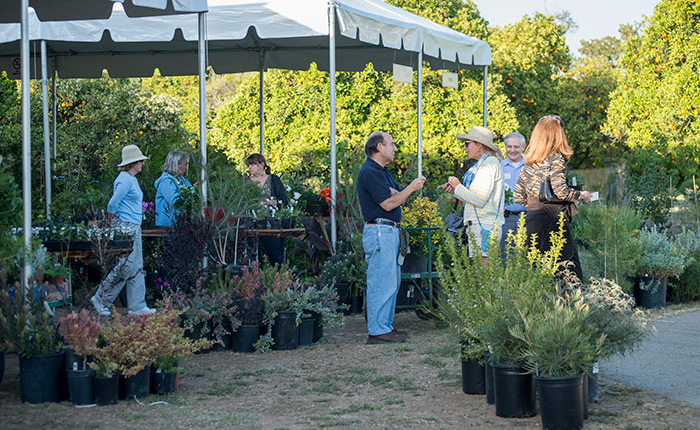 About 60 percent of the offerings at the Spring Plant Sale (April 22–23 for members; April 24 for the public) will be water-wise selections. Photo by Martha Benedict.
You've heard the dire news about California's drought. And you've been thinking about swapping out your lawn for water-wise plants. But if you're used to traditional grass and ornamental plants, where do you begin?
Enter Scott Kleinrock, The Huntington's landscape design and planning coordinator, who helped design the Frances and Sidney Brody California Garden. He's been experimenting with a broad range of California native and other drought-tolerant plants and suggests 10 interesting, attractive, and easy-to-care-for selections that grow well in inland areas of Southern California.
As an added plus, all 10 picks will be available at The Huntington's Spring Plant Sale, which takes place Fri. and Sat., April 22–23, for members and Sun., April 24, for the public.
"More and more people are asking for water-wise plants," says Louise Guerin, The Huntington's manager of plant production and sales. Guerin has also noticed a larger turnout for garden talks featuring these plants. To keep up with demand, about 60 percent of the offerings this year will be drought tolerant, she says.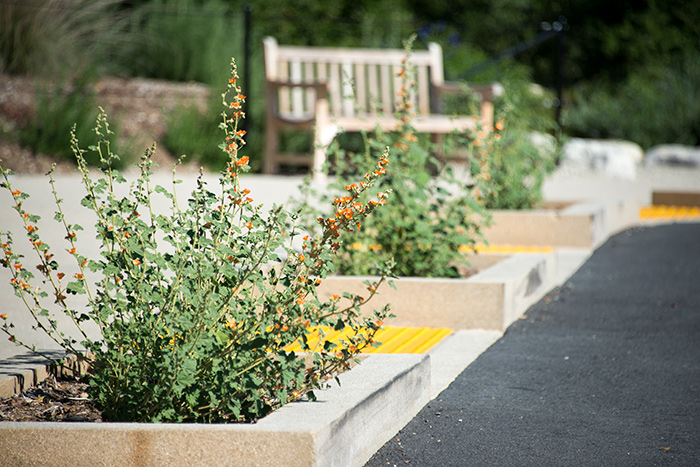 Sphaeralcea ambigua,
desert mallow, thrives in extremely hot, dry areas, such as this concrete planter near the bus drop-off area. Shown here is the variety with apricot-colored blooms. Photo by Kate Lain.
Here are Kleinrock's recommendations:
1. Muhlenbergia rigens, deer grass: This California native is a large bunch grass that's extremely easy to grow. You can find it in many areas around the Steven S. Koblik Education and Visitor Center. "Deer grass could be the backbone of almost any native garden," says Kleinrock. "It's tough as nails, grows to full size in just one season, and holds the dried stalks all year. Birds love it for the seeds." A larger yard could have a group or line of them; a small garden might have just one—backlit to show off its striking silhouette.
2. Sphaeralcea ambigua, desert mallow: Another California native, the desert mallow has light green leaves and a profusion of cheerful apricot-colored flowers. (The 'Louis Hamilton' cultivar has blush-red blooms.) You can see the mallow growing in concrete beds between the asphalt and the sidewalk in the school bus drop-off area. It's an incredibly hot spot and one that hastened the demise of a previous plant. But not the desert mallow—it thrives in the heat and keeps pumping out flowers.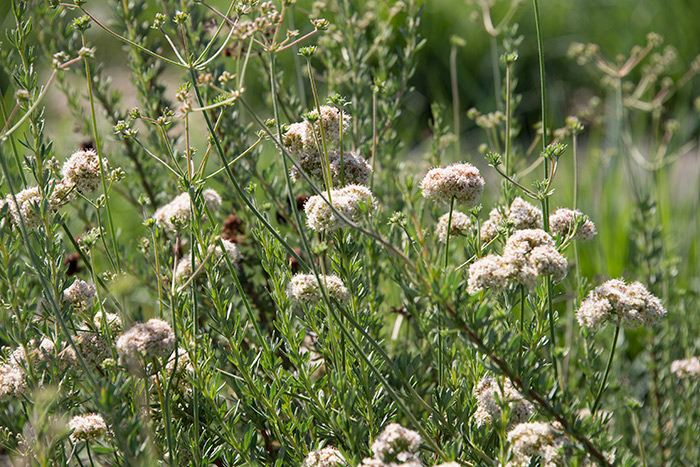 Looking for something that will grow on a hillside with poor soil?
Eriogonum fasciculctum
, California buckwheat, may be the ticket. Photo by Kate Lain.
3. Asclepias fascicularis, narrow leaf milkweed: For anyone alarmed by the dwindling number of monarch butterflies, this is a must-have. Adult monarchs lay their eggs on its slender leaves because they contain substances that monarch caterpillars need to protect themselves as they change into butterflies. Sadly, development has greatly reduced their habitat. "The instant we put these plants in, the monarchs descended on them," says Kleinrock. The native milkweed, with its bunches of small pinkish-white flowers, is the best way to support monarchs; other selections will also be on offer.
4. Eriogonum fasciculatum, California buckwheat. Native gardeners love buckwheat for its lush green foliage and small puffy white flowers that turn pink over time and then rust-colored—adding visual interest in the garden and making a dramatic addition to dried flower arrangements. Beneficial insects and birds are drawn to buckwheat, making this a great habitat plant. A tough small- to medium-sized bush, it grows well even in embankments with poor soil to about four to five feet wide and tall; other selections are also available, including groundcover varieties.
5. Salvia clevelandii 'Winnifred Gilman': This large and hardy sage has deep purple flowers and an intoxicating fragrance. Of the native sages, clevelandii cultivars are some of the easiest to grow. A challenge with plants native to Southern California is that they're adapted to dry climates. On a really hot day, a novice gardener may be tempted to water them—increasing the risk of soil disease. 'Winifred Gillman' will tolerate a bit of extra water. Many other native sages are equally deserving of placement in the garden.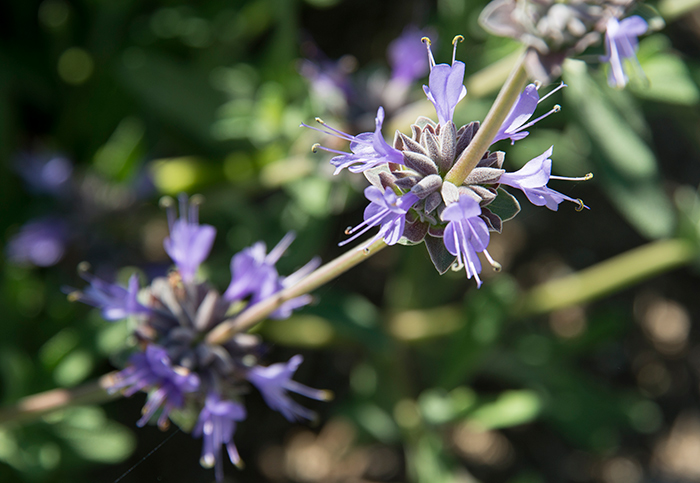 The fragrance of the tough and beautiful
Salvia clevelandii
'Winnifred Gilman' can infuse an entire garden. Photo by Kate Lain.
6. Heteromeles arbutifolia, toyon: Native shrubs have the reputation of being wild and scruffy. Not this one. It has a clean form with serrated, dark green, leathery leaves, white flowers that bloom in summer, and abundant bunches of red berries in winter. It is one of the few things you can plant around the edges or even underneath a coast live oak (Quercus agrifola). You can see this plant used as a hedge in the stroll garden surrounding the bright red Alexander Calder sculpture near The Huntington's entrance.
7. Encelia californica, coast sunflower: Kleinrock considers this a great pioneer plant. It grows quickly, producing a lush green shrub covered with medium-sized yellow flowers. Their sunny color looks good against many of the blue and purple flowers of other natives, and the plant gives you instant size and bloom. On the downside, it often lasts only three to five years. But by then, slower growers—such as manzanitas or oaks—will have started to grow in.
8. Punica granatum, pomegranate: Native to Iran, the pomegranate can grow in most places with a mild winter. But to grow the best fruit, most varieties need a hot, dry climate—just what we have in the San Gabriel and San Fernando valleys. The plant sale will feature some of the best varieties grown in the Ranch Garden, evaluated for their exceptional taste and performance. You can eat the fruit straight out of the shell or sprinkle the seeds on salads and stews. Or you can cut the fruit in half and use a press juicer to extract the vitamin-rich, deep red liquid.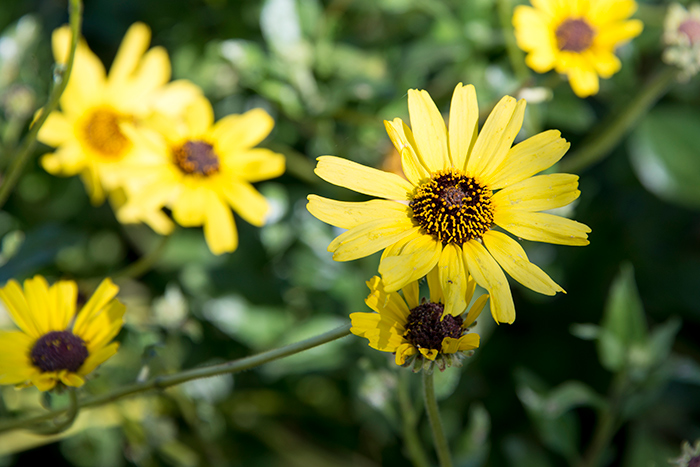 Want some quick color while waiting for slow-growing shrubs to become established?
Encelia californica
, coast sunflower, grows quickly and produces big bunches of bright yellow flowers. Photo by Kate Lain.
9. Ficus carica, fig: Native to the Middle East and Western Asia, fig trees are another exceptional fruit producer suited to this area. Before he grew figs, Kleinrock thought they were just okay. He became passionate about them once he realized he could produce such high-quality fruit right at home. "You'll never find a really ripe fig in stores or even at a farmers' market," he says. "Figs are extremely fragile, and that last bit of ripeness makes all the difference." The plant sale will feature varieties of figs best suited to Southern California growing conditions.
10. Chilopsis linearis, desert willow: Many native California trees become quite large. This is a wonderful choice if you're looking for a smaller deciduous tree, say for a patio area where you want sun in winter and dappled shade in summer. Native to desert areas of California and Arizona, it produces tubular pink-to-purple flowers that hummingbirds love. And because it grows in seasonal washes, it can take a bit of extra water, even in summer.
In addition to native, drought-tolerant plants, the spring plant sale will feature a unique selection of roses (some propagated from The Huntington's rare collection), other ornamental plants, vegetables, herbs, and much more. Collectors may want to snatch up seedlings of Fouquieria columnaris, a wacky tree with a spiny trunk native to Baja California, or a seedling of Amorphophallus titanum (a.k.a. the Corpse Flower) to care for lovingly in their backyard greenhouse in the hope that it will bloom.
Related content on Verso:
If Not Lawn, Then What? (Oct. 6, 2015)
It's All About the Soil (June 2, 2015)
A California Garden (March 27, 2015)
Diana W. Thompson is senior writer for the office of communications and marketing at The Huntington.