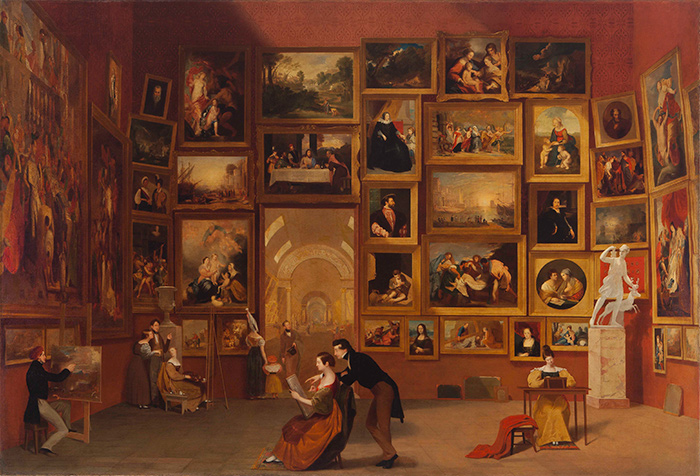 Gallery of the Louvre
(1831–33), oil on canvas, 73 1/2 x 108 in. Terra Foundation for American Art, Chicago.
If asked to recall the accomplishments of Samuel F. B. Morse (1791–1872), most people would cite his role in developing Morse code. Many would be surprised to learn he started his career as a painter.
This weekend, Morse's extraordinary six-by-nine-foot masterwork, Gallery of the Louvre, goes on view in the Susan and Stephen Chandler Wing of the Virginia Steele Scott Galleries of American Art. Created between 1831 and 1833, the painting reproduces famous works by Van Dyck, Leonardo, Murillo, Poussin, Rembrandt, Rubens, and Titian, arranged in an imagined installation in the Salon Carré at the Musée du Louvre in Paris. All told, the canvas depicts 38 paintings, two sculptures, and numerous figures in a single composition. (For a key to the people and art in the painting, click here.)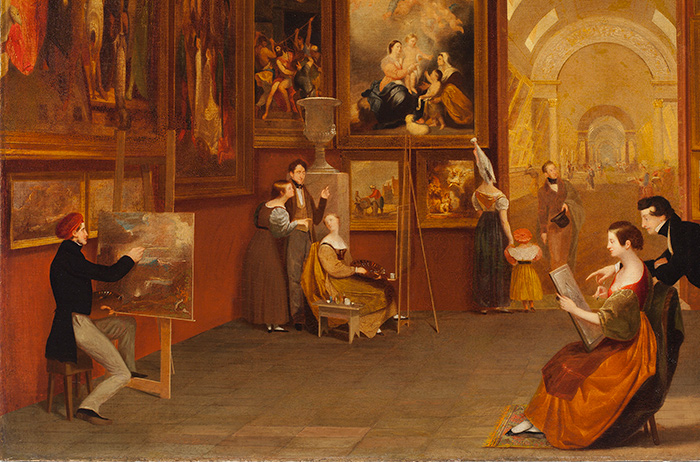 In addition to art, Morse depicts artists. The man painting in the lower-left hand corner is artist Richard W. Habersham, Morse's roommate in Paris. Another artist and roommate, Horatio Greenough, can be seen in the background, holding his top hat as he enters the hall. Detail of
Gallery of the Louvre
, Terra Foundation for American Art, Chicago.
Jessica Todd Smith, The Huntington's Virginia Steele Scott chief curator of American Art, says that Gallery of the Louvre uniquely captures the work of a great painter who also possessed the talents of a great inventor—a true American Renaissance man.
Morse was born in Charlestown, Mass., in 1791 and attended Yale University (then Yale College), studying science, art, and other subjects. He went on to support himself with portrait painting, first in the U.S. and then in London, where he joined a circle of American artists that included John Singleton Copley, Benjamin West, and John Trumbull.
Morse returned to the U.S. in 1815 and painted a precursor to Gallery of the Louvre, the seven-by-ten foot House of Representatives, for which he had to compile nearly 100 portraits of congressmen, delegates, and other figures.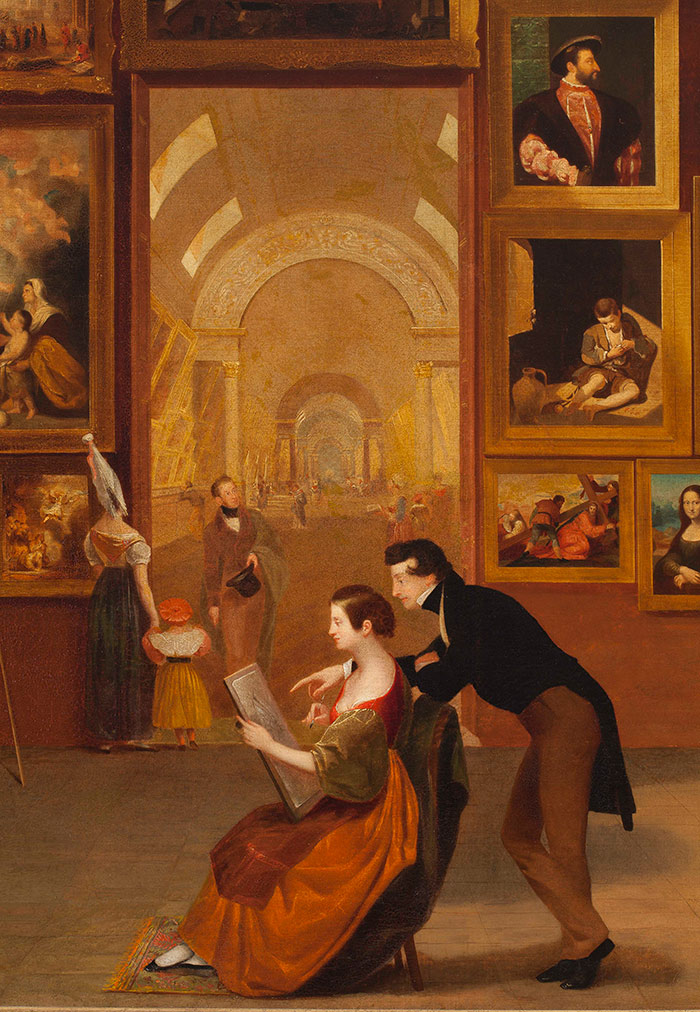 The young woman seated before her sketch is Morse's daughter, Susan Walker Morse, with her father, Samuel F. B. Morse, peering over her shoulder. Detail of
Gallery of the Louvre
, Terra Foundation for American Art, Chicago.
It was during a trip to Paris in September 1831 that Morse decided to craft another large-scale painting, this time from the Louvre's collection.
At the time, Morse was the founding president and professor of painting at the National Academy of Design in New York. His interest in painting Gallery of the Louvre was clearly pedagogical. He hoped to bring back to Americans a teaching canvas depicting what he considered the major works of Europe.
The project required numerous calculations to scale and arrange the works, aided by the use of a camera obscura or similar pre-photographic optical device. Working furiously, Morse raced to finish the painting before the Louvre's annual closure in August. He then rolled the canvas for travel and did not unroll it again until early 1833, back home on American soil, where he added finishing touches to the painting.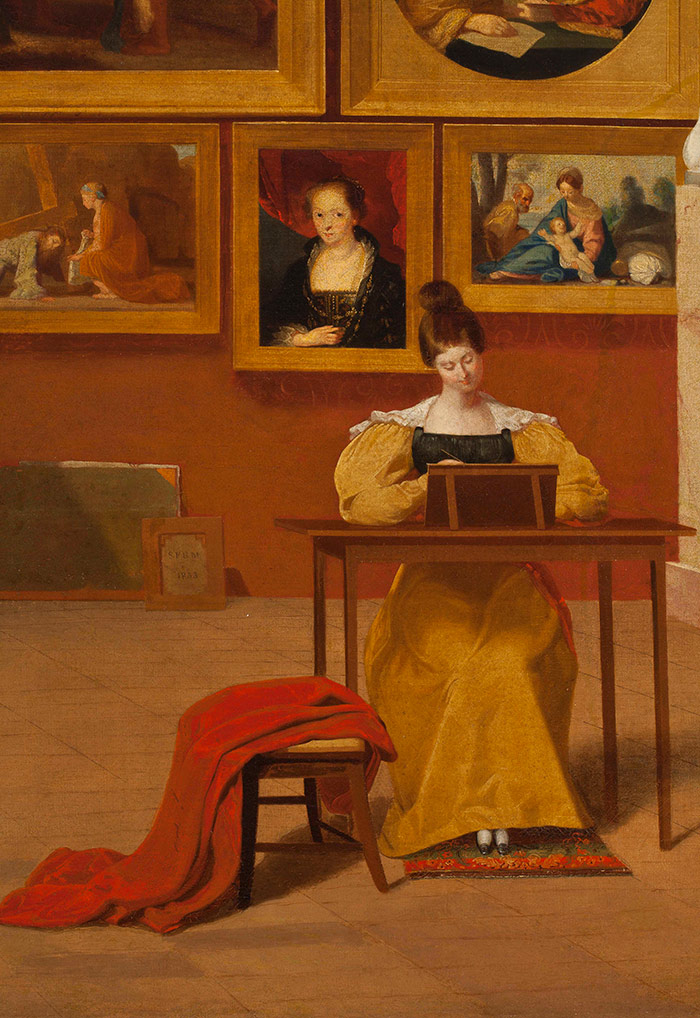 This image of a copyist (a respectable artistic practice at the time) is possibly Morse's recently deceased wife, Lucretia Pickering Walker. On either side of her, left to right, are
Portrait of Suzanne Fourment
by Peter Paul Rubens (1577–1640, Flemish) and
Rest on the Flight into Egypt
by Simone Cantarini (1612–1648, Italian). Detail of Gallery of the Louvre, Terra Foundation for American Art, Chicago.
Gallery of the Louvre debuted publicly in Manhattan in the fall of 1833. The painting drew praise from critics and connoisseurs but failed to attract a popular audience.
During this same period, Morse's work on a single-wire telegraph system and what came to be known as Morse code was gaining increased attention, and he never again returned to painting.
In 2010, the Terra Foundation oversaw a six-month conservation treatment of Gallery of the Louvre—a process documented and described in a video produced by Sandpail Productions. An excerpt will be shown in the exhibition at The Huntington.
The exhibition, "Samuel F. B. Morse's Gallery of the Louvre and the Art of Invention," runs Jan. 24–May 4, 2015. It will be augmented by Morse-related historical materials from The Huntington's library collections, including rare printed materials and unique manuscripts. The installation will include an opportunity for visitors to curate their own virtual gallery with miniature versions of works from The Huntington's art collections.
The exhibition catalog is available at the Huntington Store.
Thea M. Page is the director of marketing communications at The Huntington.