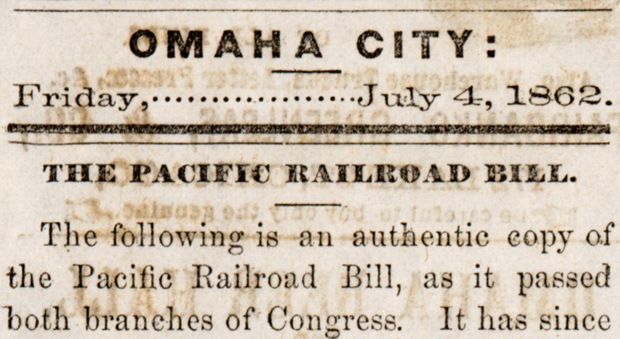 The news of the July 1, 1862, Pacific Railroad Act (referred to as "The Pacific Railroad Bill" above) was announced in the July 4 issue of the
Tri-Weekly Republican
in Omaha, Nebraska.
One hundred fifty years ago today, Abraham Lincoln signed into law the act that set in motion the development of the first transcontinental railroad across the United States. "Visions of Empire: The Quest for a Railroad Across America, 1840–1880," The Huntington's current major exhibition curated by Peter J. Blodgett, The Huntington's H. Russell Smith Foundation Curator of Western American History, attempts to contextualize this landmark railroad endeavor through letters, photographs, and other rare materials. In recognition of the Pacific Railroad Act of 1862, a hugely impactful piece of legislation whose ramifications are still at work today, we invite you to watch and listen to Blodgett as he discusses various aspects of "Visions of Empire." And as an excellent counterpoint to the more celebratory offerings that often accompany such major national anniversaries, we recommend "Indians and Railroads," a talk delivered by historian Richard White at a 2010 conference here, co-sponsored by The Huntington and the Autry National Center.
The "Visions of Empire" audio features can be downloaded from our iTunes U site or accessed by clicking the following links:
You can download Richard White's "Indians and Railroads" from iTunes U or listen to it here.
Below, in the short video titled "Nebraska News, 1862," Blodgett takes us inside the gallery to discuss an important 1862 issue of Omaha, Nebraska's Tri-Weekly Republican, a reproduction of which is on display in the "Visions of Empire" exhibition.
"Nebraska News, 1862" (Visions of Empire) from IN MOTION | The Huntington on Vimeo.
Kate Lain is the new media developer in the office of communications at The Huntington.