Christopher Slatoff is a figurative sculptor who works in bronze, just like Giovanni Battista Foggini, Corneille van Clève, and the other artists featured in the exhibition "Beauty and Power: Renaissance and Baroque Bronzes from the Peter Marino Collection." But Slatoff works in 21st-century Los Angeles with clients like USC and the city of San Diego, while Foggini reported to the Medici family and van Clève was patronized by none other than Louis XIV.
Working closely with La Fonderie Atelier, a foundry and studio in Los Angeles, Slatoff created an educational display for the exhibition that shows the bronze casting process step by step and includes a finished sculpture of a hand. The juxtaposition of his work with the Marino Collection statuettes makes you wonder, How does he compare his work to the masterworks on display?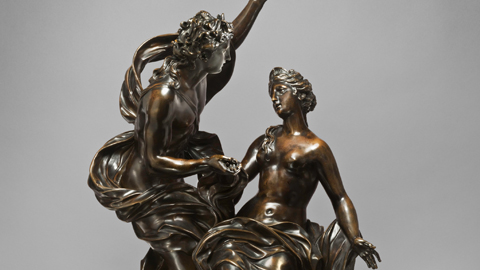 "I was taken with the skin on van Clève's Bacchus and Ariadne," he said. "Where the surface is supposed to be even, it's even. Where it's supposed to be arbitrary, it's beautifully arbitrary. Although it's been highly polished, there are light scratches that keep the flesh from looking like porcelain, and more like pores."
Beyond a comparison of the artworks themselves is the notion of a patron system. "I have bills to pay. I have to finish work, get paid, and the foundry is in the same position. The artists with works in "Beauty and Power" had all this time to finish their work." And there was an abundance of great foundry craftsmen then. Not anymore.
Referring to the violence depicted in some of the statuettes in the show, he points out that his work is "post-Freud"; he knows his audience is educated in psychology and would interpret a depiction of a rape or abduction, for example, accordingly. "We now can dissect Renaissance and Baroque bronzes in a way no one would have dreamed of at the time they were made." Slatoff says the biggest struggle in his own artwork is to remember not to mistake a life study for a sculpture; you have to instill content. The figures in "Beauty and Power" are infused with interpretations of ancient works that were accessible to audiences at the time they were made—maybe not so much to us. As Andy Warhol did in 1964 by making Brillo Box, many modern artists allude to pop culture——the common mythology for us, perhaps.
You can view the exhibition and Slatoff's installation through Jan. 24, 2011, in the MaryLou and George Boone Gallery at The Huntington. View photos of the educational display of the "lost wax" method on Flickr.
Captions: A bronze from the Marino Collection—Bacchus and Ariadne, by Corneille van Clève (1642–1732), cast in France, early 18th century; a finished bronze from Slatoff's display in the exhibition. Video: Christopher Slatoff and Daniel Serfaty showing a method of bronze casting; Robert Muthaumia, cinematographer.
Thea M. Page is art writer and special projects manager at The Huntington.