Oct. 9, 2010

–

Jan. 24, 2011
MaryLou and George Boone Gallery
An important international exhibition comes to the United States this fall, and The Huntington is the first venue on the American leg of its tour. "Beauty and Power: Renaissance and Baroque Bronzes from the Peter Marino Collection" opens Oct. 9 in the MaryLou and George Boone Gallery and continues through Jan. 24, 2011.
The exhibition is a rare look at two dozen exceptional bronze statuettes from the private collec­tion of New York architect Peter Marino. Most of these works, made from the mid-16th to the mid-18th century, never had been on public view before the show's debut last spring at the Wallace Collec­tion in London. After closing at The Huntington, the exhibition travels to the Minneapolis Institute of Arts.
The works highlighted in "Beauty and Power" reflect the collecting passion and acumen of Marino, who has assembled one of the strongest collections of Renaissance and Baroque bronzes in the nation.
"From the first time I had the privilege of viewing Mr. Marino's collection, I knew we must do what we could to bring these works to Los Angeles audi­ences," said John Murdoch, The Huntington's Han­nah and Russel Kully Director of Art Collections.
Bronze statuettes, of an intimate scale ideal for display on a table or mantle, developed as a serious art form in Renaissance Italy with a revival of the ancient Roman bronze casting tradition. Interest in making and collecting them spread north, and they became a popular medium for highlighting sculptors' technical mastery and aesthetic sophistication.
One of the classic materials of sculpture, bronze has long been valued as a medium by both artists and collectors because of its power to create, out of molten metal, the most complex and satis­fying sculptural forms. Dark and lustrous, with a spectrum of possible surface qualities, bronze sculpture can be used to express the most vivid emotions and experiences.
For centuries, these beautiful works of art have been collected fervently by individuals who take delight in their inventive compositions and erudite subject matter, often inspired by Greek and Roman mythology.
The sculptures on display in "Beauty and Power" will show a gamut of action and emotion, from the theatrical violence of Samson and the Philistine (ca. 1550-60), attributed to Baccio Bandinelli, to the seductive glamour of Diana (ca. 1720-40) by Antonio Montauti. Other highlights of the exhibition include the French sculptor Corneille van Cleve's masterpiece Bacchus and Ariadne, showing the lusty encounter between the abandoned goddess and her rescuer; Florentine sculptor Giovanni Battista Foggini's heroic David and Goliath; Ferdinando Tacca's poignant Hercules and Iole; and Robert Le Lorrain's graceful Andromeda.
The presentation is sup­plemented at The Hunt­ington with several related examples from the institution's own artistically important group of Renaissance bronzes, most of which were purchased by Henry Huntington in 1917 from the great collec­tion of bronzes formed by J. Pierpont Morgan. 
"Beauty and Power" continues an effort by museums such as the Frick Collection in New York and the National Gallery of Art in Washington, DC, which, through their own recent exhibitions, have sought to shed light on distinguished private collec­tions of Renaissance bronzes.
"Rather than simply duplicating a show from one venue to the next, these exhibitions are building on one another to bring light to an important field of study," said Catherine Hess, chief curator of Euro­pean art and organizer of the exhibition at The Hunt­­­ington. "Much remains to be understood regarding the technical process of making the sculp­ture as well as understanding matters of connois­seurship. It is thrilling for us to be able to contribute to this international examination and to introduce novices to the appreciation of bronzes. Our presentation, we hope, will engage visitors of all ages and back­grounds with explorations of why collectors become so passionate about these sensu­ous and evocative sculptures, and bring to life some of the timeless mythological tales that inspired them."
---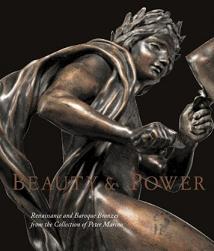 Catalog
The exhibition is accompanied by a fully illustrated catalog written by Jeremy Warren, collections and aca­demic director of the Wallace Collec­tion and curator of the exhibition. Beauty and Power: Renaissance and Baroque Bronzes from the Peter Marino Collection (hardcover $75, soft-cover $45) is available in The Huntington's Bookstore and More.
---
Related Events
Jeremy Warren will give a public lecture about the exhibition on Wed­nesday, Nov. 17, at 7:30 p.m., in Friends' Hall. Admission to the lecture is free.