Alex Israel's
Self-Portrait (Wetsuit)
stands directly across from
The Fountain of Love
, one of the 18th-century French tapestries in the Large Library of the Huntington Art Gallery. Photo by Kate Lain.
"What," you might ask, "is the work of contemporary artist Alex Israel doing in the Huntington Art Gallery, infiltrating the grand interiors of Henry and Arabella Huntington's former residence and supplanting beloved 18th-century artwork?" Looking at familiar things in a new way is often illuminating, revealing, thought provoking. And smart juxtapositions of contemporary and Old Master art can make us think more deeply about both.
Israel, who lives and works in Los Angeles—where he was born in 1982—is clearly enraptured with sunshine, glamour, Hollywood, and Southern California. Henry Huntington was also enraptured with this region, selecting it to realize his land-development dreams. And constructing a huge Beaux Arts mansion in the middle of San Gabriel ranchland in 1910 was as much of an incongruous visual statement as placing an enormous sunglass lens against a gallery wall in the same mansion in 2015. (That lens, by the way, is a luscious, gleaming piece of abstract sculpture, not to be missed.)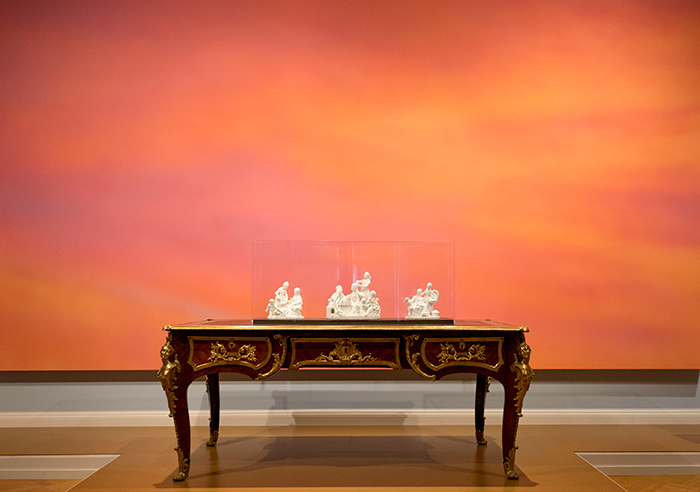 Alex Israel's
Sky Backdrop
is the new setting for three Sèvres biscuit porcelain figures atop an 18th-century French table. Photo by Kate Lain.
Contemporary art might seem foreign in the mansion but, lest we forget, just after 1900, 18th-century British art was foreign to San Marino, as were the Mexican and Canary Island palm trees intentionally cultivated here for their ornamental qualities and the film industry transferred from New Jersey to Southern California to dodge patent battles.
Celebrity—his own and that of others—is another central concern of Israel's. Just outside the Thornton Portrait Gallery, an image of Israel taking an image of himself painted on an image of his profile is perhaps the most layered and playful of his conceits. And while Henry and Arabella shunned the public eye, their acquisitions of Grand Manner portraits—just think of the hullaballoo surrounding their purchase of Blue Boy—conferred celebrity status upon them as cultured and discerning collectors.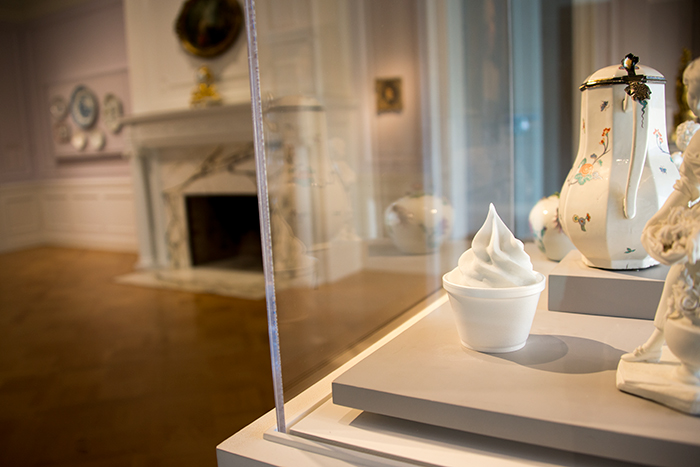 Alex Israel's
The Bigg Chill
sits among a selection of French faience pieces in an upstairs room. Photo by Kate Lain.
Perhaps the most fun comes from discovering a painting or sculpture by Israel hiding in plain sight among the mansion's artwork. Rather than going on a scavenger hunt for his items, try exploring a gallery and doing a double take: "Wait, is that a Renaissance bronze or the Maltese Falcon? Is that a piece of French faience or a cup of frozen yogurt?"
It's a nifty trick to have the contemporary and Old Master material actually enhance each other. Alex Israel's Sky Backdrop never looked better than as a luminous stage set for groupings of Sèvres biscuit porcelain figures. Jean-Antoine Houdon's life-size bronze of Diananever looked better than with a cartoon-like "Pow!" star behind her, functioning like an exclamation point to drive home that the goddess of the hunt was indeed an action hero.
What other revealing juxtapositions await your discovery? Come to the mansion and find out.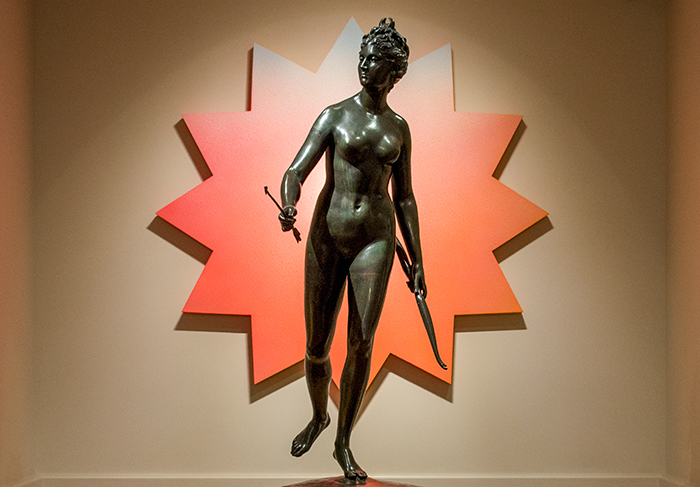 Alex Israel's
Untitled (Flat)
gives Jean-Antoine Houdon's
Diana chasseresse (Diana the Huntress)
the star treatment. Photo by Kate Lain.
"Alex Israel at The Huntington" is on view in the Huntington Art Gallery from Dec. 12, 2015, to July 12, 2016. For more photos, head to our Tumblr.
Catherine Hess is chief curator of European art at The Huntington.