The Huntington Centennial Celebration
For the past 100 years, The Huntington has examined the human experience through the lens of its incomparable library, art, and botanical collections. Marking its Centennial with a yearlong series of exhibitions and events, the institution celebrates the impact of its collections and the connections they offer, while exploring the interdisciplinary ideas that will shape the future.
Highlights
Exhibitions
"Nineteen Nineteen" Sep. 21, 2019–Jan. 20, 2020; MaryLou and George Boone Gallery
" What Now: Collecting for the Library in the 21st Century" Part 1: Oct. 19, 2019–Feb. 17, 2020; Library, West Hall
" Beside the Edge of the World" Nov. 9, 2019–Feb. 24, 2020; Virginia Steele Scott Galleries of American Art, Susan and Stephen Chandler Wing, locations throughout the gardens
" The Hilton Als Series: Lynette Yiadom-Boakye" Jan. 25–May 11, 2020; Huntington Art Gallery
The President's Series
A new series of performances, conversations, and other events with fresh perspectives:
Nov. 4, 2019 - Susan Orlean and Viet Thanh Nguyen in conversation, moderated by William Deverell, USC Professor of History
Nov. 14, 2019 - Shakespeare's Bad Quarto On Stage – Actors from the Independent Shakespeare Co. of Los Angeles compare and contrast readings from Shakespeare's "Bad Quarto" of Hamlet accompanied by commentary by Zack Lesser, professor of English at the University of Pennsylvania
Jan. 7, 2020 - Octavia E. Butler's Parables: A Music Talk with Toshi Reagon – Performances by Toshi Reagon and guests from diverse disciplines respond to Butler's three "Earthseed" novels
Mar. 5, 2020 - Author Talk and Signing: Parable of the Sower, A Graphic Novel Adaptation – Damian Duffy and John Jennings discuss their new graphic novel adaptation
Aug. 26, 2020 -  Inspired by Octavia E. Butler - A Handful of Earth, A Handful of Sky: Lynell George in conversation with William Deverell and Karla Nielsen
Centennial Celebration Family Day
Nov. 16 - Join the Centennial fun with a day of family-friendly art-making, performances, and concerts celebrating The Huntington at 100
Why It Matters
A new series of conversations, hosted by President Karen R. Lawrence, and featuring: 
Feb. 6, 2020 - Carla Hayden, Librarian of Congress
Feb. 27, 2020 - Drew Gilpin Faust, former president of Harvard University
Huntington Centennial Float in the 2020 Rose Parade®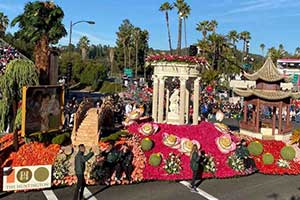 For the first time in 50 years, The Huntington joined Pasadena's world-famous Rose Parade® with a spectacular float, themed "Cultivating Curiosity," to capture the spirit of The Huntington's Centennial Celebration and highlight the institution's rare research materials, inspiring art collections, and enchanting botanical gardens that have made it a beloved destination that welcomes 750,000 visitors each year.
Huntington's 100th Rose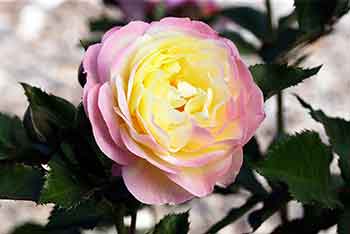 A special variety of rose, 'Huntington's 100th', provides a quintessential touch to The Huntington's Centennial. The pastel yellow and orchid pink floribunda was hybridized by Tom Carruth, The Huntington's E. L. and Ruth B. Shannon Curator of the Rose Collections, and is on display in the historic Rose Garden, as well as in a dedicated garden just north of the Virginia Steele Scott Galleries of American Art. The hybrid's abundant blooms emit an intense fragrance of lemon blossom with a hint of baby powder. If you missed the rose lecture and sale on Jan. 9, the next opportunity will be at the Spring Plant Sale, April 24-26. You can also find 'Huntington's 100th' at local nurseries, sometimes under the synonym, Life of the Party; they are the same rose.
News Releases
Sept. 5, 2019-  The Huntington's Yearlong Centennial Celebration Launches
Sept. 5, 2019 - The Huntington Updates Name, Adds "Museum" to Better Reflect Mission and Programs
Sept. 5, 2019 - Hammer Museum and The Huntington Announce Made in L.A. 2020 Partnership
Aug. 15, 2019 - The Huntington Reveals Design for 2020 Rose Parade® Float
July 2, 2019 - Two Consecutive Exhibitions Highlight Library Acquisitions in the 21st Century
June 4, 2019 - The Huntington to Enter Float in the 2020 Rose Parade® for the First Time in 50 Years
June 4, 2019 - Centennial Celebration Offers Something for Everyone with a Range of Innovative Programs
May 28, 2019 - 1919, the Year of The Huntington's Founding, is Subject of Sweeping Centennial Exhibition
Sept. 6, 2018 - The Huntington Announces a Year-Long Centennial Celebration to Begin in Fall of 2019