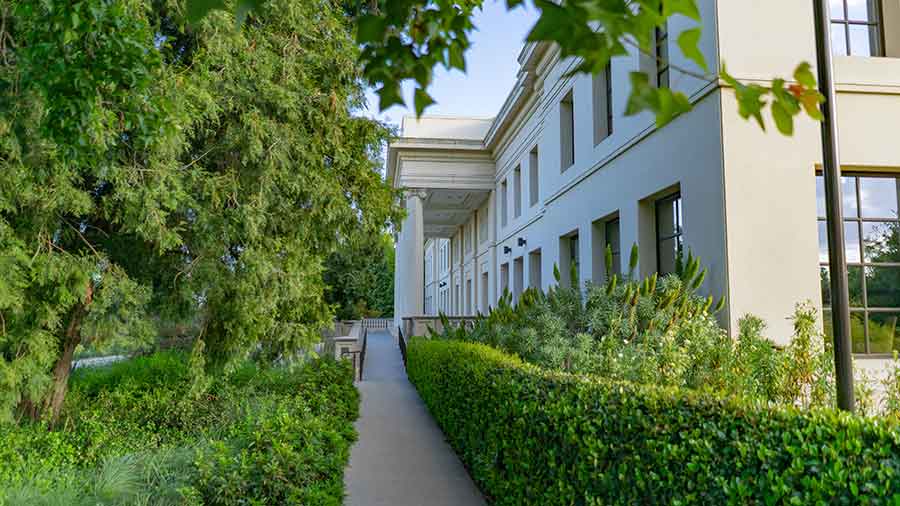 There will be 16 long-term and short-term fellows pursuing research at The Huntington during the 2020-21 academic year. Photo by Aric Allen.
In a normal year, nearly 2,000 scholars in the fields of history, literature, art history, and the history of science, technology, and medicine would be conducting academic research in The Huntington's library and art collections; and a significant proportion of them would be funded to carry out that work on Huntington research grants.
When our peer review committees convened at The Huntington in February 2020 to review proposals and award fellowships, they selected scholars who would (we thought at that stage) join one of the largest fellowship cohorts The Huntington has ever awarded: more than 150 grants, worth a total of $2.1 million, were made to scholars conducting advanced humanities research. We were expecting 23 long-term fellows and 136 short-term fellows to come into residence in the academic year 2020–21.
And then the world changed. Within two weeks of offer letters being issued and acceptances beginning to flood in, the COVID-19 pandemic created havoc for The Huntington's research program and for the scholars (almost a third of whom come from outside the United States) who wanted to join it. Within weeks, the reading rooms were closed; scholars already in residence were required to leave; the research fellowship program was paused; short-term fellows for 2020–21 were required to defer their fellowship into 2021–22; and the short-term fellowship competition for 2021–22 was cancelled.
If this all sounds rather breathless, that is precisely because we were out of breath as we sought to respond to a rapidly evolving crisis. Almost six months later, we still face the enormous challenge of managing the expectations of a very large number of scholars who urgently want to come into residence to work on their doctoral dissertations and book projects: those whose fellowships were interrupted in the spring of 2019; those who were intending to come into residence in the summer; and those who had been awarded grants to be here at some point during the next year. The staff has done a heroic job keeping track of the preferences of all these grantees and trying to keep them informed about our likely timetable for reopening.
As things stand, it is unlikely that we will be able to open the reading rooms any time very soon, so we made it clear to short-term fellows that we could not accommodate them and asked the long-term fellows whether they would like to defer their awards. Of the 23 scholars who had been awarded grants to come into residence for the full year, seven chose to defer. We accordingly have 16 scholars who are itching to use our reading rooms and anxious to get into their designated offices at The Huntington. Although we gave them (in accordance with the guidelines of the National Endowment for the Humanities) permission to hold their fellowships remotely, 11 of them made the brave decision to come into residence in and around San Marino (in several cases traveling all the way across the country) in the hope that they could soon have access to our collections.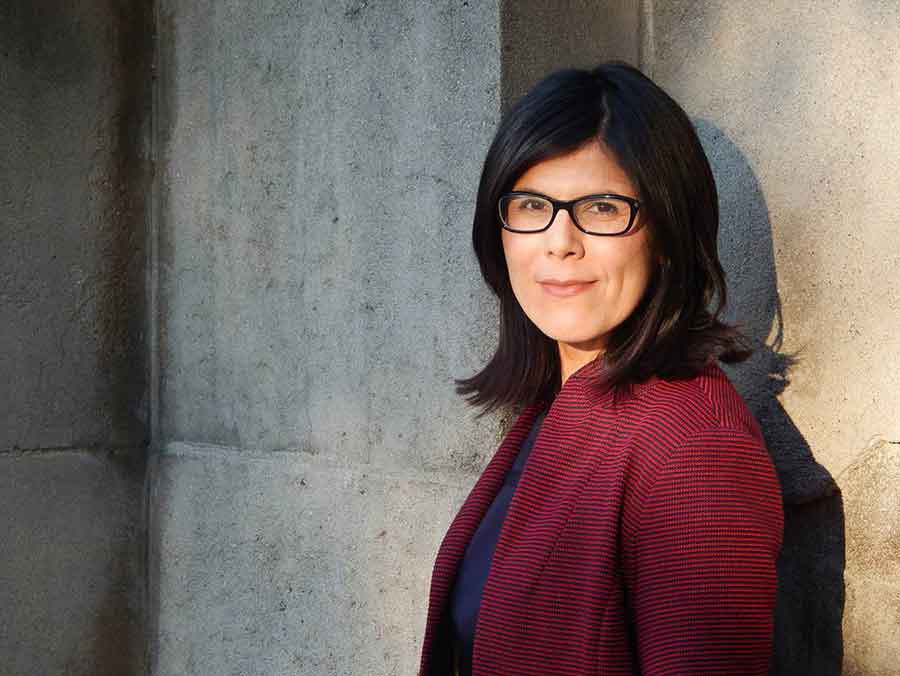 Natalia Molina is professor of American Studies and Ethnicity at the University of Southern California and a 2020–21 National Endowment for the Humanities fellow at The Huntington. Photo by Ed Brancheau.

When we do reopen, The Huntington research program will be experienced very differently from its usual format: scholars will make reservations to gain access to the reading rooms; they will have to consult research material while socially distanced and wearing masks; and all programming (conferences, lectures, seminars, working groups) will take place virtually. The face covering and the Zoom video conferencing platform will be as central to the research program as the book cradle and the lectern.
We are nonetheless delighted to welcome to the program those long-term fellows for whom these arrangements will become familiar. Among them is Natalia Molina, professor of American Studies and Ethnicity at the University of Southern California and a 2020–21 National Endowment for the Humanities fellow at The Huntington. Her work sits at the intersections of race, culture, immigration, and citizenship with the goal of helping us understand everyday issues in the world today. She is the author of two award-winning books: How Race Is Made in America and Fit to Be Citizens?: Public Health and Race in Los Angeles, 1879–1940. During her tenure at The Huntington, she will work on her new book project, The Silent Hands that Shaped The Huntington: A History of Its Mexican Workers.
"The story of Los Angeles's rise from a sleepy pueblo to a burgeoning metropolis has long been told through individual success stories of men who rose to positions of great prominence. One of the most important of these figures is Henry E. Huntington (1850–1927), who founded The Huntington in 1919," writes Molina in her project proposal. "As the story is usually told, orchards, streetcars, and botanical gardens seem to spring magically from the soil, brought forth by one man's ingenuity and drive. But those trees were planted and tended, and those tracks were laid, by hundreds of human hands. We have little knowledge of those workers, many brown-skinned, who labored to develop, build, and maintain the landmark that stands 100 years later."
Molina's project will reveal how much of the California Dream, especially as it related to Southern California and its landscape, was achieved through immigrant labor, which employers relied on even as they obfuscated it.
"In this project," writes Molina, "I closely examine the records left by Huntington's senior employees, men like George Patton, Sr., William Hertrich, and others. Using digital humanities techniques, I read these records against the grain and outline the workers' lives beyond their jobs: where they lived and with whom, where they worshipped, where and whether their children went to school."
Another long-term fellow this year is Randy M. Browne, associate professor of History at Xavier University in Ohio and the Fletcher Jones Foundation fellow at The Huntington. Browne is a historian of Atlantic slavery who specializes in the British Caribbean. His first book, Surviving Slavery in the British Caribbean (University of Pennsylvania Press, 2017), won the biennial Elsa Goveia Book Prize from the Association of Caribbean Historians. While at The Huntington, he will be working on his current book project, Drivers: Slavery and Power in the British Caribbean.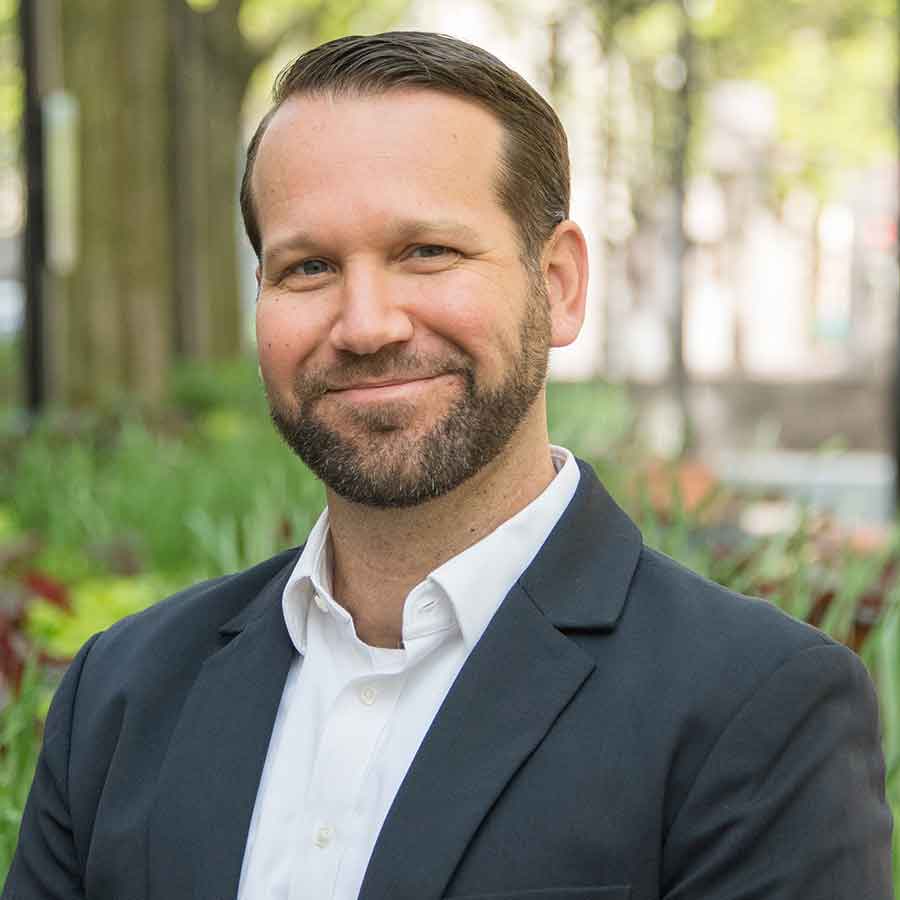 Randy M. Browne is associate professor of history at Xavier University in Ohio and the 2020–21 Fletcher Jones Foundation fellow at The Huntington. Photo by Chris Luessen.
"My project focuses on the role of drivers, enslaved people—usually men—who were appointed by the owners and managers of Caribbean plantations to supervise labor and maintain discipline," writes Browne in his project proposal. "In the brutal world of Caribbean slavery, where escape was all but impossible, drivers faced a relentless struggle for survival. The very system of slavery that entrapped and brutalized them also placed them in a precarious position of authority. Significantly, their fellow slaves saw them not just as oppressors but also as potential allies, community advocates and, sometimes, rebel leaders. My aim is to enrich our understanding of the driver's role and, more broadly, to help us develop a more nuanced view of power and agency under slavery."
The Huntington houses a remarkably strong collection of printed Caribbean travel narratives and memoirs that offer important insights from European observers about plantation labor, including the driver's role. In addition, The Huntington's vast collections of British antislavery materials provide an unparalleled view into the ways that abolitionists used drivers as a prime example of the excesses of violence on Caribbean plantations.
"These collections include the publications of various antislavery societies as well as the manuscript papers of prominent abolitionists such as Thomas Clarkson and Zachary Macaulay," writes Browne. "The Huntington also houses manuscript records from individual West Indian plantations, such as the Hope plantation in 18th-century Jamaica. Plantation papers will allow me to see how drivers on specific plantations functioned in the broader context of estate management and, hopefully, allow me to track individual drivers over multiple years."
Molina and Browne are among the 114 applicants who competed for long-term fellowships this year. The fact that they are so determined to use our collections under such unusual and difficult circumstances is telling evidence of the value of a Huntington research fellowship for those scholars who need the time and resources to think, read, and write. We are delighted to be able to support them throughout these unprecedented challenges, and we steadfastly refuse to accept that the arrangements that we have had to put in place to keep them and our staff safe will—in the long run at least—constitute the "new normal." We are eager to restore that magical situation in which scholars can participate spontaneously in those serendipitous face-to-face conversations that have long been central to The Huntington's research program.
Steve Hindle is the W.M. Keck Foundation Director of Research at The Huntington.