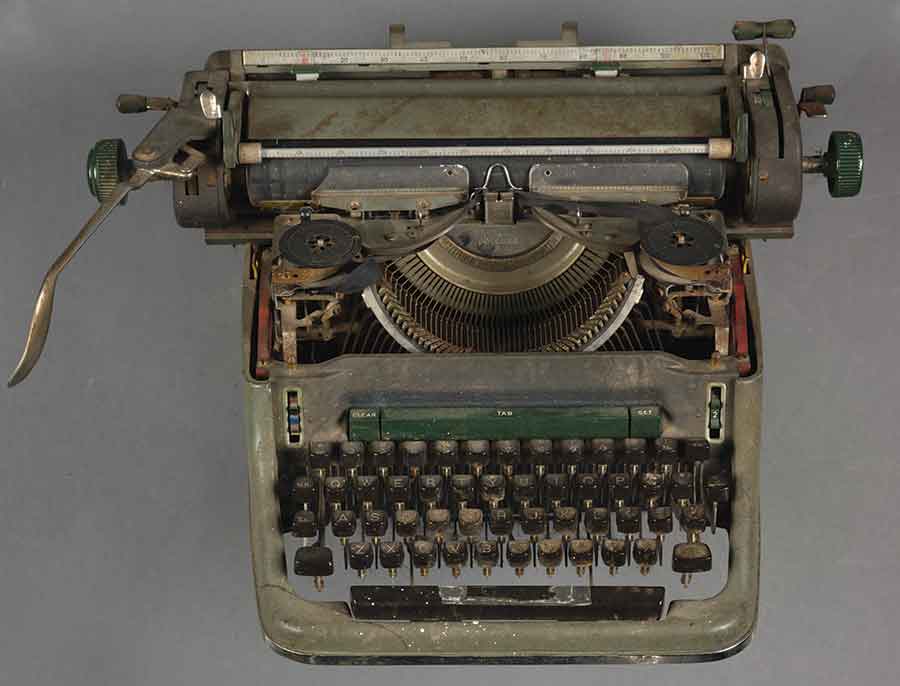 Charles Bukowski's typewriter, witness to thousands of nights of words and raw wisdom, displayed on loan for the 2010 exhibition "Charles Bukowski: Poet on the Edge" at The Huntington.
Charles Bukowski (1920–94) would have turned 100 on August 16. The so-called "poet laureate of Los Angeles low-life" had a reputation for hard-living and crude language. While some are put off by his lexicon, a wide and diverse array of devoted fans find solace in the raw honesty of the man who wrote about life without rose-colored glasses.
Bukowski wrote about booze, gambling, and hard-luck living. Yet the poet's cultivated crusty exterior belied a perceptive and sensitive soul. He wrote about loneliness, rejection, and anger. His poems registered authentic pain and joy. He wrote tenderly of his daughter, mused on simple pleasures, and reveled in the humor of human folly. He expressed the dichotomy in his personality in his poem "Bluebird," which begins:
there's a bluebird in my heart that
wants to get out
but I'm too tough for him,
I say, stay in there, I'm not going
to let anybody see
you.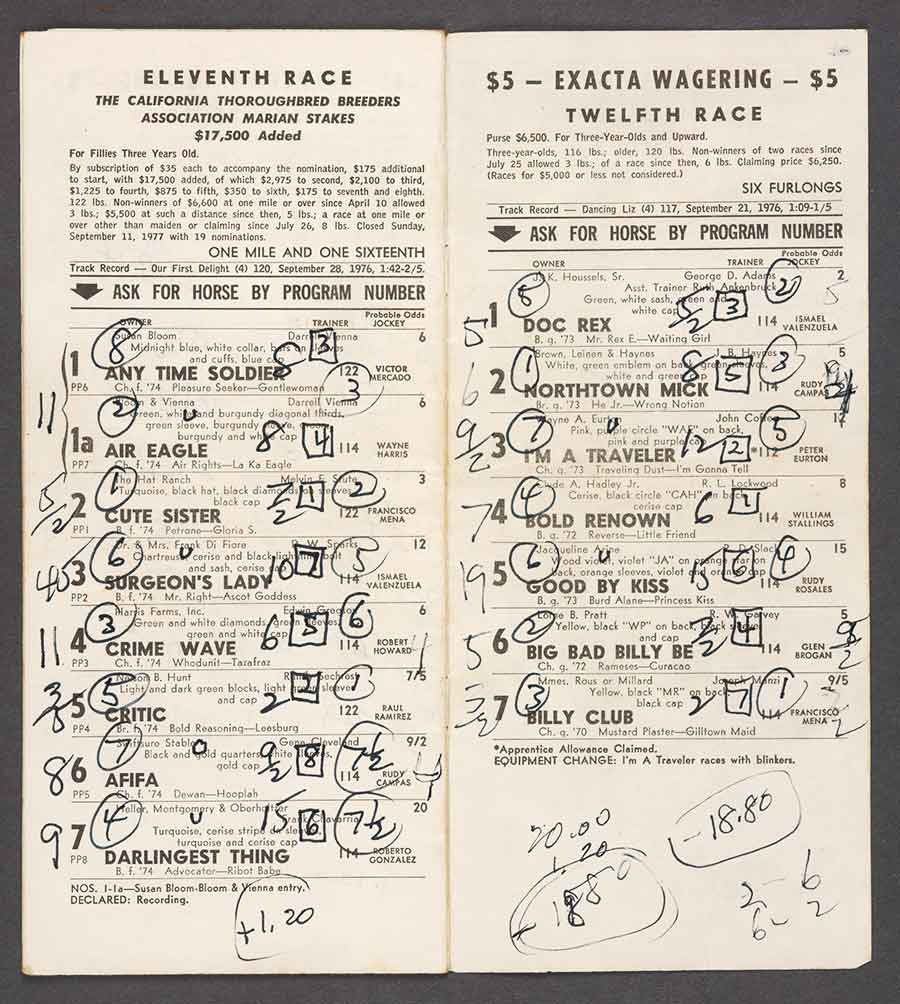 Racing program for Los Angeles County Fair in Pomona, California, September 19, 1977, annotated by Charles Bukowski. The Huntington Library, Art Museum, and Botanical Gardens.
Bukowski's youth was no picnic. Born in Germany to a U.S. Army sergeant and a German mother, he was ridiculed for his accent. Ravaged by a violent father and disfiguring acne as a young man, he was withdrawn and low on self-esteem. He turned to alcohol for confidence and coping. He later used sex much the same way.
In his 20s, he drifted. He was arrested for draft dodging, then declared unfit for military service, failing a psychology test. Alcohol landed him in the hospital at 35, and he nearly died of a bleeding ulcer. He worked in the Terminal Annex of the central post office in downtown Los Angeles. He married and divorced. He became a father, but not a family man. He listened to classical music and gambled at Santa Anita Racetrack. But "the typer," as he called his typewriter, was there for him. Bukowski never believed in a muse, but he found writing, and especially the composition of poetry, a necessary act, like breathing.
By his late 30s and 40s, Bukowski was regularly publishing stories and poems in small literary magazines. His prose column "Notes of a Dirty Old Man" glorified his vices and celebrated the average working man. Then Bukowski received an offer to quit his job and write full time from publisher John Martin of Black Sparrow Press. He was 49, and he never looked back.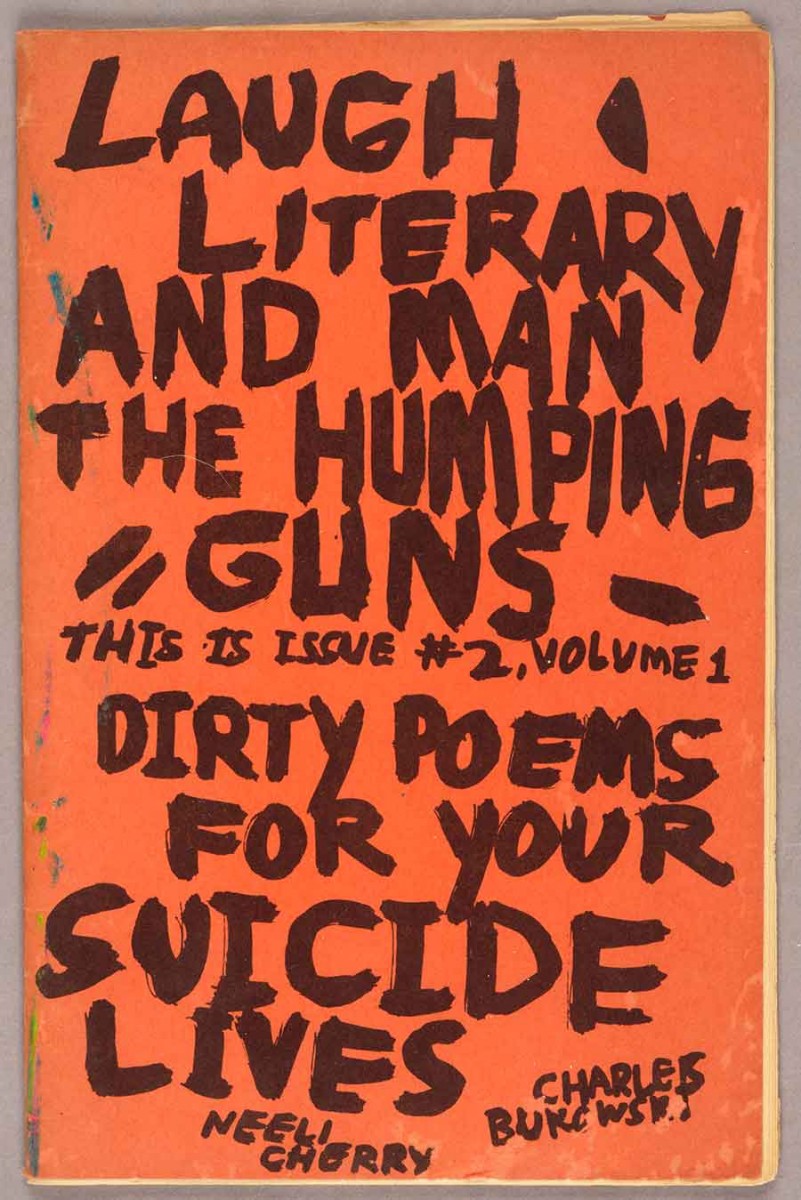 Laugh Literary and Man the Humping Guns
, a short-lived literary magazine published by Bukowski and fellow poet Neeli Cherkovski. The Huntington Library, Art Museum, and Botanical Gardens.
He wrote his novels in his 50s and 60s. They are largely memoirs about his alter ego, Hank Chinaski. He chronicled his fictionalized childhood in Ham on Rye, his toil in the mail room in Post Office, and his relationship with the opposite sex in Women—some of his most popular works. Ultimately, his fictional self was adapted for the big screen, an experience that in turn inspired his novel Hollywood.
Fame and money brought him a different lifestyle—a BMW, a house in San Pedro, offers to lecture in university classrooms, and a long-lasting relationship with his second wife, Linda Lee Bukowski. But the change in lifestyle never changed his soul.
Bukowski died in 1994 at the age of 73. Starting in 2006, his widow, Linda, began donating Bukowski's papers to The Huntington. The collection includes rare editions of Bukowski's works, thousands of corrected typescripts of poetry, and files of correspondence. Two other collections, the Charles Bukowski periodical collection and the John Martin collection of Charles Bukowski periodicals, contain rare issues of journals that published Bukowski's earliest writings.
To honor a conventional milestone for an unconventional man, below is an unconventional tribute to a poet who didn't follow literary rules.
Bukowski at 100 (by the numbers)
4-F classification: Bukowski was arrested for draft dodging in 1944; he later passed his army physical but failed the psych exam and was declared unfit for military service.
106: Issue of Story Magazine (Volume 24), 1944, in which Bukowski's first published short story, "Aftermath of a Lengthy Rejection Slip," appeared. The young writer found little success in his early years and quickly became disillusioned with publication; he ceased writing for a decade.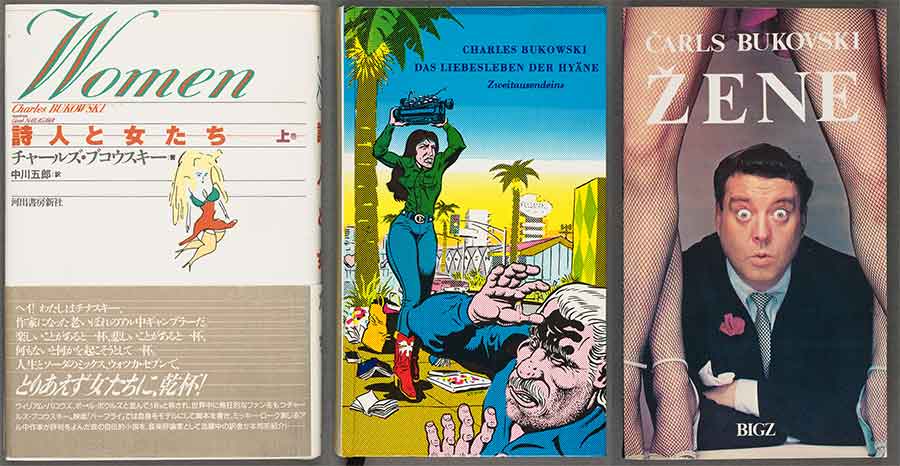 A selection of translations of Charles Bukowski's novel
Women.
"20 Tanks from Kasseldown" : Title of Bukowski's first published broadside, as part of PORTFOLIO AN IN­TERNATIONAL REVIEW, No. 3, in 1946.
90012: Zip code of the United States Post Office-Los Angeles Terminal Annex, where Bukowski worked sorting mail in the 1950s and '60s.
50: Bukowski's age when he published his first novel, Post Office.
6 novels: Post Office (1971), Factotum (1975), Women (1978), Ham on Rye (1982), Hollywood (1989), Pulp (1994).
9th Symphony of Mahler, or Bruckner, or Beethoven, or Schubert: Compositions referenced in Bukowski's poems. He loved classical music.
353 "Notes of a Dirty Old Man": These columns first appeared in the underground Los Angeles newspaper Open City and later in NOLA Express and the Los Angeles Free Press.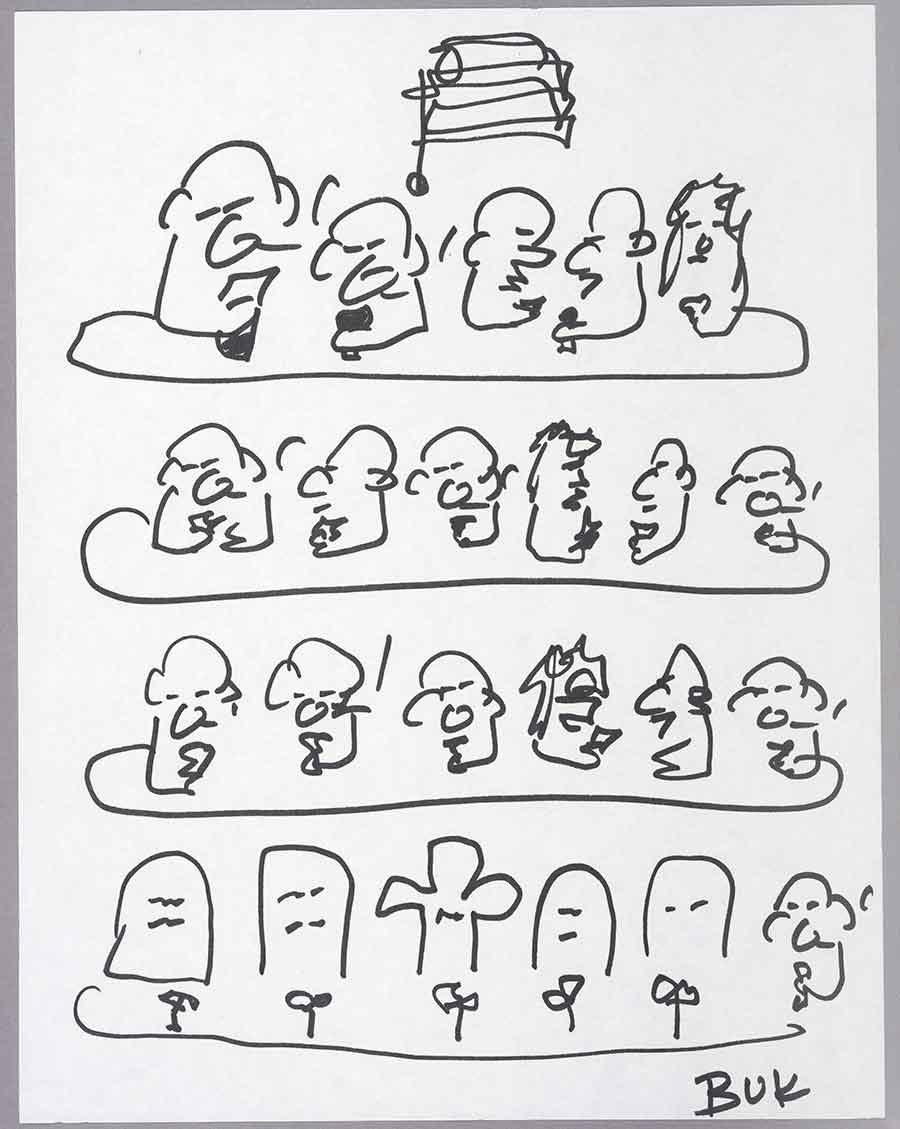 Cartoon by Charles Bukowski. The Huntington Library, Art Museum, and Botanical Gardens.
1987: The year Barfly, Bukowski's semi-autographical screenplay, starring Mickey Rourke and Faye Dunaway, and directed by Barbet Schroeder, was screened at the Cannes Film Festival.
18 different languages: Bukowski works in The Huntington archive have been translated into Bulgarian, Czech, Danish, Dutch, Finnish, French, German, Greek, Hebrew, Italian, Japanese, Norwegian, Polish, Portuguese, Serbian, Spanish, Swedish, and Turkish.
36 poetry collections published to date.
2 words: Bukowski's epitaph on his gravestone is "Don't Try." Often mistaken for an endorsement of sloth, the motto describes instead the poet's distaste for forced writing.
Natalie Russell is assistant curator of literary collections at The Huntington.