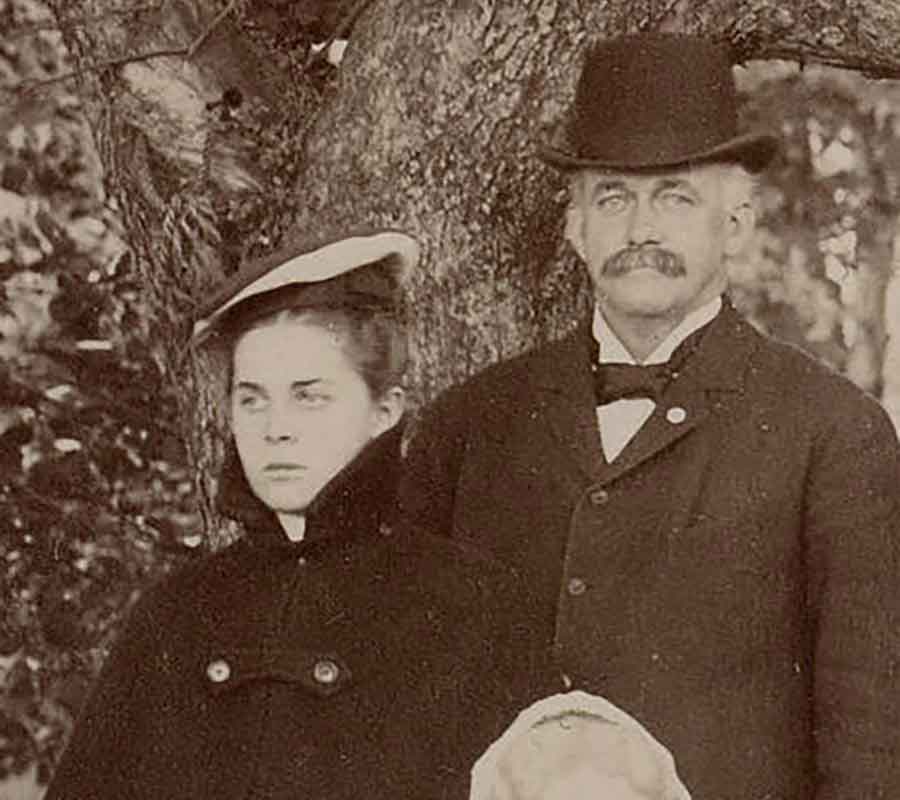 Clara Huntington and her father, Henry E. Huntington, ca. 1900. Detail from a group family portrait taken in Oneonta, New York, where both Henry and Clara were born. The Huntington Library, Art Museum, and Botanical Gardens.
She was the eldest of three daughters from Henry E. Huntington's first marriage and shared her father's appreciation for art, books, and the beauty of California. Clara Leonora Huntington (1878–1965), often described in newspapers as a "sculptor and railroad heiress," was a trained artist, and she left behind a tribute to her beloved father at his beloved library—a marble sculpture of him that you may have walked past, not knowing its history.
Clara, or "Peggy" as she was called, began the sculpture as her father became ill in his last years. She sat at his bedside and modelled a likeness of him over five days, finishing before he died on May 23, 1927. The final artwork was a marble bas-relief, a life-size depiction of her father in profile, intended to be placed at the Huntington Library he had founded.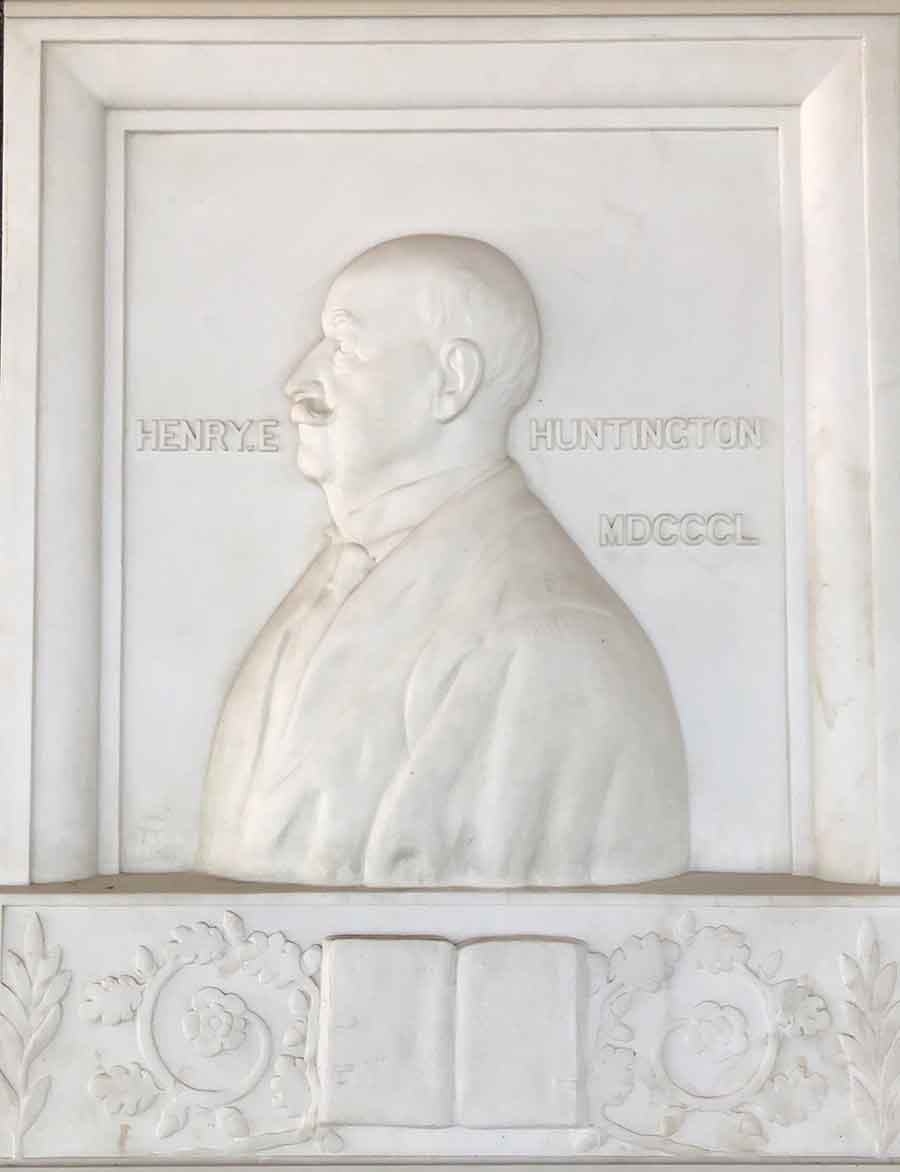 Clara Huntington's marble bas-relief sculpture of Henry E. Huntington. The Huntington Library, Art Museum, and Botanical Gardens.
The sculpture was formally unveiled at The Huntington in November 1930. The Fourth Annual Report noted that "a bas-relief in marble of the Founder, [was] made and presented by his daughter, Mrs. Clara Huntington. Invitations were extended only to members of Mr. Huntington's family, to a few of their intimate friends, and to the staff of the Library." The sculpture was originally placed in the Library Exhibition Hall, but now is mounted outside, on a wall adjacent to the domed Rose Hills Foundation Garden Court.
Clara was born in Oneonta, New York, in 1878, but she lived most of her life in the San Francisco Bay Area. Henry and his first wife, Mary Alice Prentice Huntington, moved the family to San Francisco in the 1890s. The society pages of the San Francisco Examiner announced Clara's engagement to Gilbert B. Perkins in 1901, but also lamented: "Miss Clara Huntington cares little for society; she is an athletic girl and extremely fond of books." Did she and her father talk about books?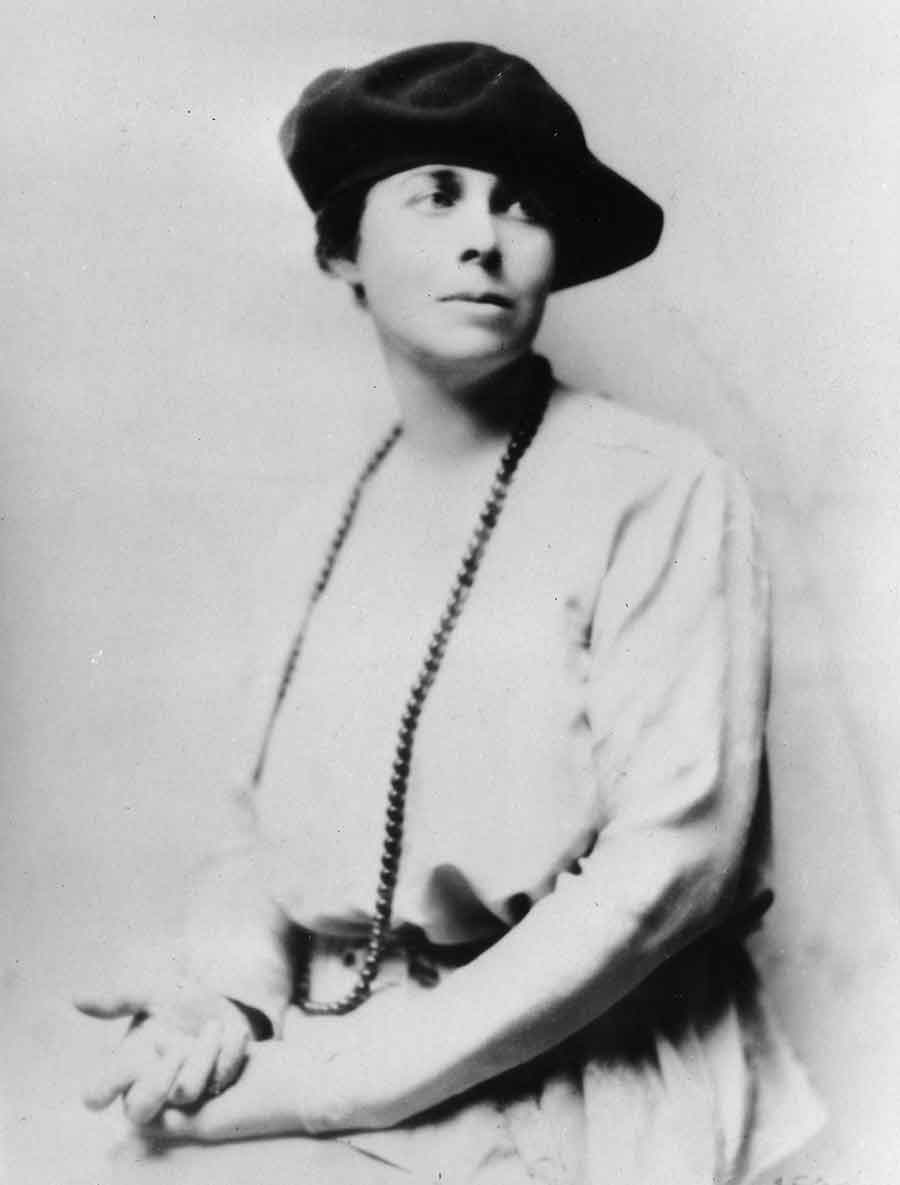 Clara Huntington, ca. 1930. Clara was one of four children born to Henry E. Huntington and his first wife, Mary Alice Prentice Huntington. After her divorce from Gilbert Perkins, Clara legally took back the name Huntington for herself and her three children. The Huntington Library, Art Museum, and Botanical Gardens.
Clara began her career as an artist in earnest following her divorce from Perkins, with whom she had three children. She attended the San Francisco Art Institute, studied under Leo Lentelli in New York, and under sculptor Arturo Dazzi in Rome. One of the pieces she created in Rome was "Youth," a bas-relief of three dancing women, that hangs in a courtyard at the Berkeley City Club designed by Julia Morgan. She created a bronze of St. Francis that was exhibited in the Golden Gate Park Exposition of 1939. The Huntington also has one of her St. Francis bronze statues, which you may have seen if you have visited the Lily Ponds—it stands among the bamboo.
In 1919, Clara commissioned Julia Morgan to design an Italian-style villa for her in Los Gatos, then an agricultural area dotted with oaks, south of San Francisco. The descriptions of the residence and surroundings sound like something Henry would have built—a home situated to enjoy the outdoors, with loggias, patios, fountains, and walking paths among citrus trees, orchards, and gardens. The residence still stands. In her last years, "Mrs. Huntington," as she was known, primarily resided in a Victorian house on Russian Hill in San Francisco. She died in 1965.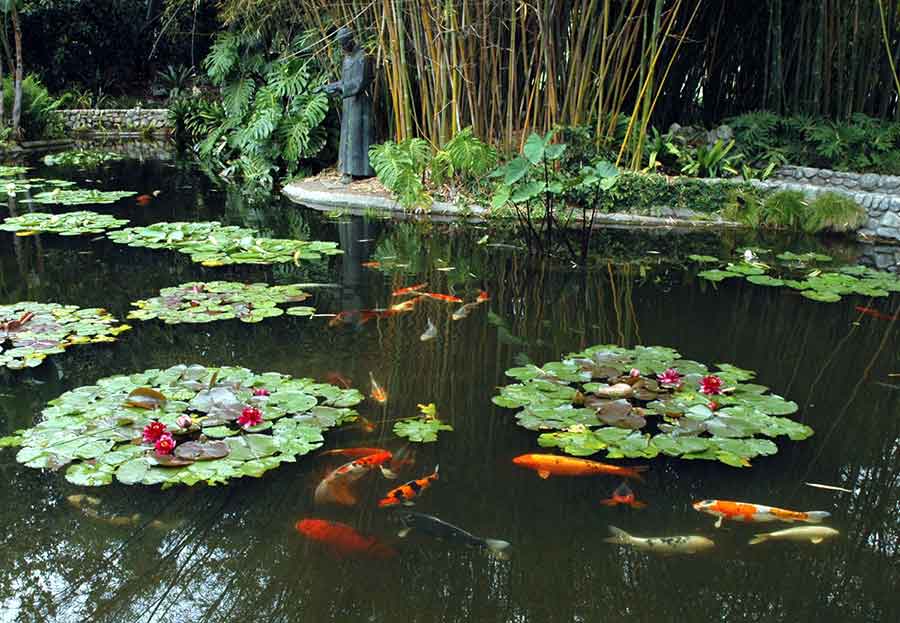 Clara Huntington's bronze statue of St. Francis at The Huntington's Lily Ponds. The Huntington Library, Art Museum, and Botanical Gardens.
In the future, when The Huntington is open again, take a minute to stop and notice the marble portrait of Henry Huntington made by his daughter, and look for Clara's stylized initials carved into the corner.
Suzanne Oatey is a processing archivist in the Library's Acquisitions, Cataloging, and Metadata Services department at The Huntington.