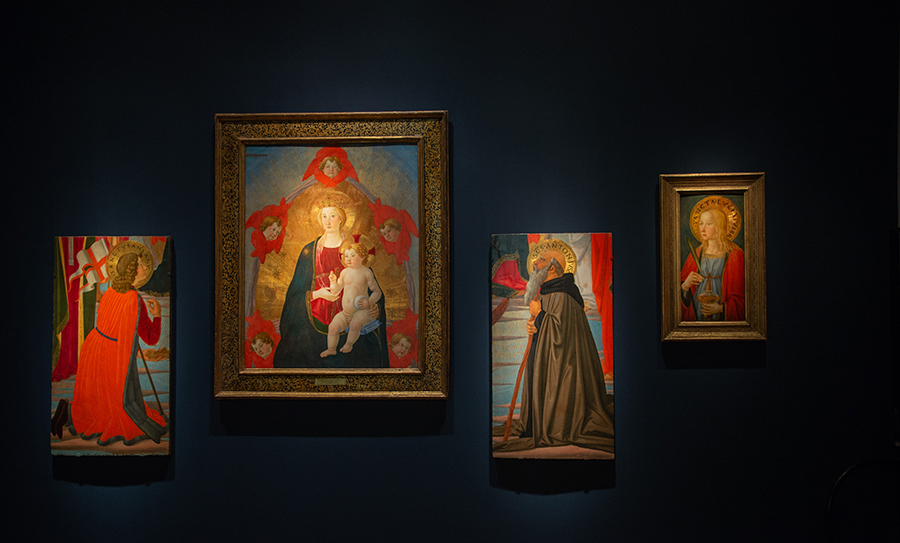 Four of Cosimo Rosselli's seven gilded panels from an altar piece cut up in the 1790s have been reunited for the first time at The Huntington. Photograph by Deborah Miller.
Something rare and golden will be unveiled in the Huntington Art Gallery this weekend. Beginning Dec. 1, four tempera-with-gold-leaf panels from an altarpiece by Florentine Renaissance master Cosimo Rosselli (1439–1507) can be seen reunited on the same wall, hung in a beautiful new display after more than 200 years of separation.
The clear, fresh face of Saint Ansanus and the aged figure of Saint Anthony Abbot (on two panels recently acquired by The Huntington) will once again gaze up adoringly at the Madonna and Child as they did before the 1790s, when the altarpiece for which they were made had already been cut into seven sections and scattered. For this new display in the Renaissance gallery (upstairs, in the east wing of the Huntington Art Gallery), these three Huntington panels will be joined by a fourth: the figure of Saint Lucy, on loan from California collectors Jill and Lowell Teschmacher.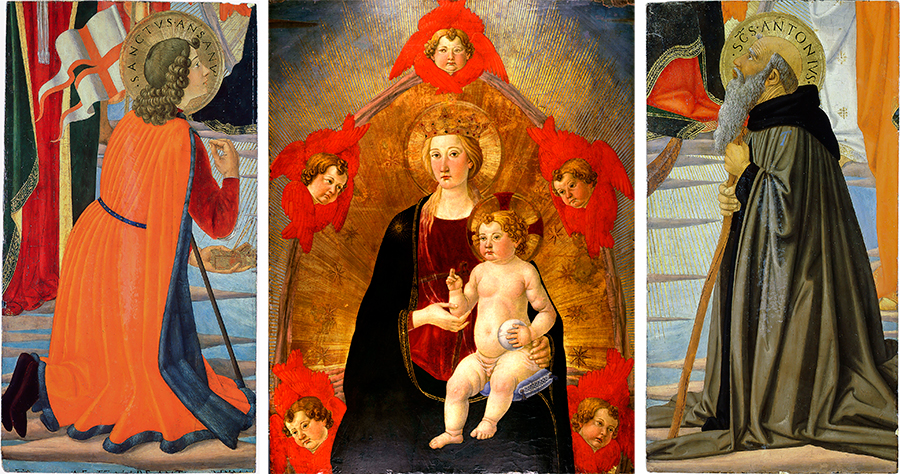 Two newly acquired works by Cosimo Rosselli
—Saint Ansanus
(left) and
Saint Anthony Abbot
(right), both painted ca. 1470—rejoin Rosselli's
Madonna and Child in Glory
(center) in The Huntington's collections.
Saint Ansanus
(36 1/4 x 19 1/4 in.),
Saint Anthony Abbot
(36 1/4 x 19 3/8 in.),
Madonna and Child in Glory
(36 x 28 in.), tempera with gold leaf on poplar wood panel. The Huntington Library, Art Collections, and Botanical Gardens.
"This is a story of a beautiful work by a revered Italian Renaissance painter literally cut up to feed a hungry art market," said Catherine Hess, chief curator of European art. "With this installation, which includes four of the seven pieces arranged roughly as they were when they were painted, we reconstitute history."
The four panels' vividly painted compositions seem to bounce from one to another and draw the eye to the centerpiece—Madonna and Child in Glory—the altarpiece's regal focal point, acquired by Arabella Huntington (Henry E. Huntington's wife) in the early 20th century for her lavish Fifth Avenue apartment in New York City.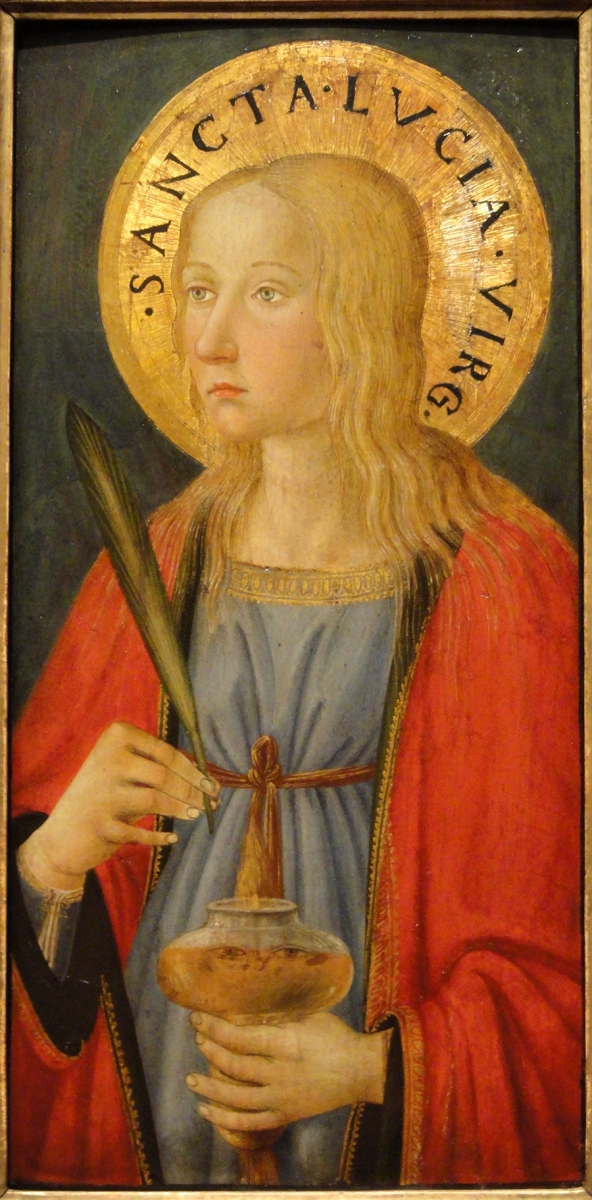 The three Huntington panels have been joined by a fourth: the figure of Saint Lucy.
Saint Lucy
, ca. 1470, tempera and gold leaf on poplar wood panel. Collection of Jill and Lowell Teschmacher, California.
"Arabella had an early interest among Americans to collect Renaissance art," added Hess. "This gallery, repainted in deep blue, showcases her fine taste, displaying together not only her Rosselli, but also other great 15th- and 16th-century paintings that she collected, not the least of which is Rogier van der Weyden's incomparable Virgin and Child."
The refreshed and reinstalled Renaissance gallery is considered a permanent display, but don't delay—a visit to this jewel box is guaranteed to elevate your holiday joy this season.
Thea M. Page is the director of marketing communications at The Huntington.