Many today are familiar with Ireland's Great Potato Famine, the ecological and social calamity (exacerbated by misguided British policies) that resulted in mass starvation and an exodus of immigrants to the United States in the 1840s. What is considerably less well known is just how prominently hunger, food shortages, and other problems related to food and drink figured in earlier Atlantic history, from the first colonization attempts in America to the upheavals of the Age of Revolutions. While the leading European powers eagerly sought to consume or capitalize on the abundant natural resources of their newly acquired territories, those who actually labored on the frontiers of empire often faced much hardship and suffering.
Starvation was nearly the downfall of Jamestown and Plymouth as ill-prepared settlers struggled to survive, in the process alienating the Native people with their demands for corn. During the 1730s, a severe drought in Antigua caused enslaved African workers to endure famine; amidst rumors of a planned slave revolt, their well-fed masters resorted to a campaign of terror to reassert their dominance. When the American Revolution disrupted Northern food shipments to the West Indies, hungry slaves once again threatened resistance, prompting sugar planters to cling more tightly to imperial protection. In the 1780s, weather disruptions caused by the eruption of an Icelandic volcano resulted in crop failures across the western hemisphere; the ensuing bread shortages sparked the peasant protests that culminated in the French Revolution. Whatever the specific situation, controlling access to food and drink was critical to controlling populations, both within European nations and in their colonies abroad.
To investigate the historical contexts and significance of food in the early modern period, we are convening a conference, "Empowering Appetites: The Political Economy & Culture of Food in the Early Atlantic," to be held Oct. 12–13, 2018 in The Huntington's Rothenberg Hall.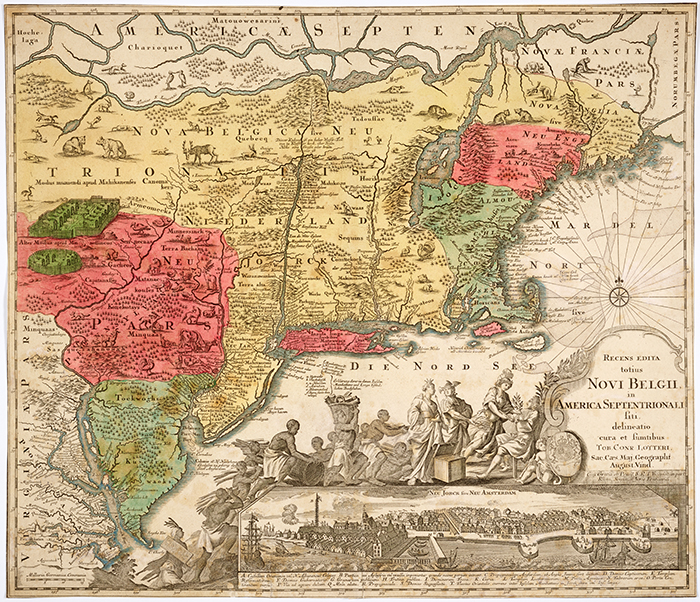 Nicolao Visscher, map entitled
Orbis Terrarum Nova et Accuratissima Tabula,
1658, Amsterdam. This image includes the depiction of a procession of enslaved Africans delivering America's bounty to the English king. The Huntington Library, Art Collections, and Botanical Gardens.
As we will discuss in the opening session, "The Politics of Food," throughout the 17th and 18th centuries, possession of bountiful, high-quality foods served as a key signifier of personal status as well as a vital measure of national prosperity. Contrariwise, any form of dearth could quickly undermine social order and contribute to internal and external strife. Settlers, merchants, and government officials assessed and debated how to address the interconnected problems of preventing hunger and managing food supplies that often reverberated across the Atlantic world—from Jamaica to Quebec to Sierra Leone.
The imperative to ensure sufficient, reliable sustenance and thereby minimize social unrest prompted efforts to streamline the distribution of provisions, agricultural innovations to increase and diversify food production, and experimental methods to regulate the diets of such varied groups as soldiers, sailors, slaves, prisoners, and the poor. However, as speakers in the following session, "Provisioning Empire," will address, these priorities were complicated by factors such as overreliance on imported provisions, wars, demographic shifts, health crises, and natural disasters.
At the same time, colonial and metropolitan elites tended to prioritize their immediate self-interest over the general welfare, profiteering when possible, while always maintaining their own extravagant levels of consumption. Disparities such as these, especially in times of crisis, in turn, gave rise to popular protests that imperial powers strove to quell.
As speakers in the session "(Mis)managing Food Supplies" will highlight, misunderstandings, disagreements, and even violent clashes could stem from the different values and meanings that various people attached to particular foods, especially if there was any threat of scarcity. But even apart from times of crisis, procuring, cooking, and consuming food and drink crucially shaped a range of both intimate and geopolitical relationships in the early modern period. Papers in the final session, "Changing Appetites: Cultural Meanings of Food," will explore how encounters among Native Americans, Africans, and Europeans were mediated through eating and drinking, such as in gift-giving or trading of edibles, transfers of culinary knowledge, retentions or adaptations of foodways, and, perhaps most important, in the cultural rituals associated with sharing meals and eating (or avoiding) certain ingredients or beverages.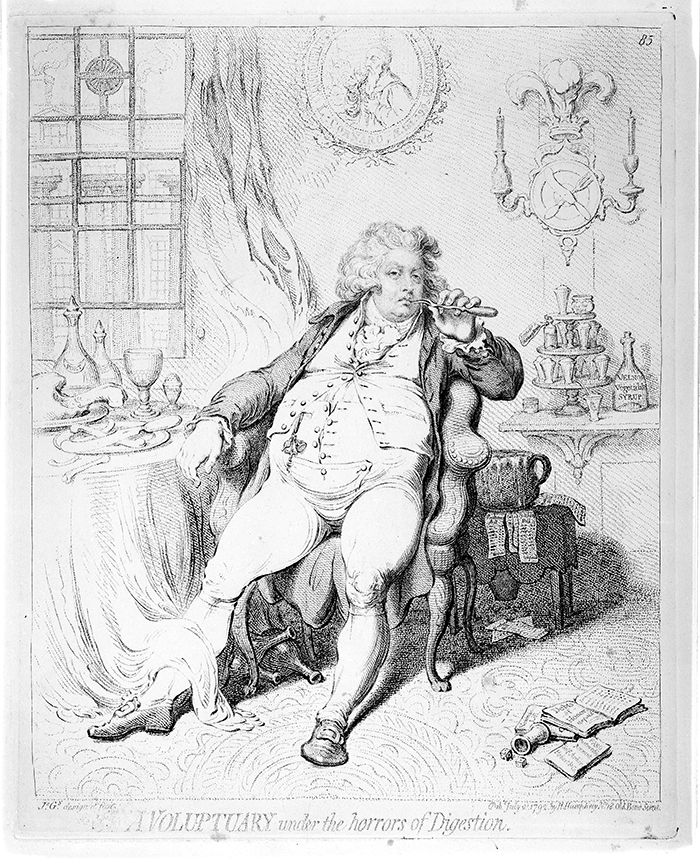 James Gillray,
A Voluptuary Under the Horrors of Digestion,
London, 1792. This satirical image of an obese George, Prince of Wales and later King George IV, evokes the indulgence of the metropolitan elite during the late 18th century. The Huntington Library, Art Collections, and Botanical Gardens.
By bringing together historians, historical geographers, and literary scholars at The Huntington, we expect a lively interdisciplinary conversation focused on the rhetoric and realities surrounding the contested politics of food. "Empowering Appetites" will give us an opportunity to reflect on the existing scholarship in order to generate new questions about the many ways in which social and cultural relations were mediated through the manipulation of food supplies, and what those interactions reveal about changing power dynamics throughout the greater Atlantic World. Ultimately, by critically examining neglected aspects of the increasingly globalized appetites that developed during this period, we hope to emphasize their enduring legacies.
Jennifer L. Anderson is associate professor of History at Stony Brook University, located on Long Island, New York. She is the author of Mahogany: The Costs of Luxury in Early America (Harvard Univ. Press, 2012). More recently, her article "A Laudable Spirit of Enterprise: Re-Negotiating Land, Natural Resources, and Power on Post-Revolutionary Long Island," Early American Studies (Spring 2015), received the John M. Murrin Prize.
Anya Zilberstein is associate professor of History at Concordia University in Montreal. Her first venture into food history, "Inured to Empire: Wild Rice and Climate Change," William & Mary Quarterly (January 2015), was awarded the Sophie Coe Essay Prize by the Oxford Symposium on Food History. Her recent book, A Temperate Empire: Making Climate Change in Early America (Oxford University Press, Fall 2016) received the Berkshire Conference of Women Historians Book Prize.