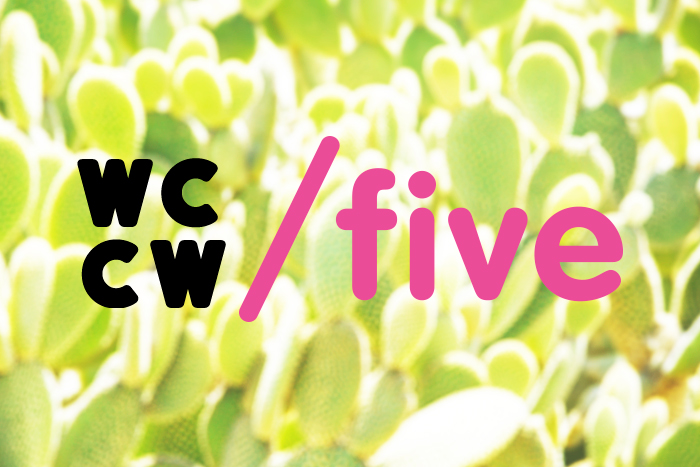 The Huntington has partnered with the Women's Center for Creative Work for the second year of its contemporary arts initiative called /five.
In 2016, The Huntington launched /five, a five-year contemporary arts initiative focused on creative collaboration. The plan? Each year, a different arts or cultural organization is selected to bring in artists to create works in response to The Huntington's library, art, and botanical collections in new and unforeseen ways.
The inaugural year brought JPL/NASA's Orbit Pavilion here. In 2017, we chose the Los Angeles–based Women's Center for Creative Work (WCCW) to explore the theme of collecting and collections. WCCW is a nonprofit organization that cultivates feminist creative communities and practices.
Close to 100 artists answered WCCW's call for proposals, seven of whom were chosen to conduct research at The Huntington and produce original work inspired by the collections. The WCCW collaboration will culminate in an exhibition opening in the Virginia Steele Scott Galleries of American Art this fall.
The artists working in the Library collections are Jheanelle Garriques and kerrie welsh.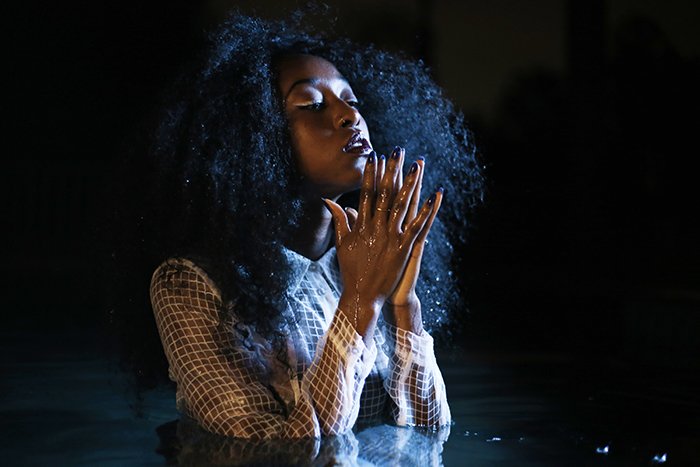 Jheanelle Garriques. Photo by Stevie Rae Gibbs. Photo courtesy of the artist.
Garriques is a social entrepreneur, Black feminist, and model. She holds many titles but is most proud of her work as the founder and executive director of Naked Narratives, a narrative therapy project. The project—which operates as a writing program, encouraging its participants to confidently express themselves while resolving past traumas—spans three continents and seven cities. When she is not traveling, Garriques can be found in her hometown of Brooklyn, New York, writing poetry, studying hip-hop at Alvin Ailey, or chatting in patois with her family.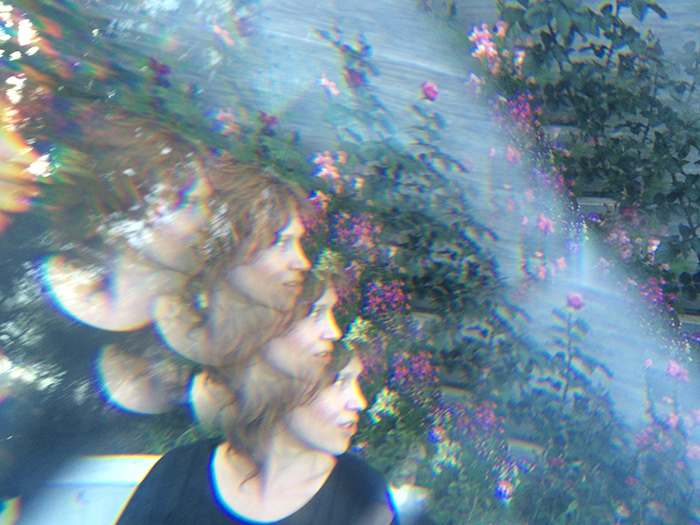 kerrie welsh (now Kiki Loveday). Photo by C.E. Nolen. Photo courtesy of the artist.
welsh (now Kiki Loveday) is fascinated by archival accidents, hidden histories, and the shifting limits of the speakable in contemporary culture. Her mixed-media work pushes the boundaries between personal and cultural memory—and between social and artistic conventions. It has been exhibited in venues from UnionDocs in Brooklyn to The Situation Room in Los Angeles. She has taught in the undergraduate film program at The New York University Tisch School of the Arts, where she co-founded the Women in the Director's Chair Oral History Project. She is currently a Ph.D. candidate at UC Santa Cruz, writing a dissertation on silent cinema, titled "Sapphic Cinemania! Female Authorship, Queer Desires, and the Birth of Cinema."
The artists working in the Art collections are Soyoung Shin and Juliana Wisdom.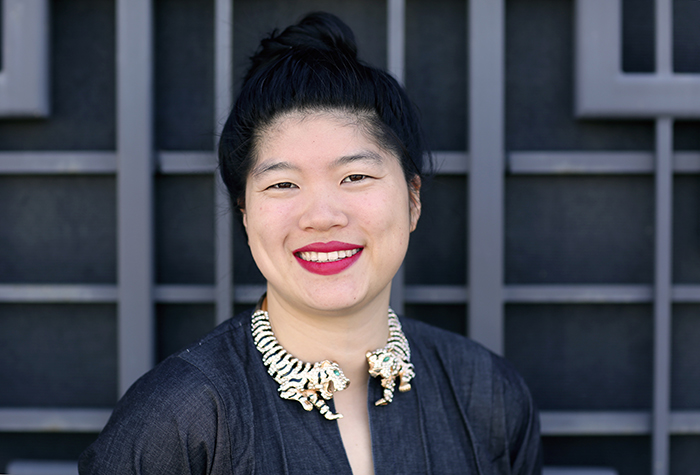 Soyoung Shin. Photo by Sayoko Cox. Photo courtesy of the artist.
Shin is a multidisciplinary Korean-American artist currently working in textiles, performance, zines, and new media. Born to Korean immigrants living in Seattle, Shin grew up in the neighboring suburb of Federal Way. From a young age, she spent time with her mother making cross-stitched textiles and other crafts. She has a strong interest in labor that is traditionally enacted by women, especially at a time when trends in automated technology are devaluing handiwork. Shin has a bachelor's degree in computer science from the University of Washington, where she pursued studies in art-making to balance her passion for varying forms of critical thinking. She maintains a steady artistic practice from within her home as an homage to the generations of women who have done the same.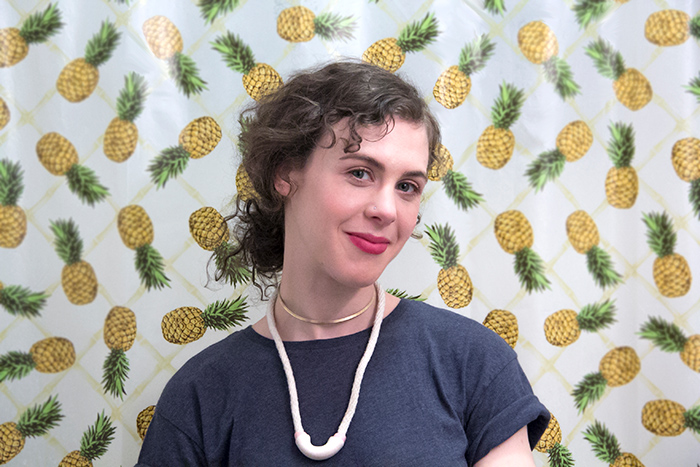 Juliana Wisdom. Photo by Evan Backer. Photo courtesy of the artist.
Wisdom combines traditional ceramic and textile techniques with contemporary repurposed and industrial materials to create objects that explore issues of interpersonal relationships and social progress. Referencing historical aesthetics as a way to link past and present, her sculptural work celebrates how traditions of handmade craft and mass-produced, discardable, everyday objects provide tangible proof of the human experience. After receiving her BFA in ceramics and sculpture from the University of Washington in 2010, Wisdom continued to explore contemporary craft and sculpture with the support of the Pratt Fine Arts Center in Seattle, Artist Trust Seattle, Pilchuck Glass School, and A-Z West. She has shown her work on the West Coast and in Rome, Italy. She currently works as a porcelain production assistant and independent artist in Los Angeles.
The artists working in the Botanical collections are Olivia Chumacero, Sarita Dougherty, and Zya S. Levy.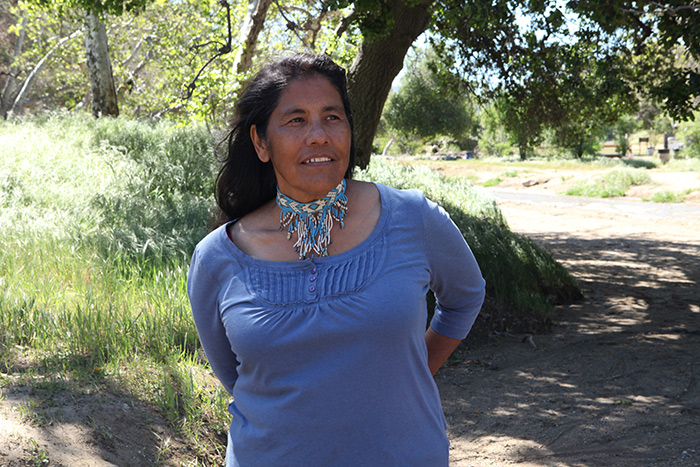 Olivia Chumacero. Photo by Chris Cruse. Photo courtesy of the artist.
Chumacero walks through sage-filled paths and obsidian-cut winds. Her life's energy has taken her to the four corners of the planet, where the muses sustain her in a diet of awe and gratitude. She is open to dialogue and actions that make humyn beings accountable for the current state of Mother Earth. Respect, reciprocity, and responsibility are her legacy, her blood memory. She asks that we rethink how to live on our collective home with a nurturing heart that is conscious of those seven generations yet to come. Chumacero studied film at UC Santa Cruz and is the founder of Everything Is Medicine, a project that involves workshops, hikes, and other initiatives to raise awareness about California native flora, sustainable water use, and the respectful use of lands belonging to indigenous groups. Chumacero is working with Dougherty on a collaborative project.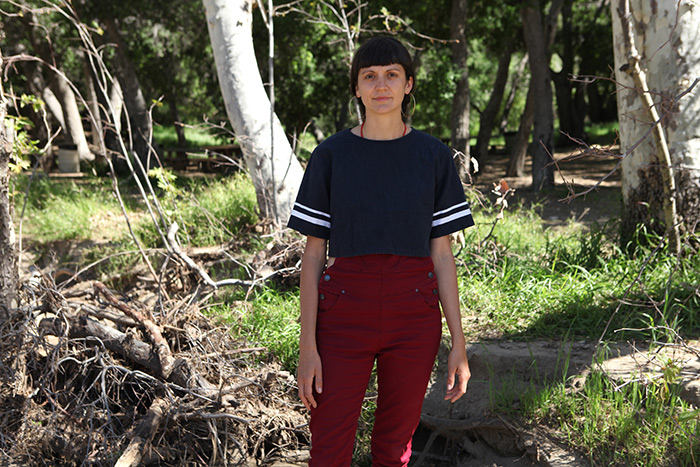 Sarita Dougherty. Photo by Chris Cruse. Photo courtesy of the artist.
Dougherty generates and paints habitats from the plants, systems, and cultural ephemera she finds. She received an MFA from UCLA in 2012 and teaches at the University of Redlands and Cypress College. She is pursuing a Ph.D, researching Pachamama consciousness as a pathway toward decolonization in aesthetics, ecology, and education. Dougherty lives and works on a mountain with her partner and baby in Yangna (the Tongva name for Los Angeles). She is working with Chumacero on a collaborative project.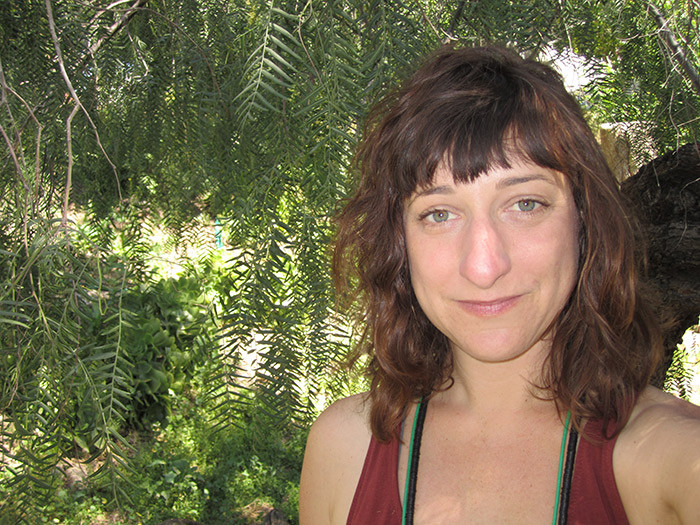 Zya S. Levy. Photo courtesy of the artist.
Levy is a botanist, artist, and environmental educator. Her work draws on her background in ethno-botany and seeks to create tangible relationships between people and the natural world through the use of audio/visual art, traditional craft, natural materials, tall tales, and sensory experiences. Levy received her bachelor's degree in botany and has over 12 years of experience working with North American flora as a field botanist for the United States Department of Agriculture. She is the co-founder of WE THE WEEDS, an ongoing collaborative botanical arts project based in Philadelphia that highlights the presence of the natural world within the man-made landscape. During her residency at The Huntington, she will be aided by fellow WE THE WEEDS co-founder Kaitlin Pomerantz.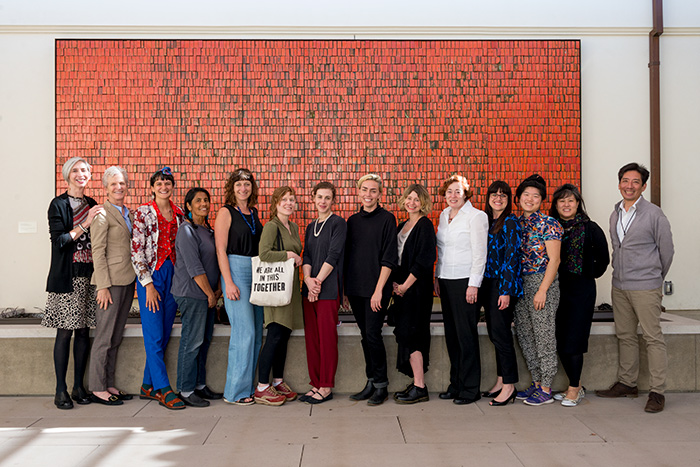 Members of The Huntington's

/five

team recently joined WCCW's directors in welcoming the selected artists at a reception. Standing left to right, in front of Doyle Lane's 1964 ceramic
Mutual Savings and Loan Mural
, are: Jenny Watts, The Huntington's curator of photography and visual culture; Catherine Hess, The Huntington's chief curator of European art; Sarita Dougherty; Olivia Chumacero; Zya S. Levy; kerrie welsh (now Kiki Loveday); Juliana Wisdom; Sarah Williams, WCCW's managing director; Kate Johnston, WCCW's creative director; Catherine Allgor, The Huntington's director of education; Vanessa Wilkie, The Huntington's William A. Moffett Curator of Medieval Manuscripts and British History; Soyoung Shin; Rebecca Shea, The Huntington's senior advancement officer; and Robert Hori, The Huntington's gardens cultural curator. Not pictured: Jheanelle Garriques; Kate Lain, The Huntington's new media developer; and Jennifer Phillips, The Huntington's associate director of public programs. Photo by Kate Lain.
The /five initiative is made possible by a generous gift from The Cheng Family Foundation. Additional funding for the second year of /five has been provided by a grant from the Pasadena Art Alliance.
Related content on Verso:
Hearing NASA's Earth Science Satellites (Nov. 15, 2016)