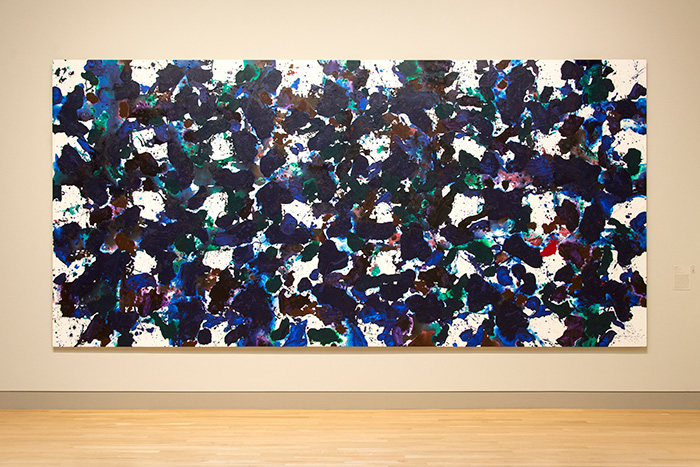 Sam Francis's
Free Floating Clouds
, 1980, acrylic on canvas. Gift of the Sam Francis Foundation. The Huntington Library, Art Collections, and Botanical Gardens. Photo by Kate Lain.
I grew up in Southern California and have loved The Huntington since I first visited it on a high school field trip. Being an intern this past summer in the American art department was a dream come true. One of the first works that struck me on an early visit was Free Floating Clouds, a painting by Sam Francis (1923–1994), located in the Virginia Steele Scott Galleries of American Art.
You don't have to be an art history buff to be intrigued by this postwar piece. Its size alone demands attention. It's the largest painting in the American collection, taking up an entire wall, and measures 125 by 254 inches—or roughly 10 by 21 feet. Its contrast of mainly dark blue splatters against a white background forms a loose grid-like pattern. The abstract nature of the work doesn't offer me any obvious clues to its meaning or make a connection to the title.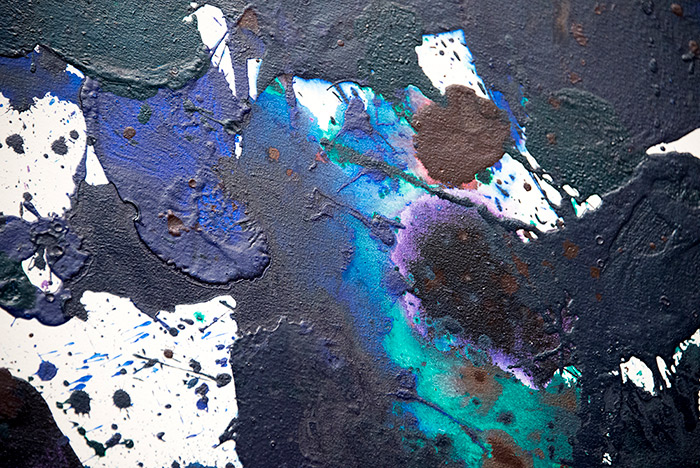 Detail of
Free Floating Clouds
. Photo by Kate Lain.
Like me, Francis was a California native: he was born in San Mateo and received both his bachelor's and master's degrees from UC Berkeley. When he was 21 and a pilot in the U.S. Army Air Corps, he suffered a spinal injury, followed by spinal tuberculosis. During his hospitalization, he began to paint to distract himself from his illness. He had been studying medicine but eventually gave that up to pursue a career in art.
During the 1950s, Francis began making the fluid and dripping shapes that would appear in his later works and throughout his career, notably in Free Floating Clouds, completed in 1980.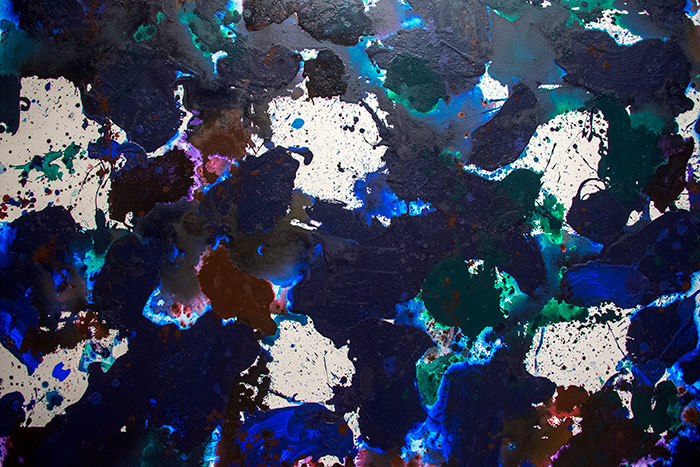 Detail of
Free Floating Clouds
. Photo by Kate Lain.
By then, Francis's painting had become more structured. He adopted a grid or matrix pattern that gave his work an underlying composition—a technique many of his contemporaries were also using. Photographs and films of the artist at work reveal that he would lay the canvas flat on the floor of his studio and prime the surface with white gesso. He would then sketch his composition onto the canvas with a sponge, brush, or paint roller, applying a thin wash of color that would organize the canvas into vertical and horizontal axes. These washes are still visible on the outer edges of the painted areas. Then he would build on the composition, using successive layers of color.
When I first looked at Free Floating Clouds in high school, it seemed like random drips and splatters that anyone could have painted—a common critique of abstract art. As I read more about Francis and spent time looking at the painting, I realized that the underlying grid provides a sense of structure, producing a balanced and harmonious feeling. By using the grid as the anchor of the painting, the artist could explore color and action on his own terms. As the artist and art collector Nicholas Wilder explained, Francis could "marry many different colors with different qualities . . . and make it appear that it happened spontaneously, all at one moment . . . the results are not fortunate accidents, but carefully conceived compositions."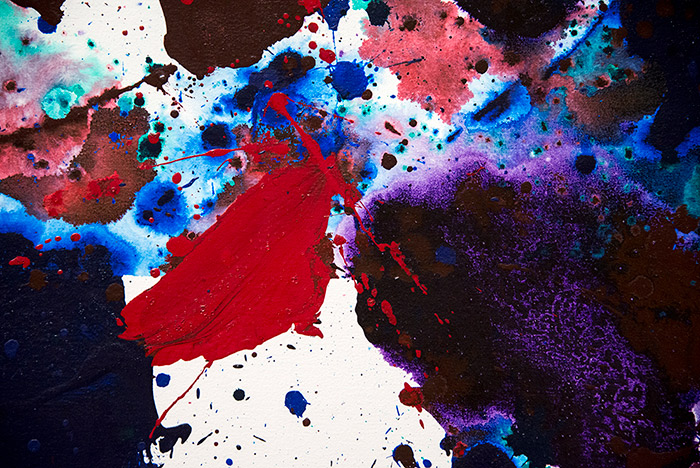 Detail of
Free Floating Clouds
. Photo by Kate Lain.
Similarly, at first glance, the artist seems to have layered just blue paint on a white background. But closer inspection reveals a rainbow of colors—reds, purples, greens, and pinks among the blues—in different thicknesses and washes. Francis used all acrylic emulsion paints on Free Floating Clouds; as in most of his works, he often used unmixed pigments directly from the tube to create intense, undiluted colors.
One of his more unusual techniques was using Photo-Flo, a wetting agent for developing film, which gives the surface a watercolor-like quality. Applying Photo-Flo caused the colors to run together and merge in varying ways, producing unexpected shapes and designs from a seemingly random technique. With Photo-Flo and other means, Francis varied the surface texture and the degree to which it reflects light. Some areas are glossy, others matte; some smooth, others richly textured.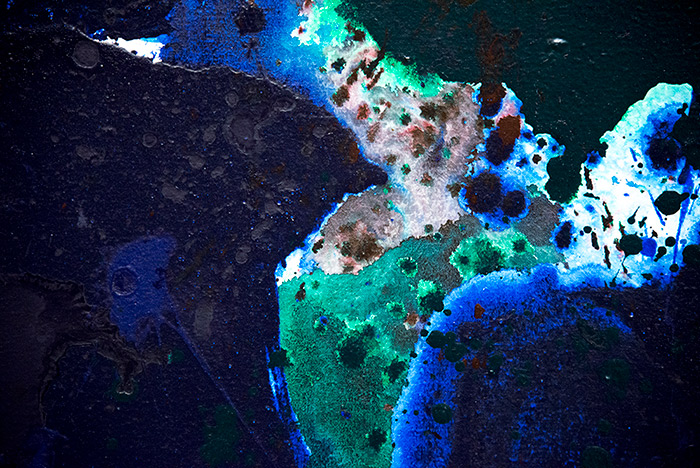 Detail of
Free Floating Clouds
. Photo by Kate Lain.
I didn't know any of these technical details when I first saw Free Floating Clouds, but I responded immediately to its dark, intense colors and Rorschach-like blots. Learning that Sam Francis was a pilot helped me read the title into the painting, imagining how the artist's early experiences above the clouds may have informed his perspective.
Technical details can help us appreciate abstract works of art, enabling us to understand how and why a piece was created and what it is supposed to mean, if anything at all.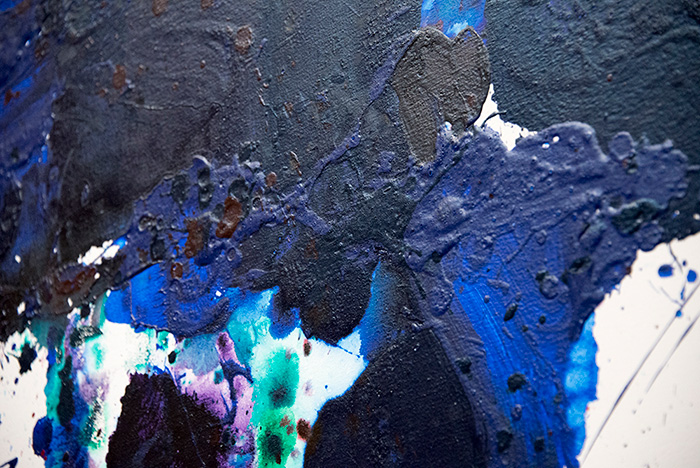 Detail of
Free Floating Clouds
. Photo by Kate Lain.
Related content on Verso:
A Pure Act of Painting (Aug. 10, 2016)
Nicole Block is part of an ongoing undergraduate internship program that places art history majors from UC Irvine in the American art department of The Huntington's Art Collections division. Her thesis project will be on Sam Francis.