For docents in the school tour program, what they learn is as rewarding as what they teach.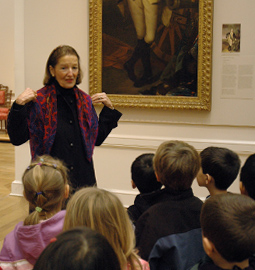 Big yellow buses will start rolling through The Huntington's gates this week as the school tour season gets under way. When students disembark for a morning of discovery, a group of highly trained volunteers will be ready and waiting.
Long before the first bus arrives, the 250 docents in the education program will have spent several weeks in review sessions, prepping. All have received previous in-depth training from Huntington experts: from botanical staff for programs like Seeds and Sprouts (grades K–1) and CSI: Conservatory Science Investigation (grades 6–8); from library curators for such offerings as Explorations in American History (grades 5, 8, and 11) and Paper, Pens & Prose: Discovering Early Manuscripts (grades 4–9); and from art historians for Discovering Art (grades K–3) and introductions to the European and American collections (grades K–12). There are 13 different school programs all told, tailored to specific age groups and curricula.
"I love the intellectual stimulation," says Joan Caillouette, an art docent since 1964. "We are learning all the time." Caillouette, a former teacher, became a docent while her children were growing up because she wanted an involvement activity outside the home. Although she had no formal background in art history, she became an ardent and enthusiastic student.
The depth and quality of training is considerable. "Our primary goal is to provide a challenging, efficient, and fun progression of classes and workshops for our volunteers as they prepare for our various programs," says Mikki Heydorff, volunteer programs manager. "We hope they find it invigorating—and enjoyable, too." An intensive course of study covers all aspects of each program's area of focus, providing a solid foundation. A docent may be preparing to lead seven-year-olds through the gardens, comparing desert plants to jungle flora, but he or she will be fully grounded in the basics of botany first. Educational theory and teaching methods are also thoroughly covered, bringing volunteers up to speed on current and best practices.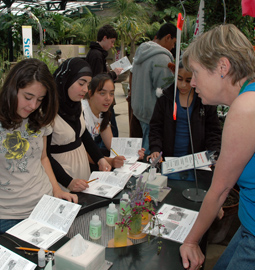 And the learning doesn't stop there. Throughout the year, ongoing enrichment opportunities in the form of lectures, tours, and online resources help docents enhance their knowledge.
Diane Kester joined the volunteer ranks in 1999, not long after retirement. She was looking for something enriching to do, and an interest in California history drew her to The Huntington, where she first signed on as a library docent and later added art docenting to her skills. "I was impressed with the caliber of training by the curators," she recalls. "I felt like it was the best education I could receive in the areas of history and art."
Established in 1936, The Huntington's volunteer program has grown over the decades as the institution expanded its audiences, facilities, and activities. In 2006, the education department introduced an innovative new Volunteer Academy designed to recruit, train, and support these critically important and dedicated individuals, whose ranks now number more than one thousand.
Yet, for docents, the insights don't come solely from their formal training. Kester found herself learning from the students, too. "I was completely surprised by the perceptions of the kids—their reactions, their appreciation for the day. And many times their perspectives on a topic of history or a work of art can be enlightening. Their excitement is infectious."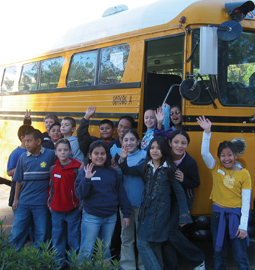 And that may be what docents enjoy most. Not just giving a tour to a group of kids and passing along a few facts, but cultivating excitement around the very act of learning—and sharing in that excitement themselves.
From October through May, approximately 13,000 students from throughout Southern California will receive free school tours at The Huntington. They will come from as far away as Riverside, Ventura, and San Diego; from private schools and magnet charters; from inner cities and suburbs. Docents hope to inspire each and every one of these youngsters with the joy of discovery and an enthusiasm for life-long learning. And what better way to do it than through their own example?
-- Lisa Blackburn, communications coordinator at The Huntington. lblackburn@huntington.org
Photo Captions: Art docent Joan Caillouette discusses a portrait of George Washington with first-graders from Arroyo Vista School in South Pasadena (top); Docent Carol Hunt helps students from Bloomington Middle School in Colton collect clues to solve a botanical mystery in the popular school program "CSI: Conservatory Science Investigation" (middle); School groups come from as far away as San Diego and Santa Barbara for educational tours at The Huntington.