This month at the Huntington Library Press, we have been time travelers. We began in the distant past, doing the last proofreading on a special issue of the Huntington Library Quarterly devoted to what people read, mostly in England, in the 16th and 17th centuries, including cookbooks. The articles in the issue looked at various forms of commentary: what people wrote about their reading—sometimes directly in the margins of books, but often in what are called commonplace books, notebooks made up in this case of literary quotations and comment.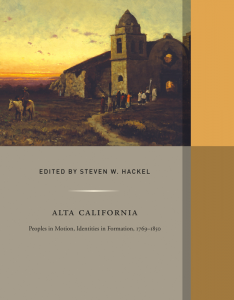 This week we moved closer to the present and to Southern California with the arrival of a new book, Alta California: Peoples in Motion, Identities in Formation, 1769–1850. Edited by Steven W. Hackel, the book is based on a conference held at The Huntington in 2006 that drew well over 200 attendees. Like the conference, the book throws light on the tumultuous era before statehood and to the issues of identity that played out among Indians, missionaries, and soldiers, and Spanish and Mexican settlers. Alta California is the second in a new series called Western Histories, published by The Huntington in collaboration with University of California Press and closely linked to the Huntington-USC Institute on California and the West, directed by Bill Deverell.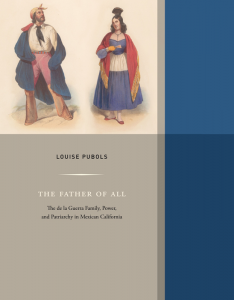 The first book in the series, Louise Pubols' The Father of All: The de la Guerra Family, Power, and Patriarchy, also took us back to the period before statehood, with a compelling narrative of powerful personalities facing, and mostly mastering, widespread economic and political dislocation. The book recently won the William P. Cements Prize for best nonfiction book on Southwestern America. Earlier this spring, we published another compelling account of an important Southern California family, Grand Ventures: The Banning Family and the Shaping of Southern California, by Tom Sitton. These three titles on regional history are all available at the Bookstore & More.
We are haunted by both the named and anonymous historical figures that we encounter as publishers of books about history—but haunted differently by those that shaped our own corner of the United States within the last two centuries. The personalities and events that the volumes in Western Histories uncover seem just below the surface of the circumstances and settings in which we find ourselves. We look forward to new volumes in regional history—we anticipate two annually, beginning in 2012—that will sharpen our perception of the riddles of the present.
-- Susan Green is publications director at The Huntington.