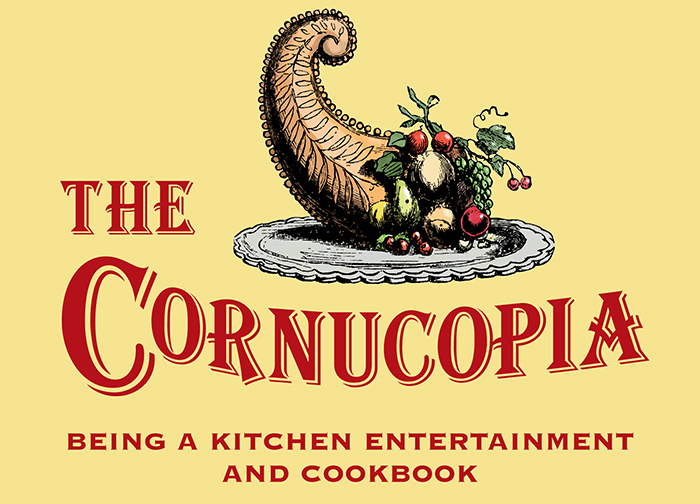 For Thanksgiving inspiration—and just plain fun—adventuresome cooks would be well served by perusing the historical recipes in
The Cornucopia: Being a Kitchen Entertainment and Cookbook
, a publication from the Huntington Library Press, edited by Judith Herman and Marguerite Shalett Herman. (Shown: a detail of the front cover.)
Anyone searching for an authentic American dish to serve for Thanksgiving dinner should consider the humble succotash: it would make a hearty addition to the meal and a terrific conversation starter. The bean and corn medley was (and still is) prepared annually in Plymouth, Mass., as part of the Forefathers' Day celebration commemorating the landing of the Pilgrims on Dec. 21, 1620. Mrs. D. A. Lincoln, in her Boston Cook Book of 1891, writes: "Tradition says [succotash] has been made in that town ever since the Pilgrims raised their first corn and beans, and it is supposed they learned to make it from the Indians."
Mrs. Lincoln's "receipt" for succotash is one of the fascinating historical dishes included in The Cornucopia: Being a Kitchen Entertainment and Cookbook, a compilation of recipes and folklore edited by Judith Herman and Marguerite Shalett Herman. Drawn from historical cookery books in The Huntington's collections and other sources, it was originally published by Harper & Row in 1973 and reissued by the Huntington Library Press in 2005.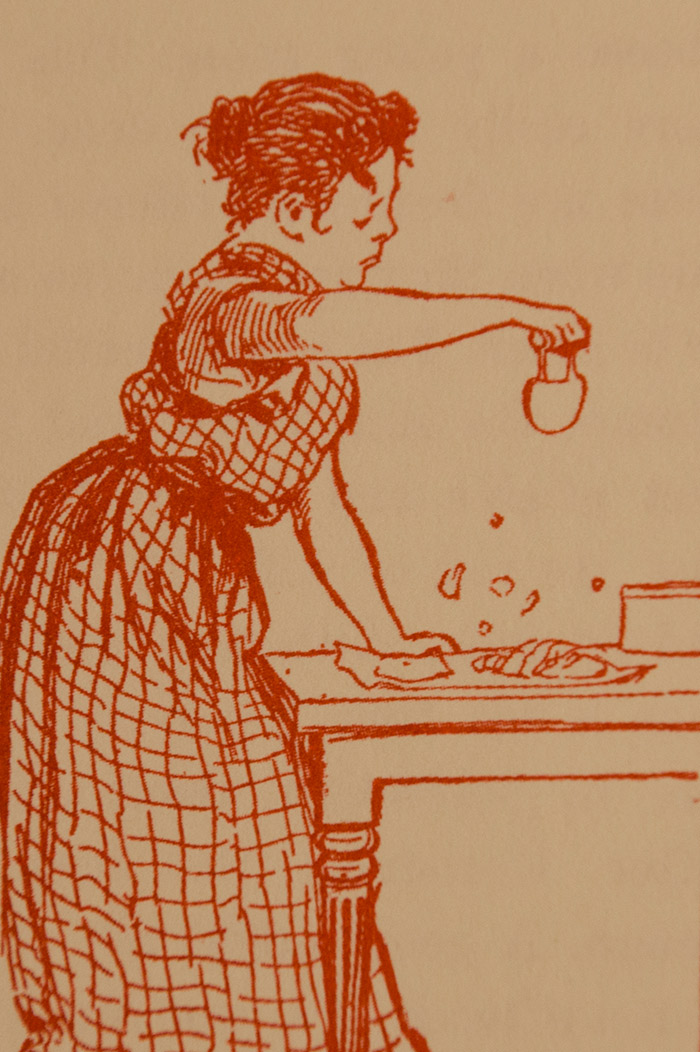 A nineteenth-century cook applies some "elbow grease" to the preparation of dinner in an illustration from
The Cornucopia: Being a Kitchen Entertainment and Cookbook
. Huntington Library Press.
Taking readers on a gustatory journey through the kitchens of yesteryear, The Cornucopia serves up a veritable feast of recipes and food-related tidbits from the 14th century to the turn of the 20th. Some of the dishes described in its pages might prove daunting to all but the most adventuresome chefs. Squirrel stew can be an acquired taste, after all, and goose blood is difficult to source locally. Methods of preparation, too, can present a challenge for the modern cook who might not know a pipkin from a spider. (And knowing that one is an earthenware pot and the other a footed cast-iron pan won't help much, since few of today's kitchens are equipped with either vessel.)
But this remarkable record of early foodways makes for fascinating reading that will delight the history buff and the gourmand alike. Early cookbook writers knew that it was not enough simply to provide a list of ingredients; conveying the proper techniques was essential, even for the simplest dish. It's impossible not to admire the clarity of a recipe for black-eye peas, for example, that begins: "Gather your peas about sun-down. The following day, about eleven o'clock, gouge out your peas with your thumb nail, like gouging out a man's eye-ball at a court house."
Along with its humorous, obscure, and occasionally eyebrow-raising fare, The Cornucopia offers many recipes that are completely accessible and well worth sampling. Irish stew, cheese soufflé, lobster salad, hot cross buns, chocolate tarts—there's something for every taste. Two of the dishes, a classic cranberry sauce and a mashed sweet potato casserole with Swedish turnips (rutabagas), would make particularly admirable accompaniments to a Thanksgiving meal of roast turkey—with, of course, a heaping helping of succotash. Those recipes appear below.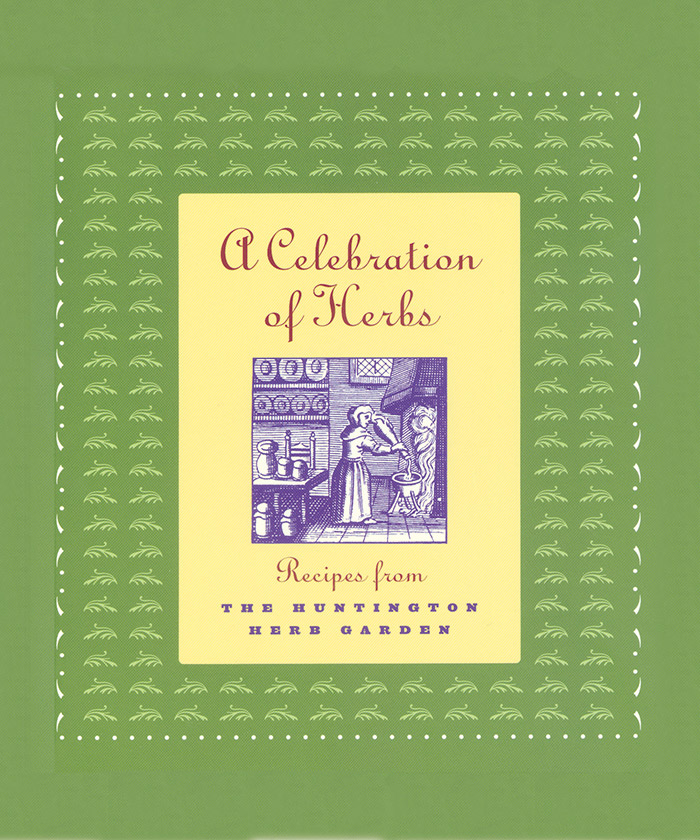 Another delicious cookbook published by the Huntington Library Press is A Celebration of Herbs: Recipes from the Huntington Herb Garden. This collection of recipes contributed by Huntington volunteers, readers, and staff is so packed with herbs that the savory aromas of thyme, rosemary, and oregano seem to waft right off the pages. From simple appetizers like a mushroom and cranberry paté with thyme, parsley, and chives to elaborate entrees such as pumpkin ravioli with sage butter sauce, A Celebration of Herbs offers dozens of flavorful ideas for adding the fresh taste of homegrown herbs (or even the store-bought variety) to meals for every occasion.
The book is beautifully illustrated with prints and engravings from The Huntington's rare book holdings, including 24 full-color reproductions from Elizabeth Blackwell's A Curious Herbal, published in 1737.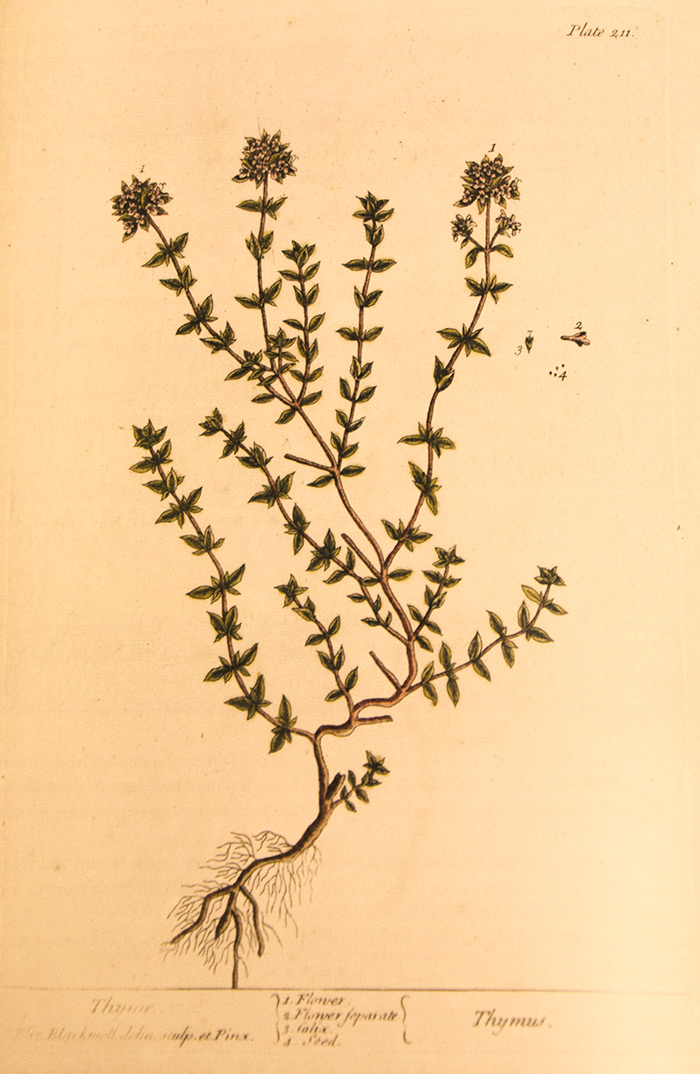 Reproductions from The Huntington's copy of Elizabeth Blackwell's 1737 botanical work,
A Curious Herbal
, are sprinkled among the recipes in A Celebration of Herbs. (Pictured: thyme.) Huntington Library Press.
A dash of Huntington history rounds out the recipes, providing an intriguing taste of what mealtime must have been like in Henry and Arabella Huntington's home. Mrs. Huntington was a believer in locally grown produce, long before it became trendy, and there were six small greenhouses on the estate for growing vegetables for the kitchen. The family orchard produced bushels of fruit including oranges, grapefruits, peaches, figs, plums, nectarines, cherries, guavas, and cherimoyas (custard apples). Avocados undoubtedly had a place at the Huntingtons' table, as well; Mr. Huntington was so enamored of the fruit that he planted what is believed to have been the first commercial avocado orchard in the state. A brief history of the Herb Garden, which was originally Mrs. Huntington's flower garden, is also included in the book.
Contemporary cooks, especially those who enjoy cultivating their own kitchen gardens, will find plenty of inspiration in A Celebration of Herbs to create memorable meals to share with family and friends throughout the year. A recipe that's perfect for fall is Autumn Apple Soup. The recipe is given below.
Hungry for more? Both of these cookbooks are available at the Huntington Store.
Happy Thanksgiving, and bon appetit!
Cranberry Sauce
To stew cranberries till soft is all that is necessary to make cranberry sauce. When soft, stir in sugar or molasses to sweeten. Scald the sugar in the sauce a few minutes. Strain if you please—'tis good without.
Mrs. A. L. Webster, The Improved Housewife, 1854
From The Cornucopia: Being A Kitchen Entertainment and Cookbook
Swedish Turnips and Sweet Potatoes
Pare two good-sized ruta-bagas [Swedish turnips] and cut them into slices. Wash and bake four sweet potatoes. Cook the Swedish turnips in unsalted water below the boiling point until perfectly tender; drain, and press them through a colander. Open the baked sweet potatoes, scoop out the centres, add them to the Swedish turnips, add a tablespoonful of butter, a saltspoonful of salt, and a saltspoonful of pepper. Beat the two until very light, heap them into a baking dish, brush the top with milk and bake in a quick oven until a golden brown, about twenty minutes. Serve with roasted duck, opossum, or baked rabbit.
Sarah Tyson Rorer, Mrs. Rorer's New Cook Book, 1898.
From The Cornucopia: Being A Kitchen Entertainment and Cookbook
Autumn Apple Soup
A lovely soup to make when "the frost is on the pumpkin." Its heavenly aroma will scent your home better than any potpourri.
½ cup chopped onion
2 tablespoons butter
2 teaspoons curry powder
1 tablespoon flour
3 cups chicken broth
1 ½ pounds apples, peeled, cored, and chopped
1 teaspoon lemon juice
1 tablespoon chopped fresh mint
½ cup light cream
½ teaspoon salt
¼ teaspoon white pepper
4 to 6 thick lemon slices
4 to 6 fresh sprigs of mint
Sauté the onion in butter in a large saucepan until the onion is transparent, but not browned. Stir in the curry powder and cook 1 minute. Stir in the flour. Gradually add the chicken broth, stirring constantly. Bring the mixture to a boil. Add the apples, and bring back to a boil. Reduce heat, cover, and simmer for 15 minutes. Remove from heat and let cool for 5 minutes. Puree the soup, lemon juice, and mint in a blender or food processor. Return the mixture to the saucepan and stir in the cream, salt, and white pepper. Reheat without bringing to a boil. Serve immediately, garnishing each serving with a slice of lemon and a sprig of mint.
Makes 4 to 6 servings.
From A Celebration of Herbs: Recipes from the Huntington Herb Garden
Succotash
Since Mrs. Lincoln's recipe for succotash is very lengthy and includes (among other ingredients) a hefty eight pounds of corned beef and a six-pound chicken, we won't reprint it here. But readers are encouraged to consider adding a simpler version of this historic American dish to their own Thanksgiving celebration. The Pilgrim Fathers—and Mrs. D. A. Lincoln—would approve.
Lisa Blackburn is communications coordinator at The Huntington.