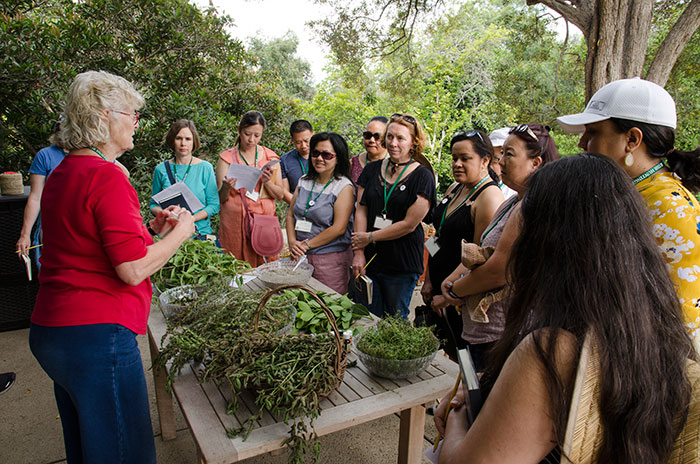 In the Herb Garden, docent Jane Leese instructs teachers selected for the first Huntington Voices teacher institute on how to dry herbs and create sachets. Photo by Lisa Blackburn.
During their summer break, 30 selected teachers participated in the first Huntington Voices teacher institute, spending a week on site to learn from Education staff and others how to use The Huntington's collections to strengthen their student's voices through writing, spoken language, performance, and visual and media arts. The teachers hailed from schools located from Beaumont to Torrance and had classroom teaching experience ranging from three to 36 years.
"The purpose of the program is to mine and celebrate the diverse voices in our collections from William Shakespeare to Octavia E. Butler," said Louise Hindle, associate director of School Partnerships and Programs at The Huntington. "We want to draw attention to the voices of men and women throughout the ages, from around the globe as well as from diverse cultures and backgrounds. Each voice has a unique story to be told. Combining curatorial expertise with access to The Huntington's primary sources, will, we hope empower teachers and unlock their students' potentials—by unlocking the stories of our collections."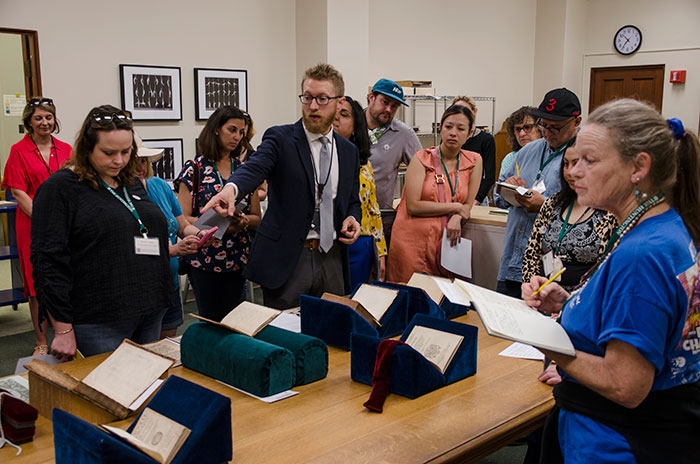 Joel Klein, the Molina Curator for the History of Medicine and Allied Sciences, discusses volumes from the 16th to the 18th century, including
The secretes of reuerende Maister Alexis of Piemount
… (1558) and
Natural magick
(1658) while Cynthia Lake (far right), a teacher from John Muir High School, and fellow teachers take note. Photo by Lisa Blackburn.
Each day of the program focused on items drawn from different areas of the institution: teachers studied the quilts in the Fielding Collection on Monday, wrote poetry inspired by the Chinese Garden on Tuesday, explored the life of science fiction writer Octavia Butler on Wednesday, and performed excerpts from the works of Shakespeare on Thursday.
On Friday, the final day of the institute, teachers tuned in to the voices of early modern scientists. They began the day in the Herb Garden, where specialist gardener Kelly Fernandez led teachers on a tour and noted which plants could be used for dyes, foods, and remedies. During their time with Huntington docent Jane Leese, the teachers learned about drying herbs and had the opportunity to create sachets with a variety of dried plants. Some teachers made connections between the previous day's work on Shakespeare and how herbs were used in Romeo and Juliet. Other teachers looked through a copy of John Gerard's 1633 Herball to connect the herb garden tour with the teaching of science classes.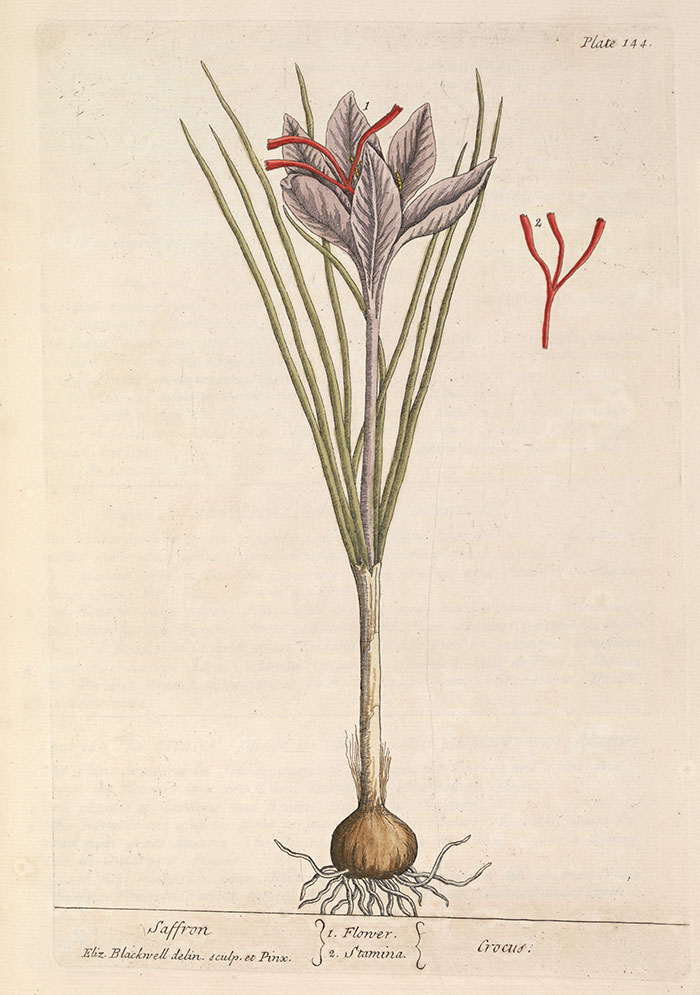 An illustration of saffron from
A curious herbal, containing five hundred cuts, of the most useful plants . . .
(Volume 1, plate 144), 1739, by Elizabeth Blackwell (active 1737). The Huntington Library, Art Collections, and Botanical Gardens.
To consider more deeply how plants could be used in the classroom, teachers had the unique opportunity to explore early botanical texts with Joel Klein, the Molina Curator for the History of Medicine and Allied Sciences.
Klein discussed intersections between art, books, and botany in The Huntington's "books of secrets." These miscellaneous how-to compilations of technical, medical, artistic, and natural-magical knowledge had a major influence on the emergence of experimental science in the 16th and 17th centuries.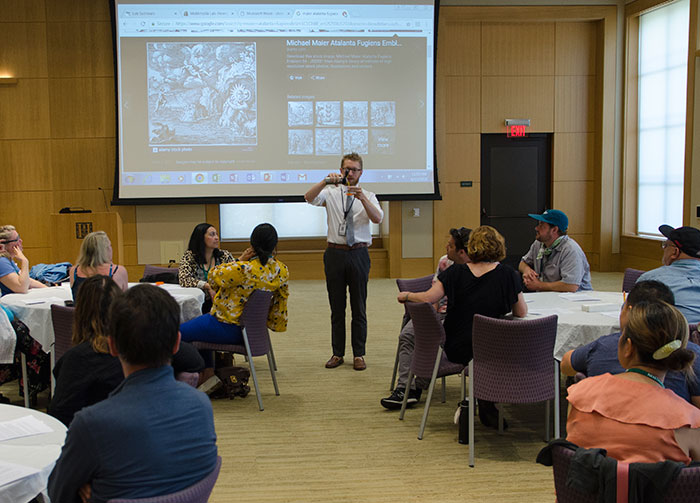 In Haaga Hall, Klein instructs teachers how to make yellow dyes and paints using saffron according to medieval and early-modern recipes. Photo by Lisa Blackburn.
Klein then zeroed in on a hand-colored engraving from Elizabeth Blackwell's 1739 A curious herbal of a saffron crocus flower. "The expensive orange-red stigmas and styles of the plant produce a subtle flavor in culinary dishes as well as a vivid yellow color that has been used in dyes and pigments for millennia," said Klein. "It was also widely used in perfumery, cosmetics, and in medicine as, for instance, a sedative and an expectorant."
Later, Klein led the teachers to Haaga Hall, where they engaged in making varying shades of yellow dyes and paints using saffron according to medieval and early-modern recipes.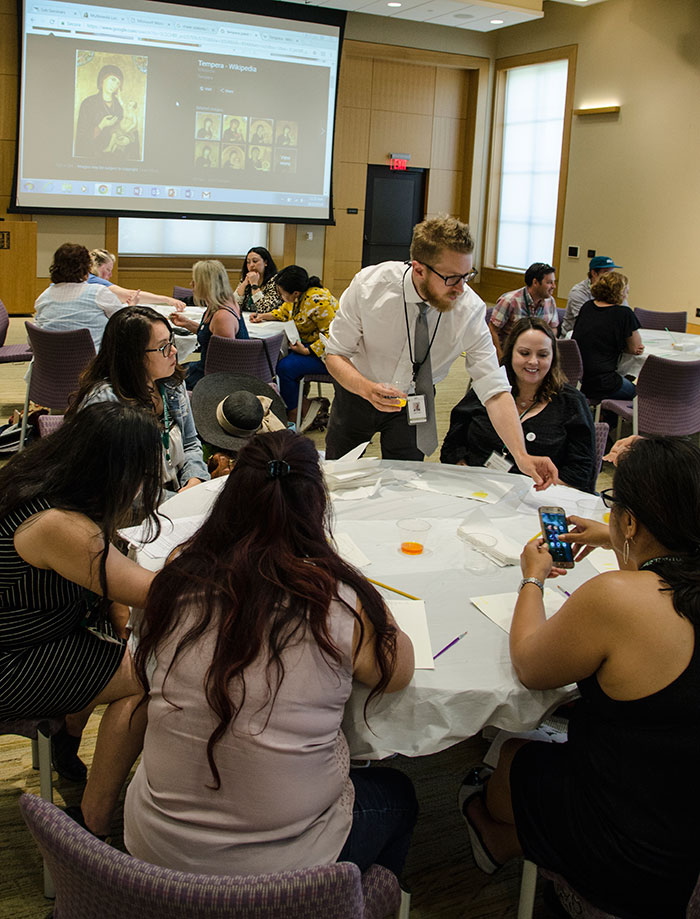 Klein demonstrates how to separate egg white from the egg yolk—noting the importance of removing the yolk membrane before including it in a mixture to make yellow dye. Photo by Lisa Blackburn.
Many of these recipes did not include measurements; as a result, teachers were required to experiment with different proportions of ingredients—a pinch of gum Arabic or a sprinkle of alum could alter the color's resulting hue or fixity.
The day concluded with a brief talk on medieval manuscripts by Vanessa Wilkie, the William A. Moffett Curator of Medieval Manuscripts and British History. Teachers were invited to touch a piece of parchment more than 400 years old and gain a deeper understanding of how the pages of illuminated manuscripts were created.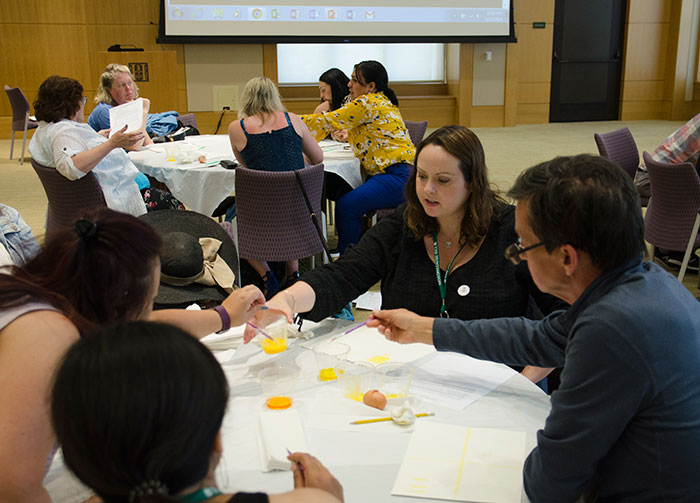 Thomas Castelazo (far right), a teacher from East Los Angeles Performing Arts Magnet at Torres High School, and Yvonne Oliver (second from right), a teacher from John Burroughs High School in Burbank, worked together to create different shades of yellow dye. Photo by Lisa Blackburn.
When asked about the week, one teacher reflected: "This was an amazing, well-thought-out professional development experience. Each day was unique and interesting. I appreciated all of the curators and specialists who came to share their knowledge."
Throughout the week, teachers were asked to create lesson plans for each topic. The lesson plans were put online and can be accessed by all the teachers who participated in the program. The teachers will return during the school year for a professional development day and share the outcomes of the lessons they created. One teacher noted: "So much inspiration. [This program] consistently stimulated creativity to bring back to my classes."
Amanda Hernandez is the school partnerships manager at The Huntington.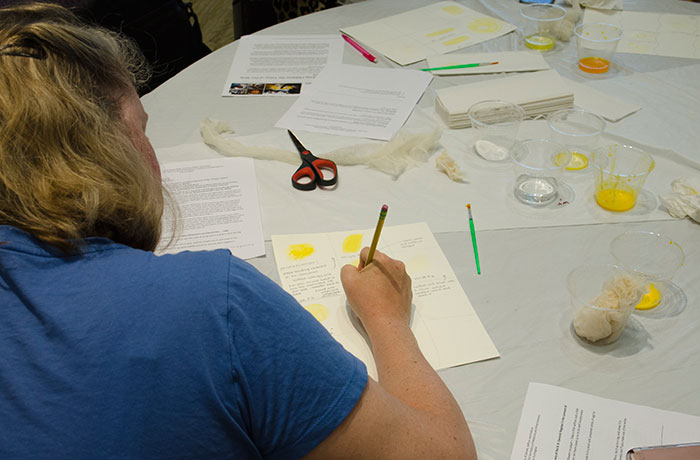 Tracy Clark, a teacher from Torrance High School, takes notes on each shade of yellow and how it was made, and records differences in outcomes due to recipe variations. Photo by Lisa Blackburn.