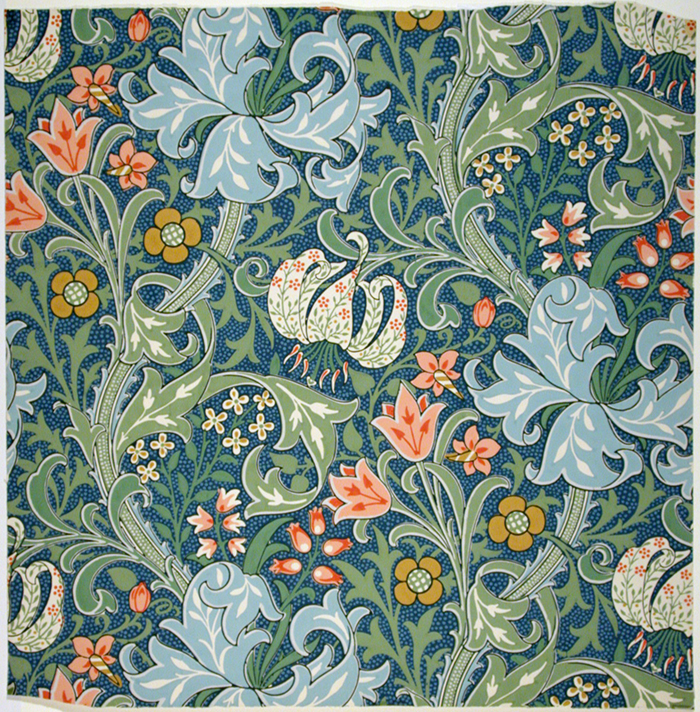 Golden Lily
by John Henry Dearle (British, 1859–1932), for Morris & Co., undated. Distemper on paper. The Huntington Library, Art Collections, and Botanical Gardens.
Have you ever wondered how design patterns are invented and how the manufacturing process of design objects works?
William Morris (1834–1896) dedicated his life to answering these questions. He founded Morris & Co. in 1861 as a response to capitalistic production methods introduced by the industrial revolution. His company created handcrafted decorative objects with the purpose of balancing sustainability and good quality, aesthetic appeal and reasonable prices, humane working conditions and mass production.
The exhibition "Sustainable Luxury: Morris & Co. Textiles and Wallpapers from The Huntington's Art Collections," on view in the Huntington Art Gallery's Works on Paper Room through November 12, comprises 18 drawings, wallpapers, and textiles created by Morris and his long-time collaborator John Henry Dearle, selected from The Huntington's holdings of Morris & Co. materials.
Among the most successful items sold by Morris & Co. were wallpapers decorated with patterns inspired by nature. In 19th-century Britain, wallpapers were the chief wall decorations for domestic interiors, but almost all were stylistically undeveloped, merely simulating the effect of fabric coverings that only the very rich could afford. In contrast, the Morris & Co. wallpaper Golden Lily, designed by Dearle, shows the originality of the firm's designs. It features a variety of flowering plants with pink, yellow, and blue flowers, as well as green and blue foliage, on a dark-green ground covered with green dots. This type of design enriched the wall surface, giving it depth, movement, and vitality.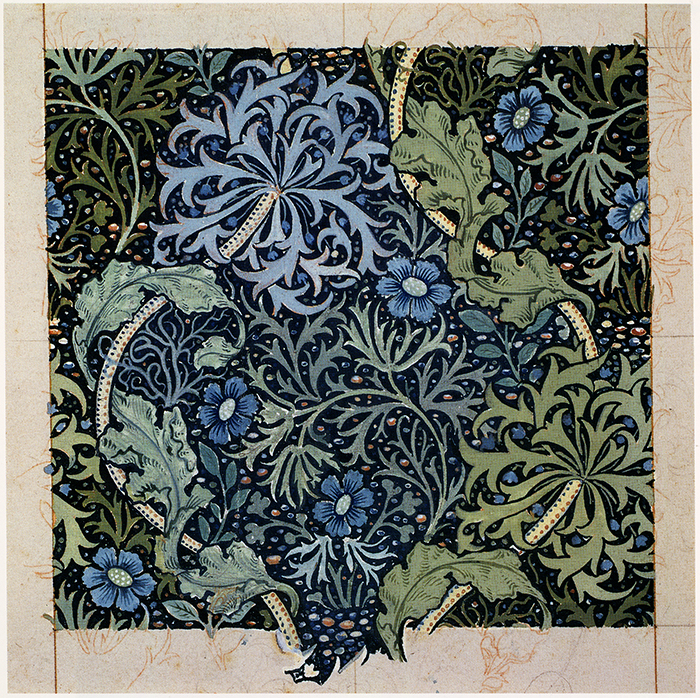 Seaweed
by John Henry Dearle (British, 1859–1932), for Morris & Co., ca. 1900. Watercolor and graphite on paper. The Huntington Library, Art Collections, and Botanical Gardens.
Morris & Co. revolutionized not only the design of patterns but also the making of wallpapers. After the industrial revolution, the manufacturing process in England was dominated by machines and chemicals, which enabled a faster and more efficient workflow but lowered the quality of the products. William Morris rediscovered and employed ancient techniques, such as block printing and natural dying, to achieve better designs and more sustainable products.
A considerable number of Morris & Co.'s two-dimensional designs were used for wallpapers and printed textiles as well, often employing the same woodblock. Drawings made by hand were the basis upon which all design patterns were first invented. Once the drawing was ready, the outlines of it were cut from the woodblock. For most of the wallpapers and printed textiles, this handmade printing process resulted in higher quality products than could be achieved at the time with machine-printing techniques.
Seaweed is an example of the kind of drawings used at Morris & Co. to invent a pattern design. The details of the plant and its flowers are all meticulously illustrated in the drawing. This accurate representation of the pattern on paper was essential to realize the final design.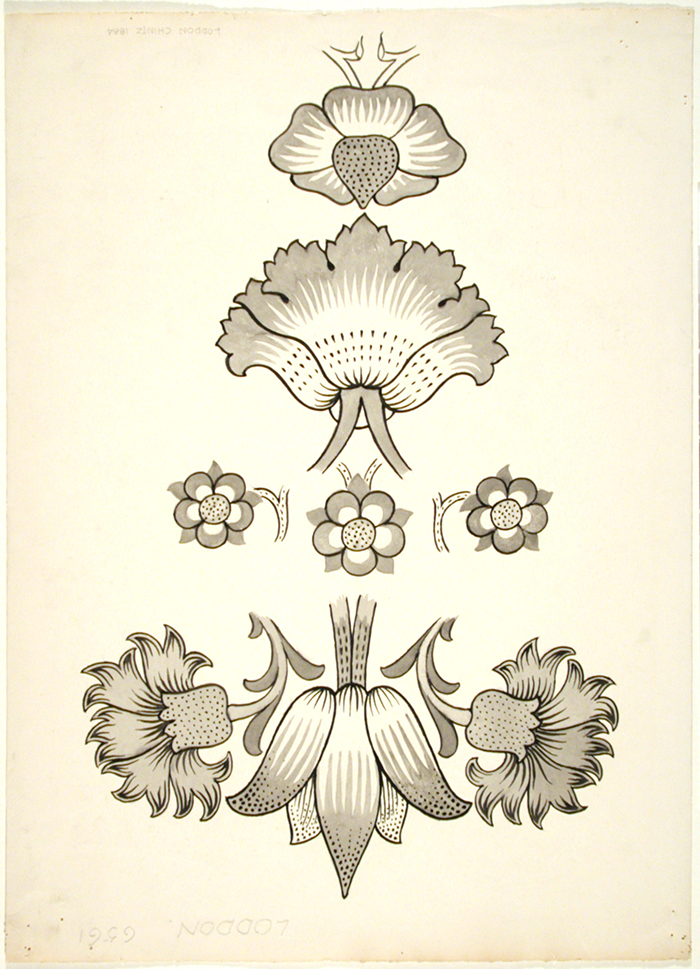 Loddon
by William Morris (British, 1834–1896), ca. 1884. Ink and wash on paper. The Huntington Library, Art Collections, and Botanical Gardens.
Another example of a drawing used to invent a pattern design is Loddon. It was probably used to train apprentices in the printing workshops or as an aid for woodblock-cutters, providing them with greater clarity of details. The four different shapes of the flowers are represented separately and later assembled to form the pattern. Loddon shows how much attention was paid to every single step in the manufacturing process.
Woven textiles represented another important group of items produced by Morris & Co.
By early 1877, Morris established his own weaving workshop with the help of Louis Bazin, a professional silk weaver from Lyons. The textiles produced in the workshop were woven on a Jacquard loom that Bazin had brought over with him from France. (On Jacquard looms, the designs to be woven were controlled by chains of replaceable punched cards.)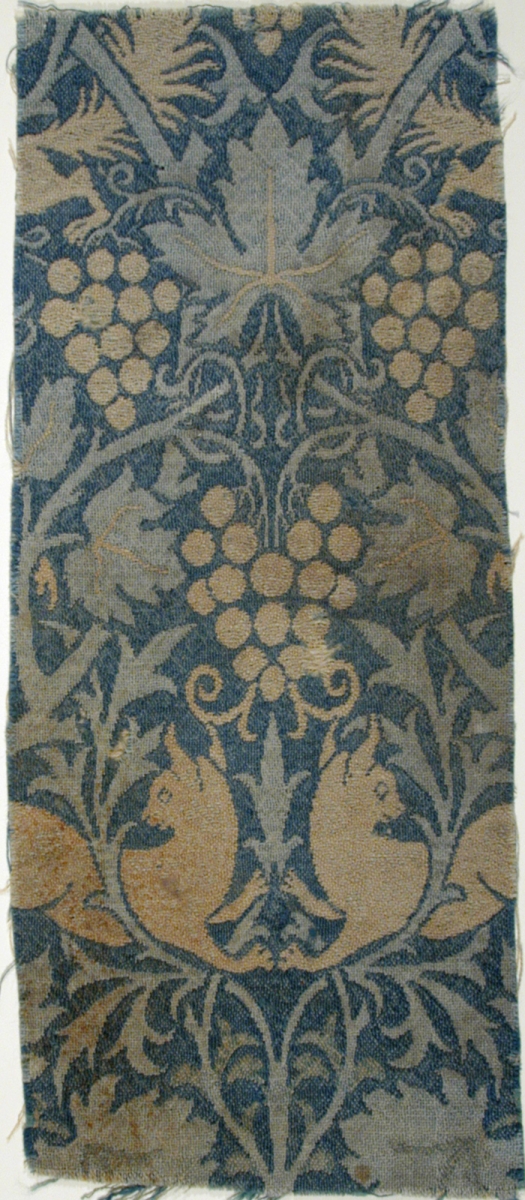 Fox and Grape
by John Henry Dearle (British, 1859–1932), for Morris & Co., ca. 1898.
Hand-loom jacquard woven wool. The Huntington Library, Art Collections, and Botanical Gardens.
The design of the textile Fox and Grape shows the animals facing one another at intervals along sets of interlocking ogees (pointed arches). Once the initial design on paper was completed, it was enlarged onto graph paper so that punched cards could be made for the Jacquard looms. The final product was an exquisite fabric used to furnish interiors.
Many Morris & Co. products not only sold very well but also helped establish English design internationally and shaped the taste of the English upper and middle class. You will find more of these beautiful wallpapers and textiles in the exhibition. Come see for yourself the exquisite quality of Dearle's and Morris's drawings and learn more about the process of creating handmade productions at Morris & Co.
Alice Klose is an art historian and the guest curator of the exhibition "Sustainable Luxury: Morris & Co. Textiles and Wallpapers from The Huntington's Art Collections."