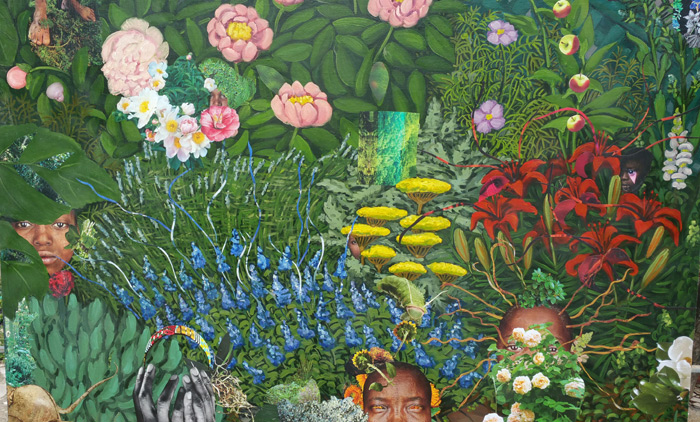 Candace Hunter,
XEN 4:7
, (based on
Xenogenesis
), 2016, collage on canvas. Photo by Candace Hunter.
Chicago-based collage artist Candace Hunter first started reading Octavia Butler's speculative fiction as an undergraduate. Themes from Butler's writing permeated Hunter's work through the years and reached a pinnacle with the opening this summer of her solo show in Milwaukee, "So Be It. See To It," based on Butler's stories. In excerpts from an interview, Hunter explains how Butler became the driving force behind the exhibition and why the writer's work energizes her own.
Q: Your new show is called "So be it. See to it." That's a phrase from Butler's journals, part of her archive that is housed at The Huntington. Can you describe the show's genesis?
A: I was returning from London with my daughter. I read a blog post on The Huntington's site with words from Ms. Butler's journals. When I saw "So be it. See to it," it hit me like a ton of bricks. It felt like a mandate from Butler. I had just won the popular vote award in the artist-in-residence program at Milwaukee's Pfister hotel, and I had the opportunity to hold a solo show. I decided then and there that I would create a body of work illustrating Butler's works.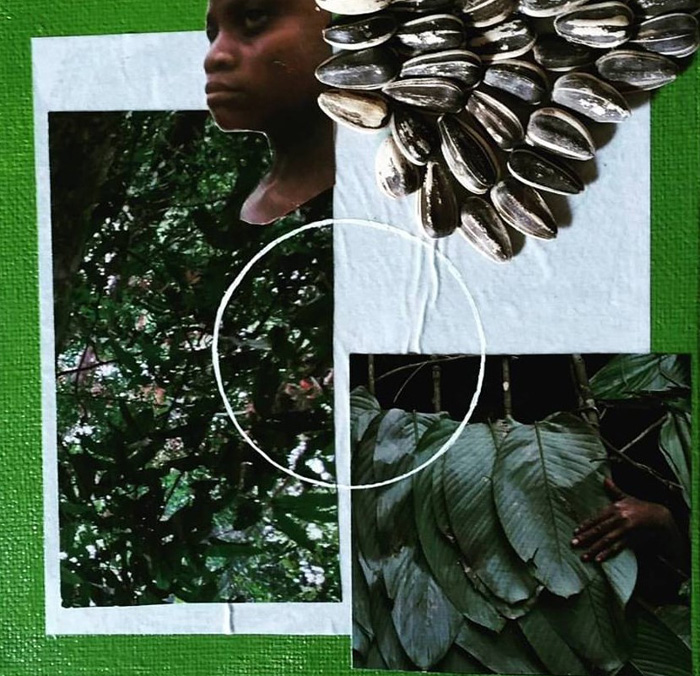 Candace Hunter,
XEN 7:7
, (based on
Xenogenesis
), 2016, collage on canvas. Photo by Candace Hunter.
Q: What was it about Butler's writing that resonated with you?
A: My mother was ahead of her time. She lived by affirmations and tried to get her children to do the same. I often dragged my feet to her requests because that's what daughters sometimes do. When I read Butler's six words, I was spellbound. They immediately reminded me of my mother's lessons on how to fulfill your dreams. They made me see and understand Butler's work and work ethic. Butler made me feel that all is possible, as long as you have the vision and put your shoulder to the wheel.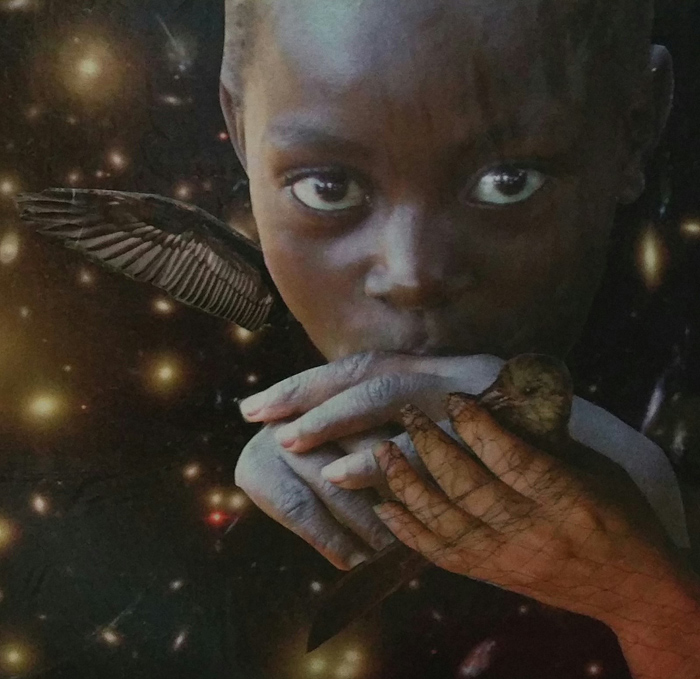 Candace Hunter,
FLD 7:15
, (based on
Fledgling
), 2016, collage on canvas. Photo by Candace Hunter.
Q: How did you approach the works for the new show?
A: I've been focused on the importance of creating literate communities for some time now, and that concern always seems to seep into my work. Illiteracy has so many root causes, but most are tied to economics. I thought that I would create a show that could be read via images, that would be read one panel at a time from left to right, and that would honor a writer who fought with dyslexia and the obstacles attached to it for most of her life.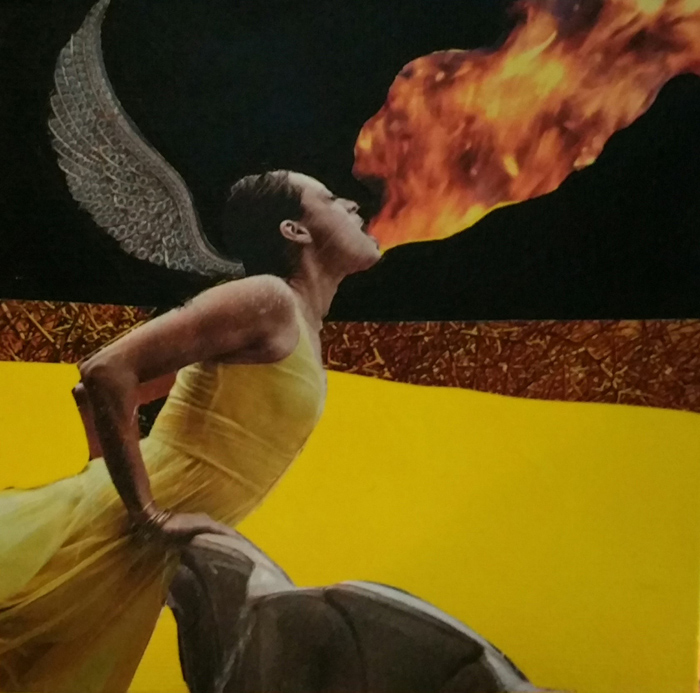 Candace Hunter,
FLD 15:15
, (based on
Fledgling
), 2016, collage on canvas. Photo by Candace Hunter.
Q: In her journals, Butler spoke about finding the confidence to pursue her writing. Is this something you can relate to as a visual artist?
A: I'm not sure about other artists, but every time I start a new project, there is a certain amount of anxiety and unsureness about whether what I see and feel will be seen and felt by the audience. Also, with collage—which is a ginormous puzzle—at some point it looks like nonsense. The trick is to plod along at what seems like the worst junctures. At the end of that path, the chaos turns into beauty. I am hoping that others find both the beauty of Butler and the beauty of my creations in this series.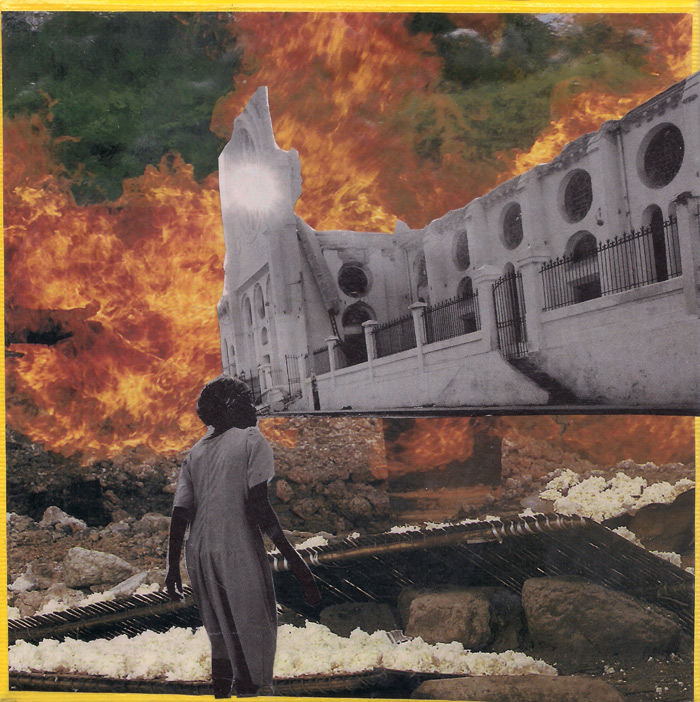 Candace Hunter,
FLD 6:15
, (based on
Fledgling
), 2016, collage on canvas. Photo by Candace Hunter.
Q: How did you first hear about Octavia Butler?
A: My Uncle Arsene recently turned 95, and at his birthday party, he heard me talking about this show and Octavia Butler. He perked up with, "Octavia Butler? Betty loved her." And with that he was off to the library upstairs to find copies of her books. Betty was his splendid wife, who had died a couple of years ago. She was the one who introduced me to the works of both Octavia Butler and Alice Walker. And my uncle introduced me to opera and the works of Langston Hughes. I shall always be thankful for those introductions!
Candace Hunter's exhibition "So Be It. See To It" runs until Oct. 3 in Gallerie M in the InterContinental Hotel in downtown Milwaukee. All 53 works relate to Butler's fiction, including Patternmaster, Kindred, Parable of the Sower, Parable of the Talents, Fledgling, and the Xenogenesis trilogy.
Related content on Verso:
Mentoring in the Afterlife (June 10, 2016)
Celebrating Octavia Butler (Jan. 27, 2016)
Writing Herself In (June 22, 2015)
Diana W. Thompson is senior writer in the office of communications and marketing at The Huntington.
Save