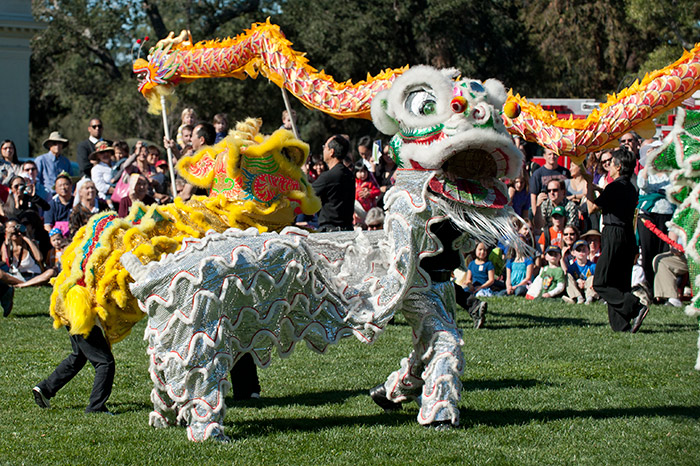 The Huntington will celebrate the Lunar New Year with a cultural festival on Feb. 20 and Feb. 21. Visitors can enjoy music, dance, demonstrations, exhibits, Asian cuisine, and lively performances, including crowd-pleasing lion dancers. Photo by Martha Benedict.
Happy 4714! According to the lunar calendar, that's the brand new year that began on Feb. 8, ushering in the Year of the Monkey. In China and in many Asian cultures around the world—and in communities right here in Southern California—the lunar new year is the most important holiday of them all, with feasts and celebrations that continue for several weeks.
The Huntington will host its own Chinese New Year Festival on Saturday and Sunday, Feb. 20–21. The event has been a Huntington tradition since 2005, three years before the popular Chinese Garden made its debut. That scenic landscape will be one of the focal points of the festival, but activities will take place in multiple locations across the grounds.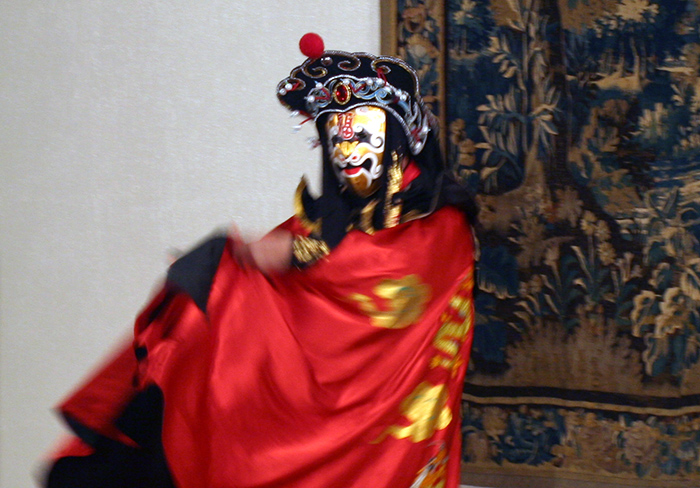 How does he do it? The mask-changing (
bian lian
) performances by Wei Qi Zhong will have the audience gasping in awe. The technique is a closely guarded secret, handed down from master to apprentice. Photo by Melissa Hoagland.
The fun gets under way with an exuberant performance by lion dancers and drummers. The crowd-pleasing show will be held each day at 10:30 a.m. and 2:30 p.m. on the lawn east of the Huntington Art Gallery, and at 12:30 p.m. and 3:30 p.m. near the Boone Gallery. Noisy, colorful, and lively, it's sure to put visitors in a festive mood.
For sheer mesmerizing dazzle, the mask-changing (bian lian) performance is not to be missed. This highly stylized—and totally amazing—theatrical art has its origins in Sichuan opera. Using the quick movements of a magician, the actor changes his face in an instant, with a flourish of his red cape, donning a series of dramatic masks through a sleight-of-hand trick. The bian lian technique is a closely guarded secret, carefully passed down from master to apprentice. Children and adults will be spellbound as they watch and try to detect how it's done. The performances will take place both days inside Haaga Hall at 11 a.m., 1 p.m., and 3 p.m.
Martial arts students, including young boys and girls, will demonstrate their athleticism. The Shaolin style of kung fu, deeply rooted in Chinese mythology and philosophy, is part of the monastic life of Shaolin Buddhist monks. Photo by Martha Benedict.
Martial arts demonstrations are another popular part of the new year celebration. Local students of Shaolin kung fu, one of the oldest institutionalized styles of Chinese martial arts, will show off their athletic moves, with flying fists, kicking feet, and flashing swords. Young boys and girls as well as adults will take part in multiple presentations throughout both days.
Other highlights of the festival include a presentation by the Henan Song and Dance Performing Arts Group on Saturday at 11 a.m. in Rothenberg Hall; live music in the Chinese Garden; and demonstrations of Chinese calligraphy, brush painting, and finger painting. Exhibits of penjing (Chinese bonsai), scholar's rocks, and photography will be on view in and around the Chinese Garden, and Chinese floral arts will be demonstrated in the Botanical Center's Banta Hall.
And if all that celebrating makes you hungry, have no fear: visitors will be able to enjoy a taste of authentic Chinese cuisine at food stations in various locations.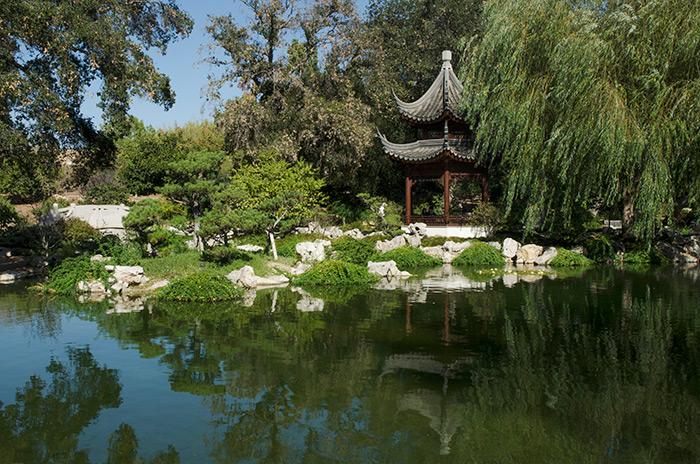 An ideal setting for Chinese cultural events throughout the year, Liu Fang Yuan 流芳園, the Garden of Flowing Fragrance, is one of the focal points for the Lunar New Year celebration. Photo by Lisa Blackburn.
Lisa Blackburn is communications coordinator for the office of communications and marketing at The Huntington.