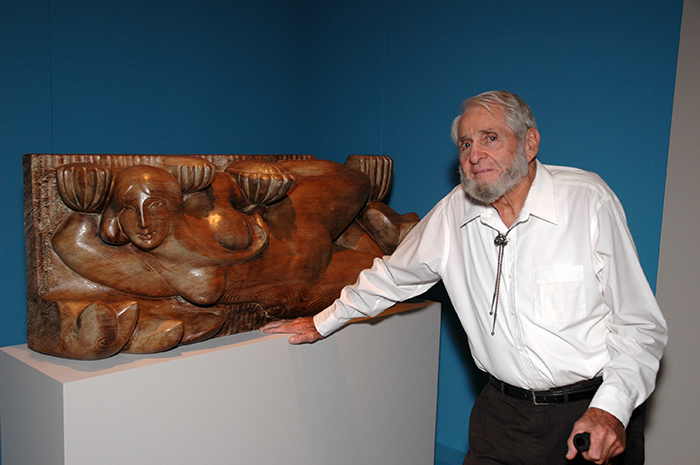 John Svenson with
Sea Sprite
in the exhibition "The House That Sam Built: Sam Maloof and Art in the Pomona Valley, 1945-1985," George and MaryLou Boone Gallery, 2012. Photo by Lisa Blackburn.
You don't forget meeting a man like John Svenson. I got a brief opportunity in 2011 when he came to The Huntington for a photo shoot in the galleries housing the exhibition "The House that Sam Built: Sam Maloof and Art in the Pomona Valley, 1945–1985," and he remains a kind of magical apparition in my memory. What struck me was the surprising combination of Svenson's tall, commanding presence and his utterly humble demeanor. It instantly made sense to me that this was the man who had carved the equally surprising wooden sculpture Sea Sprite (1967).
A concert of contradictions, Sea Sprite's slippery, refined form emerges from the polished, swirling grain of what was once—if you stop to think about it—a scraggy, rough-barked, too-heavy-to-carry-home chunk of redwood.
John Edward Svenson (1923–2016),
Sea Sprite
, 1967, redwood, 20 x 52 1/2 x 14 in. Gift of David and Kazumi Svenson in memory of Louise "Lou Ann" Svenson. The Huntington Library, Art Collections, and Botanical Gardens.
What kind of an artist would create such a piece? As Hal Nelson, curator of American decorative arts at The Huntington, points out in the "House That Sam Built" catalog: "A Southern California native, Svenson was encouraged as a child to explore the natural world around him, to cultivate his creativity, and to hone his skills with the tools of carpentry." That could be the genesis of a virtuosic sculptor of tree trunks.
Now, what about the motivation behind transforming a rough, untamed hunk of nature into the slick serenity of Sea Sprite? As Nelson also points out, Svenson served in World War II and "returned determined to pursue an artistic path." Did the unspeakable horrors of the war, described by many other artists and writers, inspire this artist to become a master of transformation—to make a peacefully floating, rounded, and clearly healthy figure out of a rough piece of wilderness?
No matter what the artist's motivation, the work is transporting—and well worth visiting whenever you're ready to travel underwater, below the fray, and enter the tranquil Svenson seas.
John Svenson passed away last month at the age of 92. How lucky we are that he left us his magical Sprite.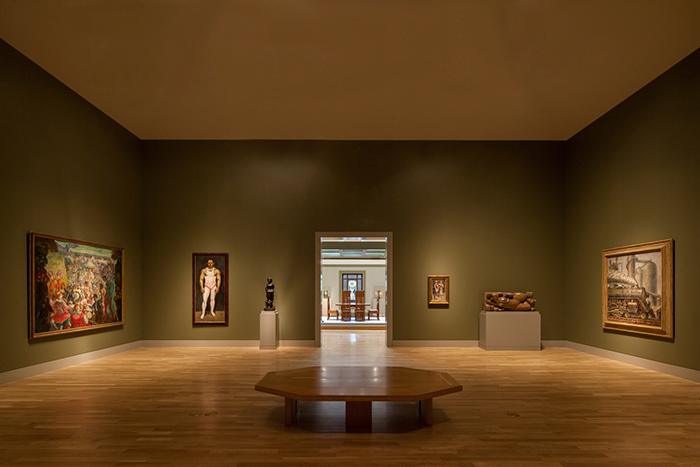 Sea Sprite
(second from right), as currently installed, in the Virginia Steele Scott Galleries of American Art. Photo by Tim Street-Porter.
Related content on Verso:
The Ripple Effect of Millard Sheets (Oct. 19, 2015)
Thea M. Page is director of marketing communications at The Huntington.