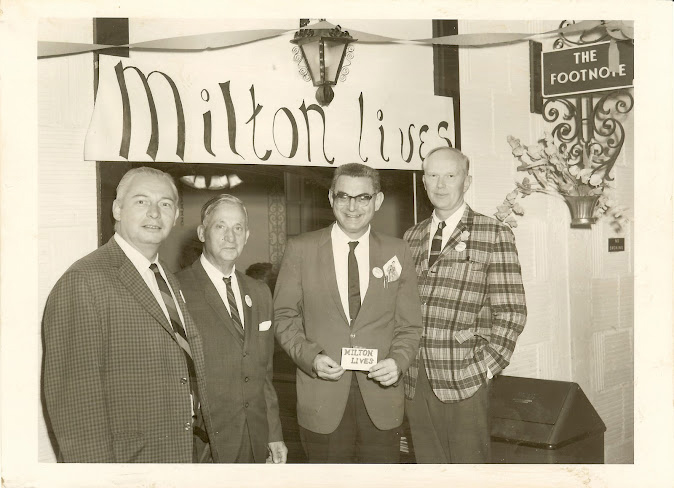 Huntington readers and staff have many fond memories of John Steadman (pictured at left, above), who was a much-loved member of our community for more than 40 years, and whose numerous publications may be found on the Library's shelves. John's combination of deep scholarship, selfless service, and warm fellowship made his life exemplary of everything the Huntington stands for.
John, who died peacefully on March 14, in Mobile, Ala., was, most recently, professor of English emeritus at the University of California, Riverside. On Thursday, May 24, at 4 p.m., the university will hold a memorial for all faculty, staff, and students who passed away during academic year. The service takes place at the UCR Botanic Gardens.
John was born on Nov. 25, 1918, in Spartanburg, S.C.; the next year his father joined the English faculty of Emory University, where he served as chair from 1930 to 1942. John himself received a B.A. (1940) and M.A. (1941) from Emory, and a further M.A. (1948) and Ph.D. (1949) from Princeton. In the interval between Emory and Princeton he served as a captain in the U.S. Army Air Force during World War II, and was assigned the duty of interrogating German prisoners of war. He later served as a captain in the U.S. Army during the Korean War.
John's teaching career began at the Georgia Institute of Technology (1941–42) and resumed at the University of North Carolina at Chapel Hill in 1949–51. After his second military service he spent a number of years pursuing his studies in England. Upon his return to the U.S. he assumed his position as Research Associate at the Huntington, where he quickly became an indispensable part of the scholarly life of the institution.
A review of the Huntington's annual reports reveals the bare facts of John's Huntington life. He first appears in the 1961/62 report, where his new appointment as a "member of the research staff in the field of English literature" is duly reported. He is described as a "Princeton Doctor of Philosophy" and the author of "more than forty articles published in leading scholarly journals." His military service is mentioned, as is his time spent at the Bodleian as an independent scholar, and his current interest in Milton. This introduction sets the pattern for future annual reports, in which he appears as seminar organizer, committee member, editor, lecturer, teacher, and—above all—as a remarkably prolific author. In a typical year, 1965/66, John had a book manuscript accepted by the Clarendon Press, served as secretary of the Milton section of the Modern Language Association, was elected to the advisory board of the Milton Society of America, delivered several lectures at local institutions, and published six articles and reviews in important journals. His responsibilities increased over time as he became a visiting professor, and later a professor of English, at the University of California, Riverside, assumed the editorship of the Huntington Library Quarterly (1962–81), served on numerous editorial boards, occupied offices in scholarly organizations, and produced a remarkable body of work that includes 12 books and a list of articles and reviews that fills more than 20 typewritten pages.
Although John was never one to flaunt his intellectual abilities, Huntington colleagues were frequently amazed and amused by his prodigious memory, facility with languages, and remarkable depth of knowledge on many different subjects. Part of the Steadman legend was the loss in transit of his notes from his long residence in Oxford in the 1950—this proved to be only a minor loss, since John remembered everything he read.
John's achievements were recognized by a number of awards and prizes: he was named an Honorary Scholar by the Milton Society of America, a Proctor Fellow at Princeton University, and a Fellow in English Literature by the Guggenheim Memorial Foundation. He was also awarded an honorary degree by St. Bonaventure University. His life's work is also commemorated in The Huntington's catalogs and on its shelves, where his scholarly publications share space with his research papers and the volumes of poetry he produced in the 1990s. An online search reveals another collection of papers held by the library of Emory University.
John lives in our memories as the kindest and most generous of colleagues and mentors. No one was too young or too old to escape John's kind attention, and his helpfulness to junior scholars is legendary.
Among the comments that have poured into the English department at UCR: "What I learned from John Steadman as a colleague was not only much scholarly information I could never have found out otherwise, but an attitude toward towards scholarship and collegiality that I still awkwardly try to emulate. He was a gentleman and a scholar in ways that will be difficult for anyone after him to live up to." And a former student fondly writes, "He was brilliant, of course, and I also appreciated the fact that he was always open-minded to different approaches to literature at a time when many were not. He was ever encouraging, and very kind."
The family suggests memorial donations be made to Wilmer Hall Children's Home, 3811 Old Shell Road, Mobile, Ala. 36608, www.wilmerhall.org.
Caption: John Steadman (far left), with Allan Nevins, Paul Zall, and James Thorpe at The Huntington in 1963. Nevins was the head of the research division; Zall a professor of English at what is now California State University, Los Angeles; and Thorpe the director of The Huntington.
Laura Stalker is the Avery Associate Director of the Library at The Huntington.