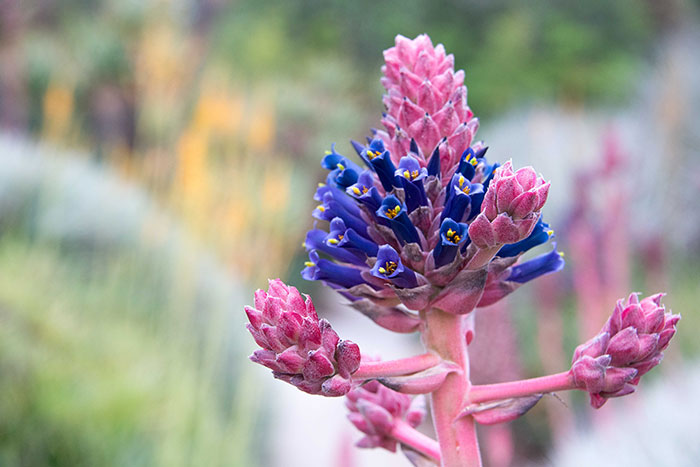 Puya venusta.
Photo by Deborah Miller.
A recent tour of Puya in the Desert Garden with The Huntington's curator of the desert collections, John Trager, turned me from a Puya Ignoramus to a Puya Enthusiast.
Puya are drought-resistant, mainly South American terrestrial bromeliads (Bromeliaceae) that love arid sun. The Huntington has the best collection of these enigmatic plants anywhere in the country. So, unless you're trekking through the Andes in Chile, Bolivia, Peru, or Ecuador, you won't have a chance to see rare and arresting bromeliads—such as Puya alpestris and Puya chilensis—shoot spectacular, long-arching inflorescence blooms of blue-green, chartreuse, violet, red, and yellow three to five feet into the sky during their annual springtime bloom.
As an added bonus, Puya are well adapted to bird pollination because the flowers are full of nectar. During the bloom, birds perch happily on the plants' lateral floral branches, which provide easy access to the nectar they love. Beware, however, as battalions of bees may be buzzing about.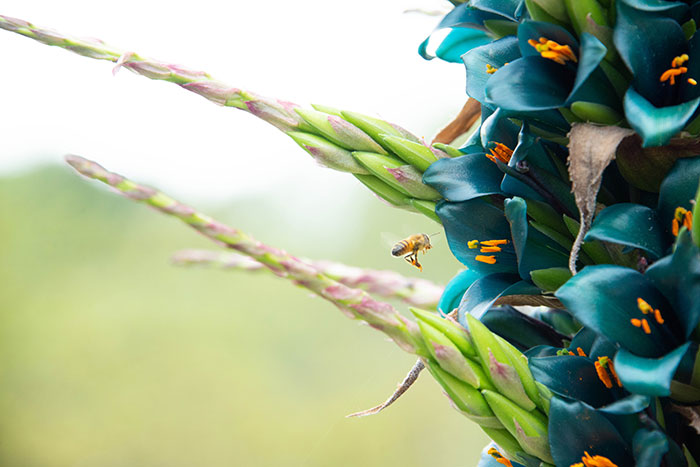 Puya alpestris.
Photo by Deborah Miller.
"The bees obviously are also attracted by the copious nectar, as are squirrels and other nectar thieves," said Trager. "The birds actually achieve pollination, the others may not."
As we toured the Desert Garden and Trager pointed out the many thriving Puya species, it was clear why these aren't found in residential gardens (and why many of us are unfamiliar with them). The plant's thick, gangly foliage spreads into densely packed, impenetrable colonies that take up a lot of space. Some have become enormous thickets the size of built-in swimming pools and have swallowed up their identifying species placard a long time ago.
"The placards, which were placed many decades ago, are buried somewhere in the middle; to find them, someone would have to push through the thicket completely covered in some kind of safety suit," said Trager.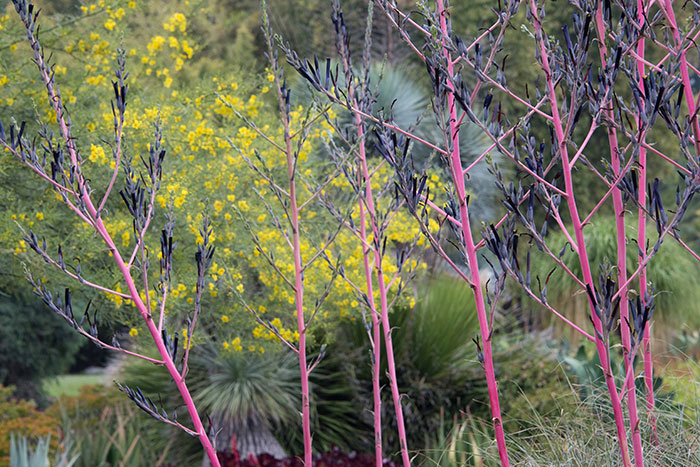 Puya coerulea var. violacea.
Photo by Deborah Miller.
That only adds to the allure of these elusive plants. Puya often have virtually indistinguishable leaves, which makes it difficult for a novice to tell the difference between one variety and another and can even leave experts scratching their heads. Because The Huntington is the best place for Puya research in the country, experts and specialists come here to study plants in cultivation before going into the wild. (The Huntington's excellent collection of mature Puya specimens were mainly collected decades ago when restrictions on botanical collecting were much more lenient.)
Earlier this decade, then graduate student and current Colorado College assistant professor Rachel Jabaily spent time studying Puya at The Huntington and identified many of the unknown specimens.
Many rare Puya species are located in the Desert Garden's Heritage Walk section, which was closed after World War II due to staff cuts and largely lay dormant for several decades until it was renovated and reopened in 2013. During the renovation, Trager said, botanical staff discovered happily thriving early Puya collections. These included species born from seeds brought back from the South American Andes in the 1930s by T. Harper Goodspeed of the University of California (collected near Concepción, Chile, at the altitude of 100 meters, where it was found growing on dry slopes among shrubs and grasses), as well as Puya acquired later during explorations of Bolivia and Peru by Myron Kimnach, The Huntington's director of botanical gardens from 1962 to 1986.
Puya coerulea var. violacea.
Photo by Deborah Miller.
This formerly off-limits garden area was largely redesigned to accommodate these fantastic specimens, including the huge mass of Puya alpestris that dates to the 1940s and is situated right at the Heritage Walk entrance. This Puya's towering flower spike displays brilliant aqua-blue flowers (and also goes by the name Sapphire Tower).
After my tour with John Trager, I realized Puya had been hiding in plain sight right before my eyes all along, waiting for me to relish their rarity and beauty.
Manuela Gomez Rhine is a freelance journalist based in Pasadena, California.