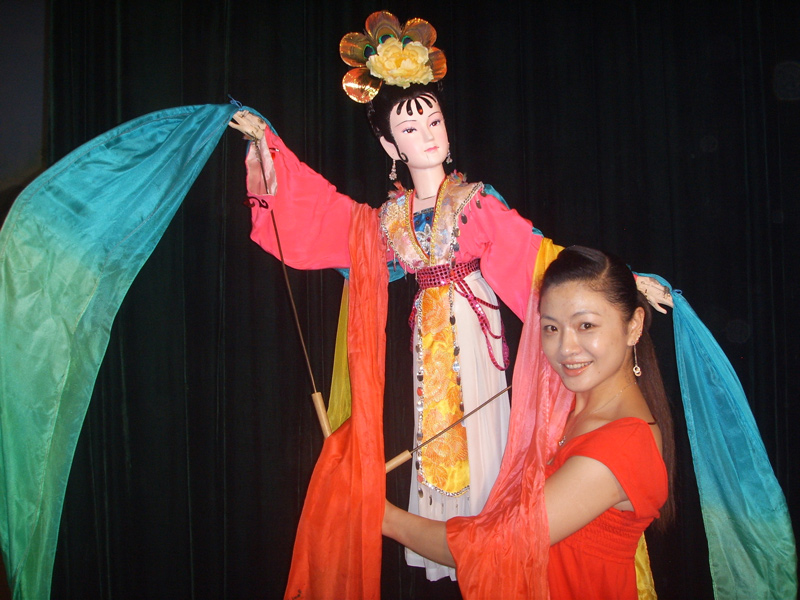 In the upcoming celebrations marking the Year of the Dragon, it will be tempting to focus all of your attention on the spectacle of the crowd-pleasing dragon dancers. This Sunday, The Huntington hosts a Chinese Cultural Arts Celebration as a prelude to the start of the lunar new year. The event will indeed include dragon dancers, but you won't want to overlook the many other activities designed to showcase the traditional arts and culture of China.
One special treat will be two presentations by the Yangzhou Puppet Company in Friends' Hall at noon and 3 p.m. For more than 40 years, this renowned ensemble from China has traveled the world presenting traditional puppet opera featuring their beautifully crafted figures. In addition, artists from Jiangsu Province, China, will demonstrate crafts such as inner-painted glass, paper cutting, and sugar sculpture, while musical performances will add to the spirit of celebration.
"An event such as this is a wonderful opportunity to promote cross-cultural exchange," says June Li, curator of Liu Fang Yuan, The Huntington's Chinese garden. "Not only is it a way to share an ancient and beautiful culture with people of other backgrounds, but it also allows Chinese American families to share their heritage with a younger generation. And to be able to present these programs in and around our Chinese garden provides rich context to enhance the experience."
All performances and activities are included with general admission; a full program is available on The Huntington Website. For additional information on the Chinese garden, you can also find the book Another World Lies Beyond: Creating Liu Fang Yuan, the Huntington's Chinese Garden in the Huntington Bookstore & More. It is edited by June Li and published by the Huntington Library Press.
The celebration continues next month with The Huntington's Chinese New Year Festival, which will be held on Feb. 4–5.
Corporate sponsorship provided by East West Bank. The Chinese Cultural Arts Celebration is made possible in part by the Jiangsu Province and the Ministry of Culture of the People's Republic of China, the Consulate General of the People's Republic of China in Los Angeles, Beauty Media Inc., and ICN TV Network. Additional funding provided by the Justin Vajna Memorial Fund for Education Programs in the Chinese Garden.
Caption: Photo courtesy of Yangzhou Puppet Company.
Lisa Blackburn is communications coordinator at The Huntington.