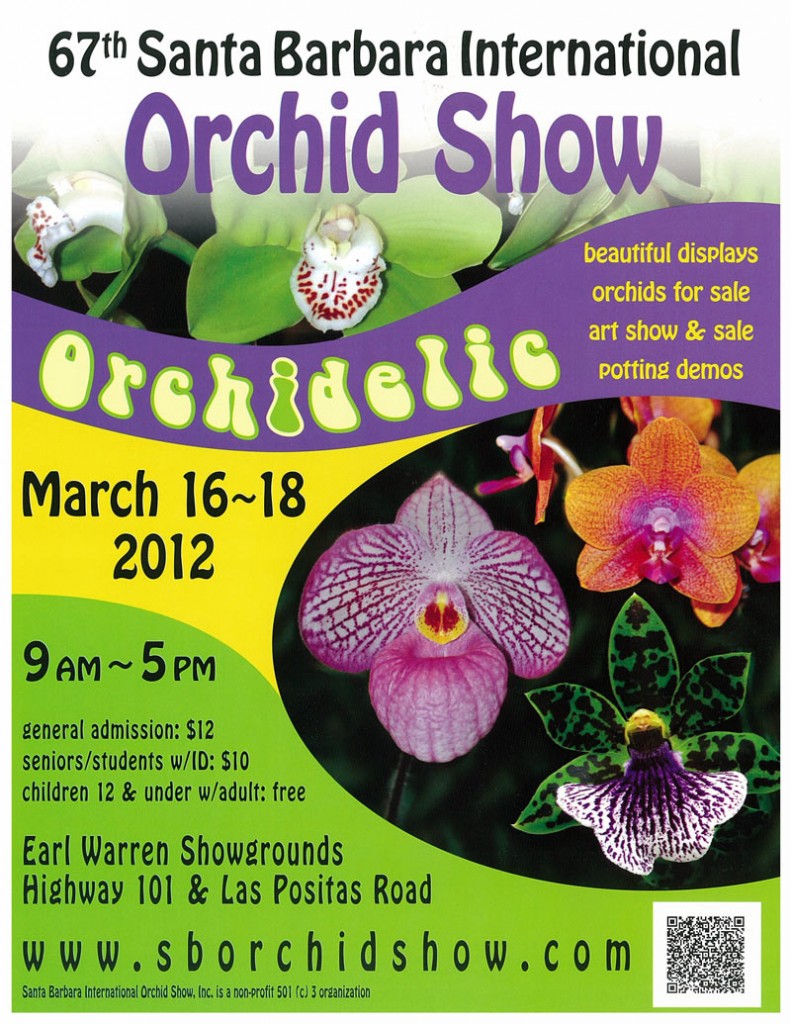 The Santa Barbara International Orchid Show is one of the oldest and most prestigious botanical shows in America today. The weekend of March 16–18 will mark its 67th consecutive year of displaying orchids for growers and enthusiasts alike. This year's theme is "Orchidelic," which emphasizes the psychedelic features of orchids—and which might also explain why collectors are so easily hypnotized by them.
The first Santa Barbara International Orchid Show took place under the supervision of the Santa Barbara Horticultural Society in 1945 at the Montecito Grange Hall. In the 1960s, the show moved to the Earl Warren Showgrounds, where it continues today. Santa Barbara was later crowned the capital of orchids because of the many orchid businesses that have since thrived there.
The Huntington is proud to announce that it will be participating in the show for the second year in a row. This year we will be incorporating some "technological devices" that will make our exhibit more interactive for visitors. Last year's theme was "Route 66," which was picked purposely to celebrate the show's 66th year. We took home the Wilcox Trophy for Best Paphiopedilum in Show for Paphiopedilum hainanense 'Hang Ten.'
Along with spying the gorgeous plants and flowers, visitors can purchase orchids from vendors. Hengduan Mountains Biotechnology, a German company based in China, will be in America for only its second time selling rare and exotic Paphiopedilums native to China. This marks the first time these species have become available for purchase in the United States. Slipper orchids such as Paphiopedilum emersonii and Paphiopedilum helenae are among the plants that are new on the market in the United States, a great milestone for orchid hobbyists and collectors.
Along with vendors, there will also be live painting demonstrations by Suemae Lin Willhite, who specializes in a fusion of east and west painting styles. Workshops will include a talk about orchid viruses by Everett Stockstill. If you think you have a "virused" orchid, bring in a single leaf in a sealed plastic bag and Stockstill will show you how to test the plant (limit one per person).
For more information, visit the show's website, www.sborchidshow.com. It starts on Friday, March 16, and runs through Sunday, March 18, from 9 am to 5 pm each day. General admission is $12; children under the age of 12 get in free. The address of the Earl Warren Showgrounds is 3400 Las Positas Road, Santa Barbara, Calif. 93105. Don't miss it!
Brandon Tam is The Huntington's orchid specialist.