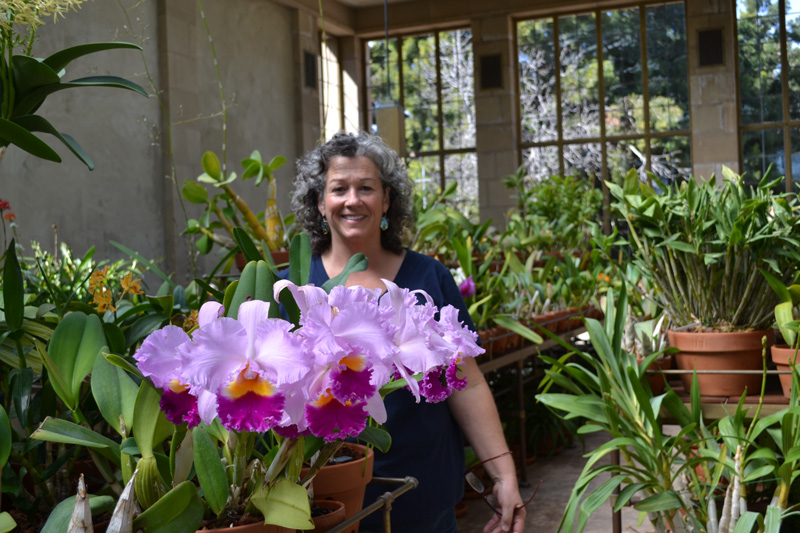 When you think of the San Diego Zoo, the first thing that pops into your mind is animals. With its 100 acres, the zoo has nearly 4,000 of them, including more than 650 rare and endangered species. But the San Diego Zoo also has plants! With around 700,000 specimens within their botanical collection, the zoo is a great force in preserving and sustaining plant species.
Last week, orchid collection volunteer Lance Birk and I had the opportunity to host several staff members from the zoo. Christy Powell is the zoo's plant propagator, Dan Ramos is the bamboo curator, and Janette Gerrity is the senior orchid specialist at the zoo and responsible for the health and wellbeing of the plants within its orchid greenhouse. (Gerrity is also an expert in pandas!) The San Diego Zoo has about 3,000 orchids, including about 800 species.
Lance and I gave the trio a tour of our collections, especially our Erythrina and bamboo collections. We showed them our 12,000 plant orchid collection, which includes the 5,000 plus specimens donated by the family of S. Robert Weltz. We went through the orchid greenhouse and even had the chance to bring Gerrity to the off-campus Thornton Conservatory, which currently houses the best of the best of our orchid collection. Everything from rare species, awarded plants, and large specimens are currently housed there.
During their visit here at The Huntington, we had the opportunity to exchange plants from both our collections and gardens. We invited them to select plants and cuttings from our gardens, including orchid and bamboo samples. In exchange, Gerrity and her colleagues brought us some Paphiopedilums, including druyi, insigne, haynaldianum, wardii, and lowii. We are very fortunate to have received such great species from the San Diego Zoo. We look forward to working more with the San Diego Zoo and are extremely grateful that we have established a new connection with them.
If you are interested in visiting the San Diego Zoo's orchid collection, the zoo hosts an open house called "The Orchid Odyssey" on the third Friday of every month; visitors can visit the greenhouse and interact with an orchid specialist. The program runs from 10 a.m. to 2 p.m. and is free with the purchase of admission.
Caption: Janette Gerrity, the senior orchid specialist at the San Diego Zoo, visiting the Thornton Conservatory.
Brandon Tam is The Huntington's orchid specialist.