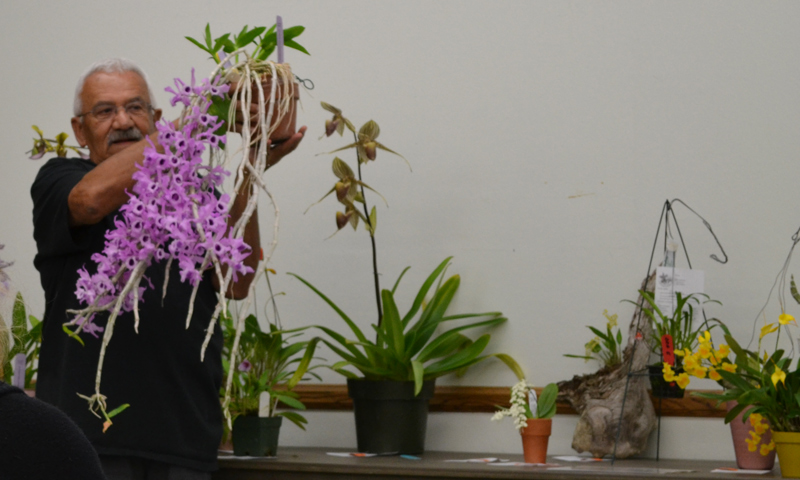 The San Gabriel Valley Orchid Hobbyists will be hosting their annual auction on Thursday, May 17, at the Los Angeles Arboretum and Botanic Garden. The Huntington will be donating orchids, including specimens from the recently acquired S. Robert Weltz Orchid Collection. Donations will also come from orchid hobbyists and nurseries within and beyond Southern California.
These plants are not your generic white Phalaenopsis plants frequently on sale at the grocery store or home improvement center. From rare species to unique hybrids, there is a plant for everybody. You will find orchids that you have never seen before, giving you a glimpse of how big the orchid world actually is. Orchid supplies will also be included at the auction. For many of us who live in Los Angeles, it is hard to find a good orchid nursery. The closest is Norman's Orchids, in Montclair, but beyond that you would have to drive all the way up to Santa Barbara. The great thing about the San Gabriel Valley Orchid Hobbyists' annual auction is that you don't have to drive too far to get quality plants for a reasonable price.
This is a major fundraiser for this society, so please make an effort to attend. Peter Lin, who is a probationary American Orchid Society judge, will be the auctioneer for the night. Make sure to arrive early to register for a paddle and to preview the plants. The sneak peak begins at 6 p.m., and the official auction will start at 7 p.m. Cash and checks only, no credit cards. And make sure to bring your own boxes to ensure that your orchids have a safe ride back home.
The auction will be held on Thurs., May 17, at the Los Angeles Arboretum and Botanic Garden, 310 North Baldwin Avenue, in Arcadia.
Brandon Tam is The Huntington's orchid specialist.