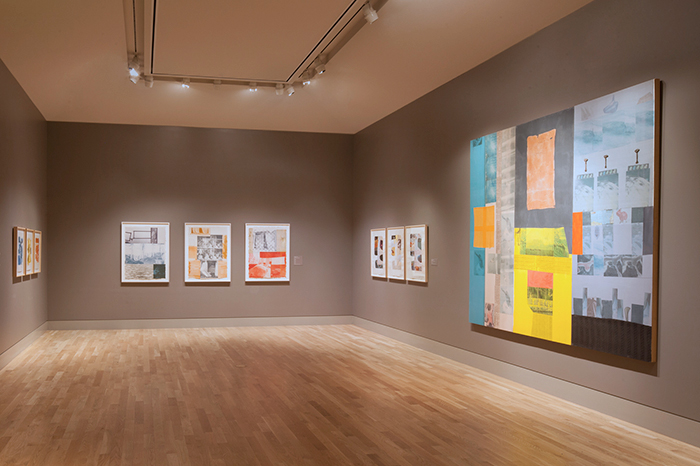 The reopening of the Virginia Steele Scott Galleries of American Art includes new installations of works from The Huntington collection, including Robert Rauschenberg's
Global Loft (Spread)
(1979), at right. It is featured in this room with loans from the Rauschenberg Foundation. Photo by Tim Street-Porter.
This Saturday, visitors can wander for the first time through five new rooms in the Virginia Steele Scott Galleries of American Art. The new section, previously used for storage in the Lois and Robert F. Erburu Gallery, adds 5,400 square feet of gallery space to display The Huntington's growing collection along with important loans.
The expansion gives curators a total of 18 rooms to highlight works that date from the 18th century up to the late 20th century. As visitors move in and out of the rooms they can discover connections among objects within galleries while also tracing the notable transitions and milestones in art movements that are documented from room to room.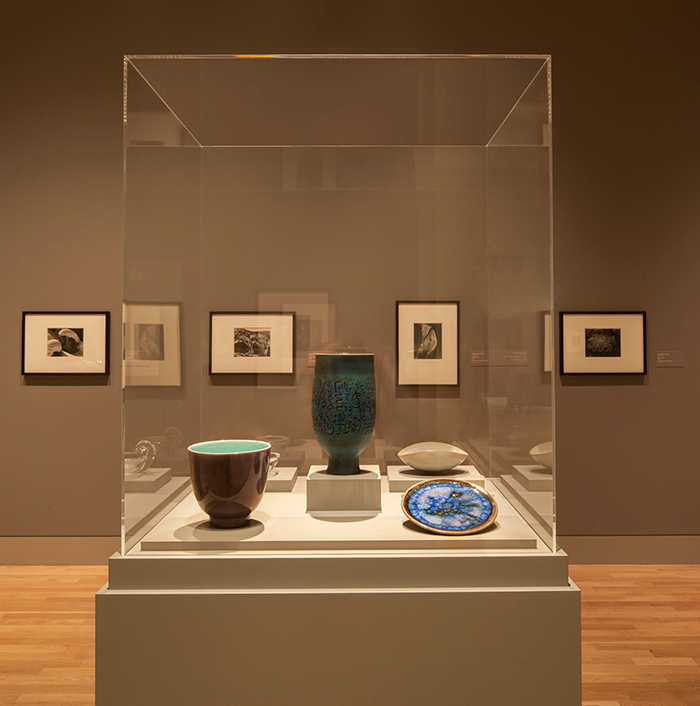 In another new room, photographs by Edward Weston (in background) are accompanied by decorative arts, including
Footed Bowl
, ca. 1945, by William Manker;
Footed Vase
, ca. 1967, by Edwin and Mary Scheier;
Colemanite Blue
, ca. 1965, by Faith Zink Porter; and
Folded Bowl
, ca. 1960, by Otto and Gertrud Natzler. The Huntington Library, Art Collections, and Botanical Gardens. Photo by Tim Street-Porter.
One of the new rooms spotlights the work of Robert Rauschenberg and is anchored by The Huntington's monumental 2012 acquisition, Global Loft (Spread) (1979), a complex work that incorporates pieces of fabric, found objects (three glue brushes), and appropriated images with acrylic paint on three conjoined wood panels. The remaining works in the gallery have been lent by the Robert Rauschenberg Foundation and explore the relationship between Rauschenberg's printmaking practice and his paintings. The loans will be installed in ongoing six-month rotations.
"We're thrilled to be part of this partnership with the Rauschenberg Foundation," says Jessica Todd Smith, the Virginia Steele Scott Chief Curator of American Art. Like Global Loft, many of the prints on loan feature appropriated imagery and found objects.
Smith hopes they will illuminate Global Loft in new and surprising ways. "There are hours' worth of looking embedded in these prints," she says.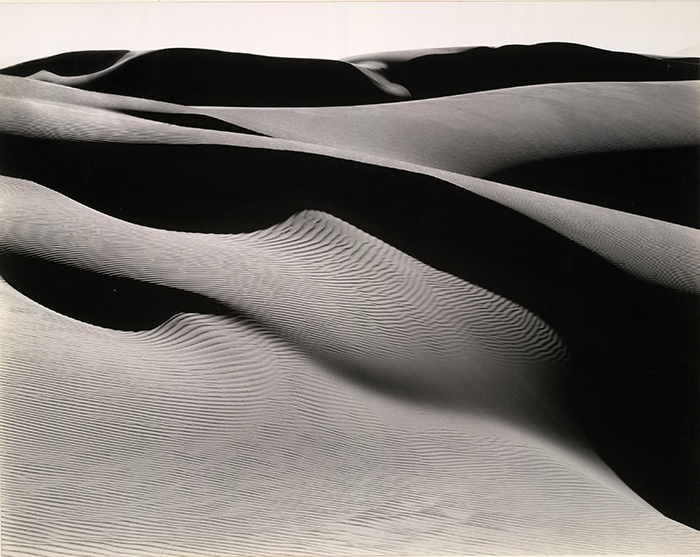 Edward Henry Weston,
Oceano, California
, 1936, silver print mounted on board. The Huntington Library, Art Collections, and Botanical Gardens. © 1981 Center for Creative Photography, Arizona Board of Regents.
Another room spotlights the work of Edward Weston, who selected and printed for The Huntington 500 pictures concentrating on images that he had shot between 1937 and 1939, when he was on a Guggenheim grant. The new installation focuses on some of his finest landscapes of California and the West, including images of Death Valley, Yosemite, Point Lobos, and the Sierras.
"The installation marks the first time The Huntington has displayed photographs in its permanent installation of American art," says Smith.
Like the Rauschenberg items, the Weston photos are sensitive to light and will be rotated on a regular basis.
Matt Stevens is editor of Verso and Huntington Frontiers.