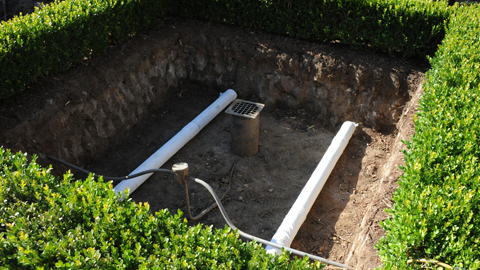 So what happens to soil when you construct a building on top of it? Well the first thing that happens is your contractors have to make certain the soil can never again grow a plant. Almost everything that a gardener likes about a wonderful soil is pretty much what an engineer hates. Where a gardener wants great organic content, engineers find the organics to be a problem, because they don't compact well. And where gardeners want soil with airspace and drainage, engineers love it when they can compact soil to the point that there is less than 5 percent air. The result, when a building sits most happily in earth is also when the soil is as close to concrete or stone as possible.
With that being the case, our buildings are happy indeed—which pretty much explains why the lemon trees in the Richards Family Courtyard at the Botanical Center have never really prospered. In desperation, we sacked out the lemons and decided to increase the drainage by digging deeper. But even after hauling out three feet of soil, the going was still hard. So we ran a drainage trial. Filling one of the holes up to a piece of red brick that was visible in the compacted soil, we let things stand for a day, then another, then a third. After all this time, the water level dropped by less than an inch. There was, essentially, no drainage.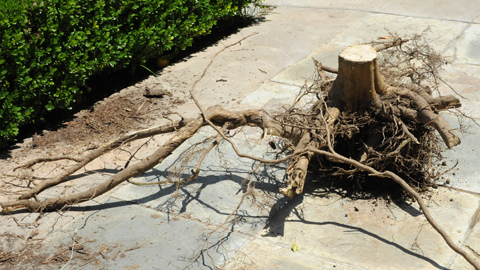 After examining the roots of the lemon trees that we removed, we were able to tell that the main problem was lack of drainage and aeration. The only strong roots on the trees were those that thrived along the upper surface of the soil. All of the deeper roots were the ones that had formed in their growing containers prior to planting. I'm guessing that during winter rains, underground, those deeper roots were in standing water, where they drowned. Roots respire, like we do. They actually need oxygen to break down sugars and provide the energy and building blocks needed for growth. Not a good formula, for lemons, or for lemonade.
What to do? Because the courtyard is surrounded by a full basement, compaction probably runs 20 feet deep. Time to resort to what we call a French drain, which is an underground, perforated drainpipe surrounded by good-draining material, like gravel. Some plastic pipe, a load of gravel, a cover of cloth mesh, and several yards of fresh soil later and we are back in business with six large growing containers carved into the oh-so-solid earth that surrounds our well-anchored building. Hopes run high for better growth.
It reminds me of smaller trees I see in big development projects and along city streets. You might think they're small because they are recently planted, or perhaps people prune them severely or don't provide enough water. But most likely these are trees that lack sufficient "root run" to support a large canopy because they were planted in small holes carved into very compacted soils. They are bonsai-by-default, and (sadly) pretty much doomed.
Jim Folsom is the Telleen/Jorgensen Director of the Botanical Gardens at The Huntington.