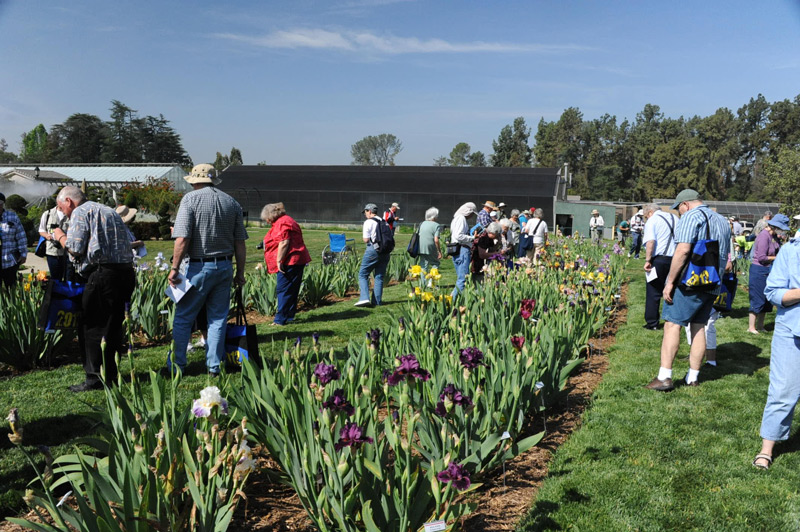 You need to visit the Botanical Center over the next week or two if you want to catch sight of the newest irises in town. At the end of last week, we hosted the annual American Iris Society National Convention, and attendees came to see the "guest" irises that we planted nearly two years ago. It is now your turn. A lot of work has gone into this straightforward display. Jill Bonino and Mike Monninger pulled together the entire convention and, along the way, thousands of plants to be sorted and distributed to four sites for planting, labeling, and visiting. Ivan Craig has dedicated hundreds of hours to checking and grooming and cultivating the plants here.
Step into the area just north of the Bing Children's Garden (in the Botanical Center, just north of the Rose Hills Conservatory)—it is an area that is normally off-limits. There you will find a symphony of more than 400 iris cultivars in near peak bloom. Each has its identifying tag. Some have been given names and just made it into commerce; others are yet to receive names and will not be available for a few years. So this is the newest word in iris.
Do not imagine you can come back next year. These irises are on loan and will be dug up this summer and returned to their respective owners (the hybridizers). Next year we begin to work on this small acre as home to the future potager inspired by the generous gift of Frances Brody.
Jim Folsom is the Telleen/Jorgensen Director of the Botanical Gardens at The Huntington.