Another post in a series about Mr. Huntington's Garden by the botanical director of The Huntington.
I believe we forget that some of the important garden plants are actually native to the United States. It also surprises people to learn that horticulturists remain busy creating new garden forms using plants that are available on the market and in nature.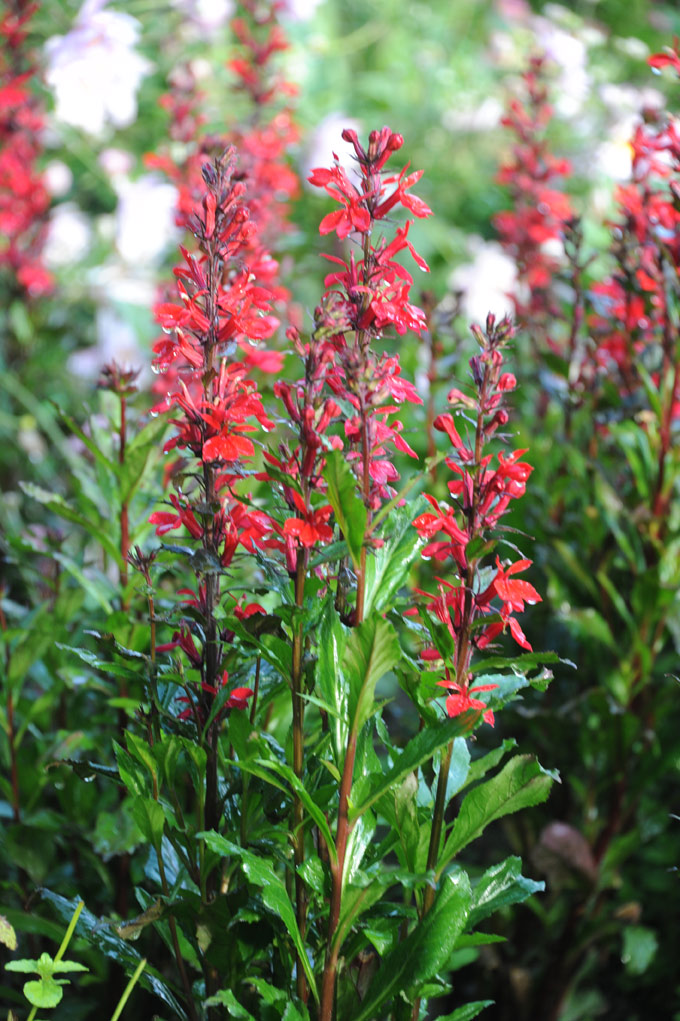 If you spent time botanizing Eastern forests, studying native plants, you'd likely be familiar with an interesting phenomenon—the summer flowering of plants with bright red, tubular blossoms. Lesser known of this lot is a native azalea, Rhododendron prunifolium, a plant endemic to the Chattahoochee River basin but clearly related to the native azaleas up in the Appalachian mountains—one with a brick red flower that comes on in July, rather than April.
More widespread and well-known is a lobelia that produces glowing spikes of cardinal-red flowers in mid- to late summer. A plant of wet areas, Lobelia cardinalis will sometimes make an arresting play in small clearings amid the somber black greenness of a swampy forest. Because I first encountered this lobelia in Alabama swamps, I think of it as a purely Southeastern plant. But L. cardinalis ranges well down into Mexico, where it is sometimes called L. splendens, and populations have even been reported from much further afield.
The biology of the lobelia and all of these Eastern red-flowered plants is fascinating. These natives are tied to the annual migration of Ruby-Throated Hummingbirds, which fly from Mexico each year, crossing the Gulf, to live their summers in the United States. A little bird with high metabolism and energy consumption needs a lot of sugar to keep body and soul alive, all of which is provided by flowers. Flower color becomes useful. Bird vision is very strong in the red portion of the light spectrum, thus ripening of fruit (for birds that harvest fruit) and, in the case of hummingbirds, red flowers signal availability—it is time to visit. The "syndrome" for flowers visited by hummingbirds, then, includes red color, tubular flowers, good nectar availability, and enough clearance around flowers for birds to hover while feeding.
Those red flowers are not just a boon for hummingbirds. Turns out having some bright red flowers in mid-summer is a welcome venture for gardeners also. By the early 1800s, seed of the red-flowered lobelias made their way to Europe where gardeners busily selected excellent cultivars — one of the most well-known being named 'Queen Victoria' — a name choice that is hardly a surprise. Horticulturists continue to plumb the genetic potential of the red lobelias. A lovely stand of the 'Fan' hybrids is in the Shakespeare Garden right now. Though the Fan Scarlet is predominant, you'll see that other colors have appeared in the series, from pinks to salmons.
Jim Folsom is the Telleen/Jorgensen Director of the Botanical Gardens at The Huntington.