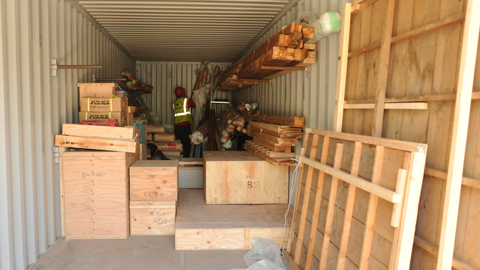 Another post in a series about Mr. Huntington's Garden by the botanical director of The Huntington.
There was a lot of activity in and around the Gardens this week, from public lectures to preparations for the spring plant sale to replanting beds throughout the grounds. But the simple arrival and departure of a single delivery truck takes the prize as the week's most certain turning point in the history of the Gardens. After months undergoing restoration in Kyoto, Seifu-an has arrived. The ceremonial teahouse donated to us by the Pasadena Buddhist Temple is no longer in Pasadena, or Kyoto, or on the ship named Victorian Bridge. And with the kind help of many shipping agents, the container (with Senate in big block letters) cleared customs and arrived on our property on Wednesday.
Now I have to say there is still not much to look at. Our teahouse sort of looks like the most complex kit you might purchase at Ikea. Thankfully, Yoshiaki Nakamura and his craftsmen (who completely restored this building during its sojourn to Kyoto) arrive soon to help us learn how it is properly assembled. So as workers were unpacking the 40-foot container on Wednesday, others were busy at the building site nearby, compacting soil to prepare for construction of the foundation, which must be in place in two weeks. Somehow, that will happen.
As my predecessor, Myron Kimnach, used to say, "If you are going to make an omelet, you have to crack a few eggs." So if you had the chance to walk through the Japanese Garden today, you'd quickly agree that we are into that stage of omeletry—we have broken a whole lot of eggs. You might even think the Japanese Garden is a real mess. The entire bottom of the pond complex has been removed. Exploratory digs have been carved out all over, making the site look like a filming location for the movie Holes. A swath through the bamboo makes me think of clearings for high voltage transmission lines. And machinery swarms over the hills in a way only Bob the Builder could love.
I face it all with equanimity. There are a lot of good and experienced designers and contractors involved, who seem confident the patient will survive. And we have been through this before. It is the stage at which I quit worrying about the present, and focus entirely on next year, in April or May of 2012, when I know things will come back together. The Japanese Garden will be in the best condition any of us has ever known. We will forget the pain and revel in the glory of it all. Promise.
Jim Folsom is the Telleen/Jorgensen Director of the Botanical Gardens at The Huntington.