Another post in a series about Mr. Huntington's Garden by the botanical director of The Huntington.
We are in the midst of discovery, and it turns out that the greatest mysteries are often right under our feet. As gardeners, we are accustomed to that. But this past week it was not roots and shoots at the core of our mysteries; it was pipes and walls and footings. Seems we spent the week either wishing there were better records of what is underground or looking into ways to create better records for future workers who have to deal with the infrastructure we ourselves are installing.
The pipes were the most nettlesome issue. As much work as we have dedicated to locating and surveying irrigation pipes over the past several years, we still have to rely on personal memory to understand how much of the system is constructed. Our goal, of course, is to create an entirely new, robust system that is completely documented. But meanwhile, any major project is held somewhat hostage to what may be in the ground. We are at that stage in three projects, most immediately in the Japanese Garden. It all means digging exploratory holes to find pipes, and then estimating where they run, with the goal of either relocating or working around them. It takes a lot of time.
So you might guess we were delighted to talk with reps this week who offer some remarkable new mapping equipment and products that will make future documentation much easier. One nifty device is a small sphere, about the size of a tennis ball. You bury these balls at crucial points in underground utilities, encoded with information that describes what secrets they guard. Later, even decades later, you can use a locator to find them and read what data they hold. These are time capsules worth their $20 price tag. As to equipment, the ability to map while working in the field has been radically improved. There is no longer any reason we should fail to keep good electronic records of everything we install. It is a new day for demystifying the underground world.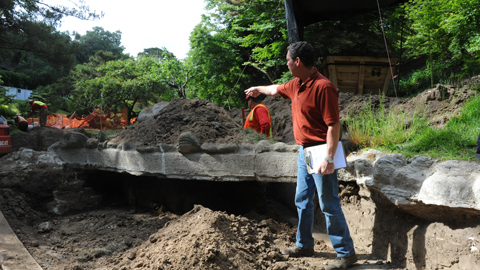 And that goes for things beyond pipes. A discovery this week further expanded our understanding of the Japanese Garden ponds, which I mentioned in a recent blog. At that time we had just confirmed that the upper pools have two separate bottoms. But over the past week, contractors unearthed the remaining area, and we now realize the original (lower) bottom is part of a large, single pond that filled the northern end of the Japanese Garden. Apparently, in its original configuration, the Japanese Garden terminated at this large pool, which occupied all of the level space available—there was hardly room to walk around the pool into the canyon to the north. For reasons not completely obvious, that larger, lower pool was abandoned and two smaller pools were built inside it. The new pools were higher than the original large pool, and were constructed on top of soil fill of about 8 inches. Once the two smaller ponds were built, soil was used to fill the surrounding area. All of the original concrete work was left in place—buried.
What a hoot. I always wondered about garden archaeology. How is it that ancient gardens can be dug up? I mean, how did they get buried in the first place? Now I know. At least in our case, rather than break up and haul out all of the original liner and decorative work, it was simpler to use that concrete as a foundation for the new construction and then cover everything up with soil.
What is more astonishing is that we don't plan to take it all out either. We have surveyed and documented the original construction, and plan to simply reinter it. We might drop a couple of those locating spheres in alongside, and maybe code them with the words "Kilroy was here."
Jim Folsom is the Telleen/Jorgensen Director of the Botanical Gardens at The Huntington.