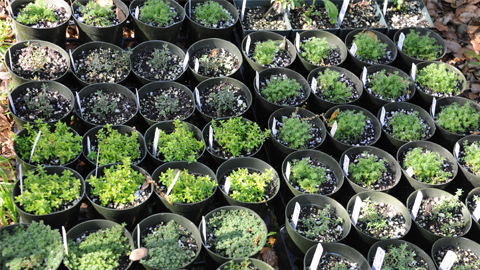 Another post in a series about Mr. Huntington's Garden by the botanical director of The Huntington.
The week ahead is a bit disquieting. Challenges abound for everyone. Floristic gardens curator Shadi Shihab has new gardeners training in the Palm, Australian, and Shakespeare gardens. Beginning last week, managing the Herb Garden became part of Scott Kleinrock's tasks, and he starts today with a brand new gardener and a fresh delivery of herbs to flesh out the original garden plan Shirley Kerins developed many years ago. David MacLaren and his staff are fully engaged with contractors who need plants moved and decisions made in quick succession as restoration of the Japanese Garden kicks into full pace.
And grounds superintendent Fred Brandt's crew has three projects that cannot wait—clearing for the Japanese Garden project, brush removal for a new storage site at the facilities work building, and hauling branches from thinning and crown reduction of the Podocarpus allée (by Finch Tree Company) that leads to the Mausoleum. Not only do these projects happen in unison, they create masses of green waste to be hauled and processed. In each project, we are under the gun a bit; other people and other advances depend on our staying out in front and getting the work done. What this means, of course, is that regular needs have to be set aside for the moment, which is fine until something comes to the party that cannot be tabled. That's the disquieting part–you don't know exactly what pressing issue is going to surface, but you know darned well something will happen.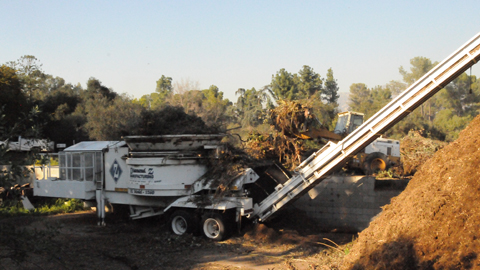 But we do know two other things—staff and volunteers will get it all done and the result of all of our activity will be a full day in late April or early May during which Fred's staff must grapple, load, grind, and shove around tons of dead plant material, turning it into pyramids of pulp. The center of that activity will be "Yeager" the tub grinder. You need to know that like in Thomas the Tank Engine, every piece of the Garden's equipment has its own name and personality. Yeager is the biggest brute of the lot. And it's not just any old tub grinder, Yeager is a Diamond Z, given to the Gardens more than a dozen years ago by Gene and Billie Yeager. Gene selected and ordered Yeager himself. It is the finest of its breed, a 12-foot tub turning on top of a massive grinder (a hammer mill), all run by a 650-horse-power CAT engine and made to order for the Gardens. Yeager was delivered to The Huntington by the very person who had overseen its construction at the Diamond Z plant back in Idaho. And we learned at the time that every tub grinder Diamond Z ever built was still in operation. That is what Gene had said—Yeager is the best in the industry.
Since arrival, Yeager has pulverized every leaf, branch, trunk, and root mass that has succumbed in the Gardens. Amazingly, Yeager also can grind bamboo, palm leaves, and trunks, and even massive cactus corpses. To top that off, we toss any damaged palettes and waste wood into the mix. The only finicky aspect of Yeager's diet is the need to balance courses—a hopper of dry and twiggy material needs to follow a bulky trunk or root mass. Some nice moist grass clippings help keep the dust down and give moisture to the final product. Like Lilliputians, six or more staff and three or four other named machines spend about a day a month feeding Yeager our tangled masses of brush, which gradually become mounds of mulch to nourish the soil.
Captions: New herbs ready for the Herb Garden; "Yeager" the tub grinder.
Jim Folsom is the Telleen/Jorgensen Director of the Botanical Gardens at The Huntington.