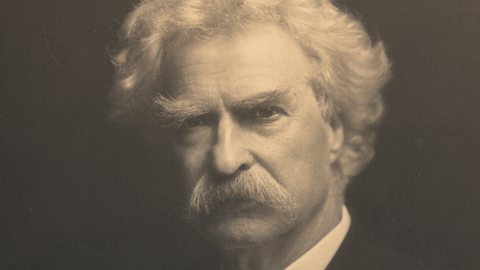 American author and humorist Samuel L. Clemens, better known by his popular pen name "Mark Twain," was born Nov. 30, 1835, making this year his 175th birthday.
For the month of November, we're celebrating Twain in our Treasures Case in the East Foyer of the Library Main Hall. The original manuscript of The Prince and the Pauper is on display, along with a British first edition of the novel and a stunning portrait of the author himself.
The young Mark Twain was apprenticed to a printer, and he went on to work as a typesetter, a journalist, a steamboat pilot, and a prospector before becoming the author we know today. His first great success in fiction, "The Celebrated Jumping Frog of Calaveras County," appeared in New York's The Saturday Press in 1865. Many beloved stories followed, including The Adventures of Tom Sawyer (1876), The Adventures of Huckleberry Finn (1884), and A Connecticut Yankee in King Arthur's Court (1889).
Innately American themes, along with Twain's groundbreaking use of slang and vernacular, made him instrumental in developing the voice of American literature. A strong abolitionist and supporter of women's suffrage, Twain also wove social commentary into his often whimsical or satirical tales.
Though not hugely popular during Twain's lifetime, The Prince and Pauper (1881) has become a quintessential story in the American paradigm, utilizing themes like rags to riches and self-reinvention. It is a classic tale of experiencing life in someone else's shoes, with the pauper, Tom Canty, trading places with young Prince Edward, son of Henry VIII, in 1547 England. A twist of fate brings both boys more than they bargained for, but all is set right in the end.
Clemens died April 21, 1910, at the age of 74. ■
Natalie Russell is the library assistant for American literary manuscripts at The Huntington. Captions: Mark Twain, 1907