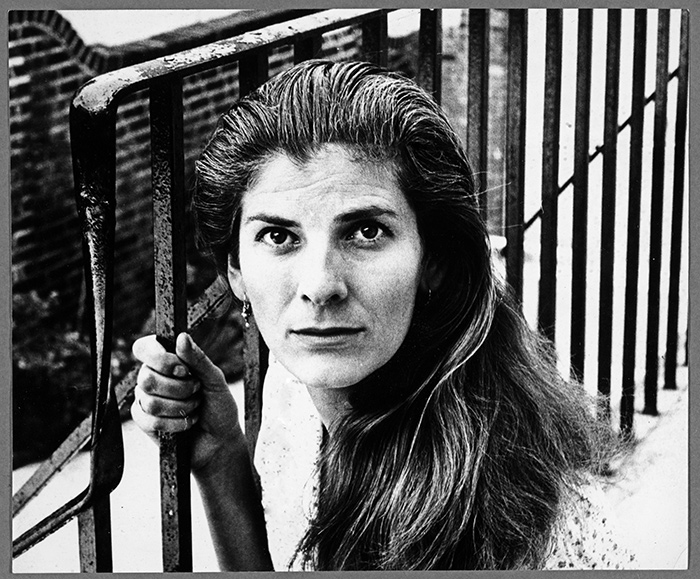 Elizabeth Jane Howard, ca. 1965. The Huntington Library, Art Collections, and Botanical Gardens.
Imagine my surprise when I read the following words in the acknowledgment section of Elizabeth Jane Howard: A Dangerous Innocence, Artemis Cooper's 2016 biography of the late English novelist. "At the Huntington Library I thank Steve Hindle, Sue Hodson, and, above all, Gayle Richardson, the archivist who had cataloged Jane's papers. Gayle's 'Finding Aid' for the Papers . . . proved to be an invaluable work of reference, and Gayle was the greatest possible help—both at the research stage and during the writing."
Wow! I must admit to standing in Vroman's Bookstore in Pasadena over the years and scanning acknowledgment sections of various books to see if The Huntington and my name were listed. But Artemis's kind words far surpassed all the thank-yous I'd discovered in the past.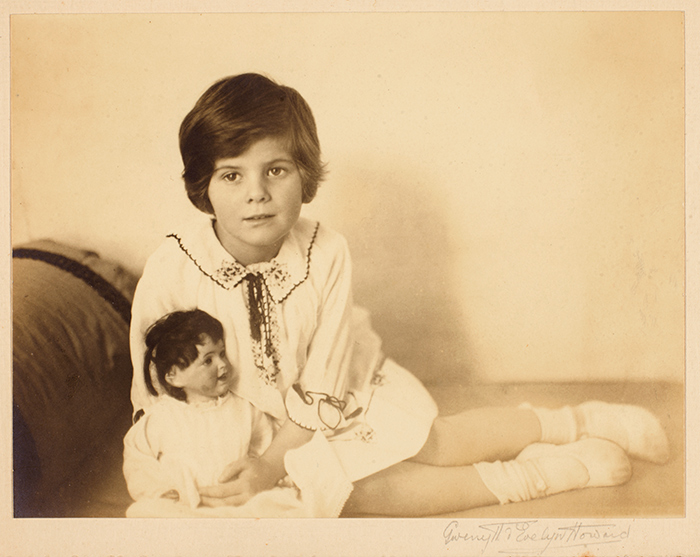 Elizabeth Jane Howard (1923–2014) as a child, ca. 1927. The Huntington Library, Art Collections, and Botanical Gardens.
My job is to catalog manuscripts that come into the Library. This involves sorting through massive amounts of material, placing it in folders and boxes, and describing the contents of the papers in a detailed finding aid. Most of the time my efforts at making order out of chaos are hidden away in the depths of the Library, seen by few researchers and staff. But, every once in a while, my work has an immediate and vital impact, as it did when British biographer Artemis Cooper came here to do research.
Cooper is renowned for her biographies of British cooking legend Elizabeth David and travel writer Patrick Leigh Fermor. In 2013, she was asked to write the authorized biography of another celebrated British personality, Elizabeth Jane Howard (1923–2014). Artemis, as I came to know her, first contacted me in 2013 to inquire about the Elizabeth Jane Howard Papers, which arrived here in several batches starting in 1995. In March 2014, Artemis traveled from her home in England to San Marino to start her research.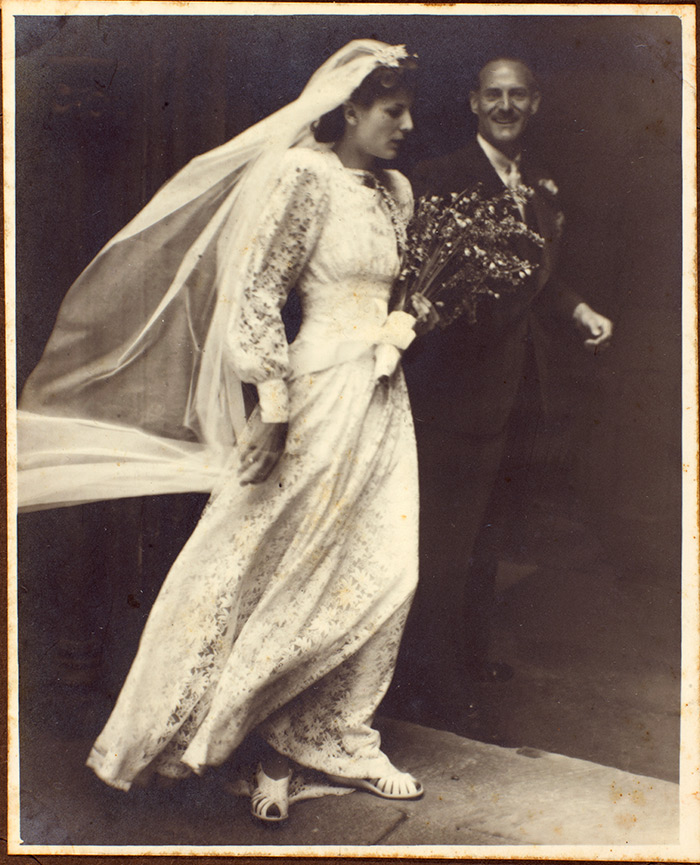 Elizabeth Jane Howard and her father at Christ Church in Paddington, London, on the day she married her first husband, Peter Scott, April 28, 1942. A note that accompanies the photo in The Huntington's archives reads: "Lace dress by Christabel Ampthill—lace not rationed . . . dress later dyed black." The Huntington Library, Art Collections, and Botanical Gardens.
Howard was a British writer who died in 2014; she is not that well known in the U.S. but she was widely published in England as a novelist, journalist, and reviewer. In 2000, Queen Elizabeth II awarded her Commander of the Most Excellent Order of the British Empire, a distinction granted for prominent national achievements. When she was younger, Howard had worked as a model and actress and was married three times, most famously to the writer Sir Kingsley Amis from 1965 to 1983.
The Huntington Library began collecting the papers of modern literary authors in the 1970s with the acquisition of the Wallace Stevens Papers, followed by the Kingsley Amis Papers in the 1980s. It was through this acquisition that Howard came to know The Huntington, and the Library began acquiring her papers in 1995 and continued to do so until 2014, shortly after her death.
Elizabeth Jane Howard with her third husband, the novelist Kingsley Amis, on the Greek island of Rhodes, 1966. The Huntington Library, Art Collections, and Botanical Gardens.
In Howard's papers, I found a trove of drafts of almost all of her novels and other writings. I sorted through decades of correspondence and hundreds of photographs; altogether I cataloged 6,907 items in 169 boxes.
Howard's novels include the Cazalet Chronicle, which was dramatized on "Masterpiece Theater," and Falling, also made into a television movie. Her correspondence involved such noted individuals as Kingsley Amis, Hilary Mantel, Cecil Day-Lewis and his son Daniel Day-Lewis, Iris Murdoch, and Julian Barnes.
Over the next two years, I helped Artemis with her research by providing dates of material, confirming quotes, and suggesting items that might be useful. At one point, I shared with her a manuscript titled "A Chronicle: writing exercise for therapy." Artemis told me later that it had provided valuable insights into Howard's life. This manuscript "is turning out to be pure gold—lots of little nuggets to tuck into earlier chapters," she wrote. "Thank you so much for sending it."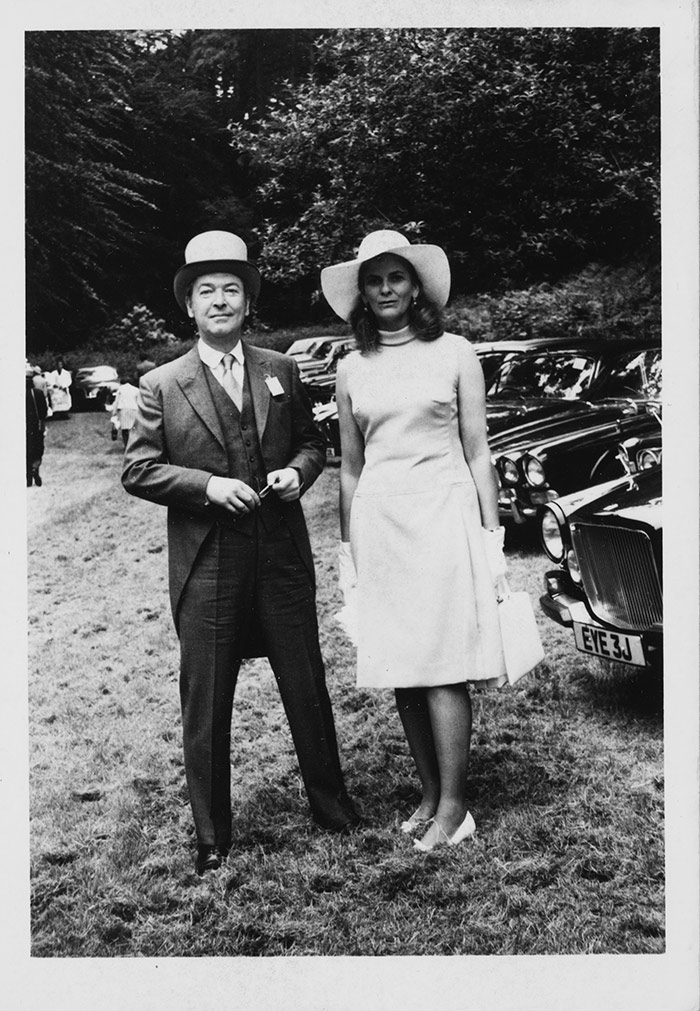 Elizabeth Jane Howard and Kingsley Amis at Ascot, ca. 1968. The Huntington Library, Art Collections, and Botanical Gardens.
A year or so later, I was privileged to read an early draft of the biography. I thought it an insightful portrait of a complicated woman and found it so satisfying to see how the information contained within the hundreds of boxes I had cataloged helped to create this nuanced portrait. The biography was published to glowing reviews in the autumn of 2016.
After the biography was published, I asked Artemis about her next book project. I wanted her to have another reason to come to the Library to do research, so I suggested for her consideration a few literary authors whose papers also reside at The Huntington.
Artemis and I have developed a great working relationship and friendship. These bonds have made my job as a cataloger both fun and rewarding. So, thank you, Artemis, for writing a sensational biography. And thank you, Elizabeth Jane Howard, for living an amazing life that made for such rich storytelling.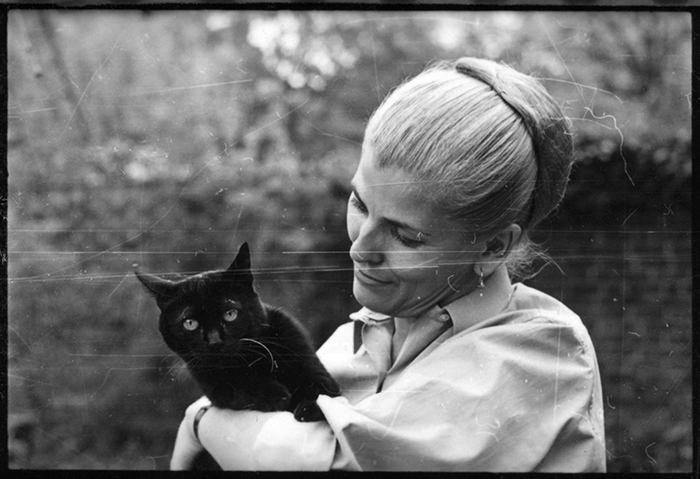 Elizabeth Jane Howard with black cat, ca. 1965. The Huntington Library, Art Collections, and Botanical Gardens.
Gayle Richardson is a catalog librarian and archivist at The Huntington.