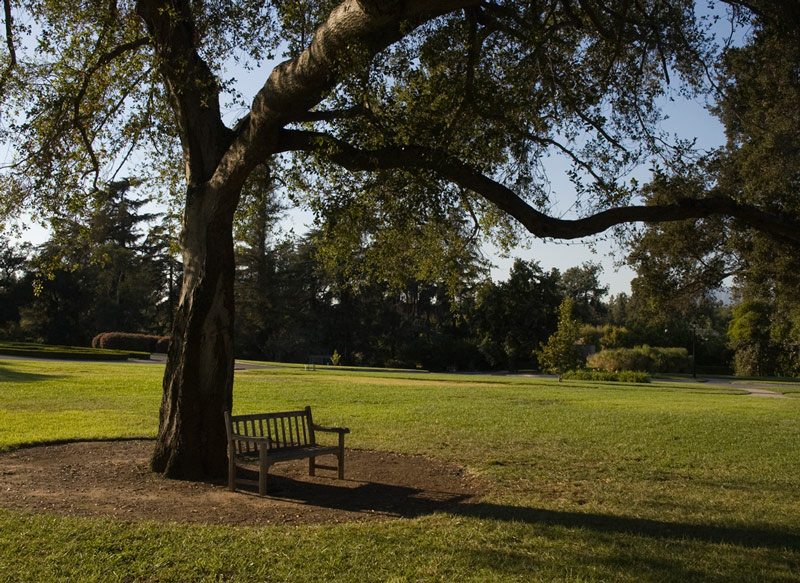 Stately trees that grace the Southern California landscape, such as the coast live Oak (
Quercus agrifolia
, pictured above), sycamore, and liquidambar, are under threat by newly arriving plant pests and diseases.
In times past, nature delivered challenges in an orderly manner. Every few years we'd hear about a remarkable new pest or disease that threatened whole populations of plants throughout Southern California. Remember the Eugenia psyllid in 1988 that left entire hedgerows with pocked and distorted leaves? Or the Giant Whitefly that appeared in 1992, leaving begonias and hibiscuses covered in white webs? Those insects are still around and sometimes flare up as a problem. But the havoc they wreak today is nothing like before.
That's because an ongoing war against pest and disease has been waged by agricultural inspectors and researchers who respond quickly to every outbreak, controlling and countering the spread through a range of strategies. Their success in reducing destruction is not a result of chemicals and spraying, as one might have predicted decades ago. In many cases, the magic bullet was biological control that came from hard work—from thousands of research hours dedicated to locating, studying, and mass-producing natural enemies, such as miniscule wasps that feast on the pest du jour. Four years after the Eugenia psyllid appeared, its natural enemy (a wasp) was found, tested, bred, and released. Today, the Giant Whitefly has met its match in growing populations of introduced and native natural enemies, such as lacewings, beetles, and wasps.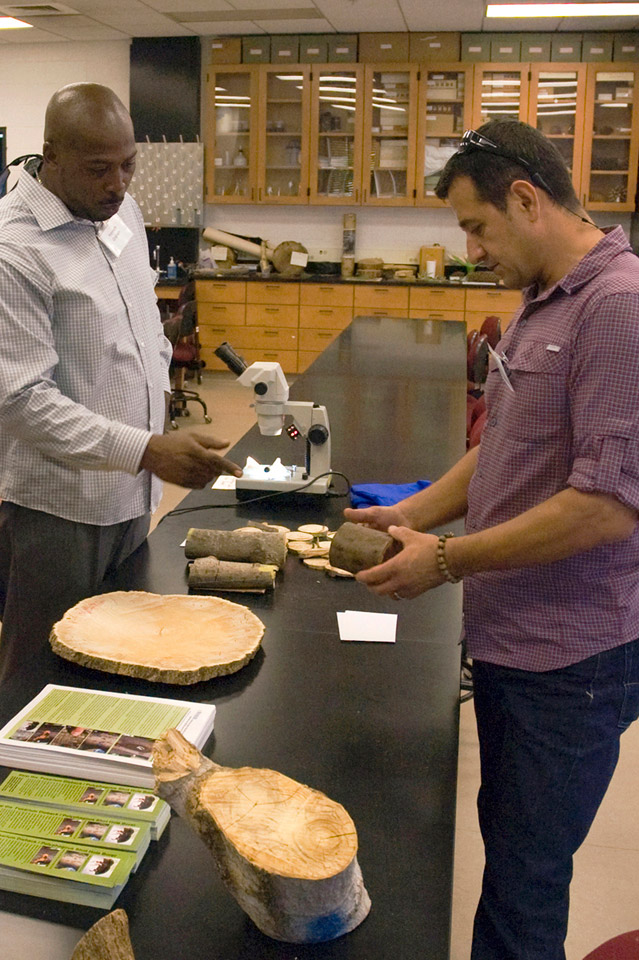 Akif Eskalen, a plant pathologist at the University of California, Riverside (right), and Kenneth Graham, forestry superintendent with the City of Pasadena, discussed a cross-section of a pest-damaged tree limb in an August symposium at The Huntington.
But the rate at which serious new pests and diseases are arriving has moved into overdrive. And the target plants most impacted are not casual accent plants, but overwhelmingly trees and woody shrubs—plants that form the primary structure of our gardens, parks, and waysides: oaks, sweetgums (liquidambar), sycamores, maples, some kinds of camellias—these and many others are falling victim. For the past two years the San Gabriel Valley (including The Huntington) has been ground zero for pest damage.
But our area has also been ground zero for research response; and, because many of the affected trees are represented in The Huntington's collections, the Botanical Gardens are proving to be an important site for scientific research. For example, Tim Thibault, The Huntington's curator of woody plants, collaborated with scientists from the University of California, Riverside, to coauthor a paper on the Ambrosia Beetle published in the July 2013 issue of the journal Plant Disease. And in August, experts in the fields of arboriculture, entomology, plant pathology, and urban forestry met here for a symposium aimed at sharing the latest science and cultivating collaborations to address the growing threat.
So, what are these new pests and diseases? Here is a partial list of the major players and some of the plants in harm's way:
Pink rot, a bacterial disease that destroys palms of all kinds; and Sudden Oak Death, a destructive disease of oaks being spread through movement of nursery materials, greenwaste, soil, and mulch.
Citrus Greening Disease, spread by a small insect known as the Asian citrus Psyllid and deadly for all citrus; Laurel Wilt, a fungal disease that will likely come to California through movement of the Redbay ambrosia beetle and that is deadly to laurels, avocados, and native bay laurels; Xylella, a group of bacteria in which different strains are deadly for specific groups of plants. All types of Xylella are spread by large insects called Glassy-Winged Sharpshooters, and plant groups seriously impacted are oleander, olive, grape, sweetgum, mulberry, purple-leaf plum, and other Prunus species.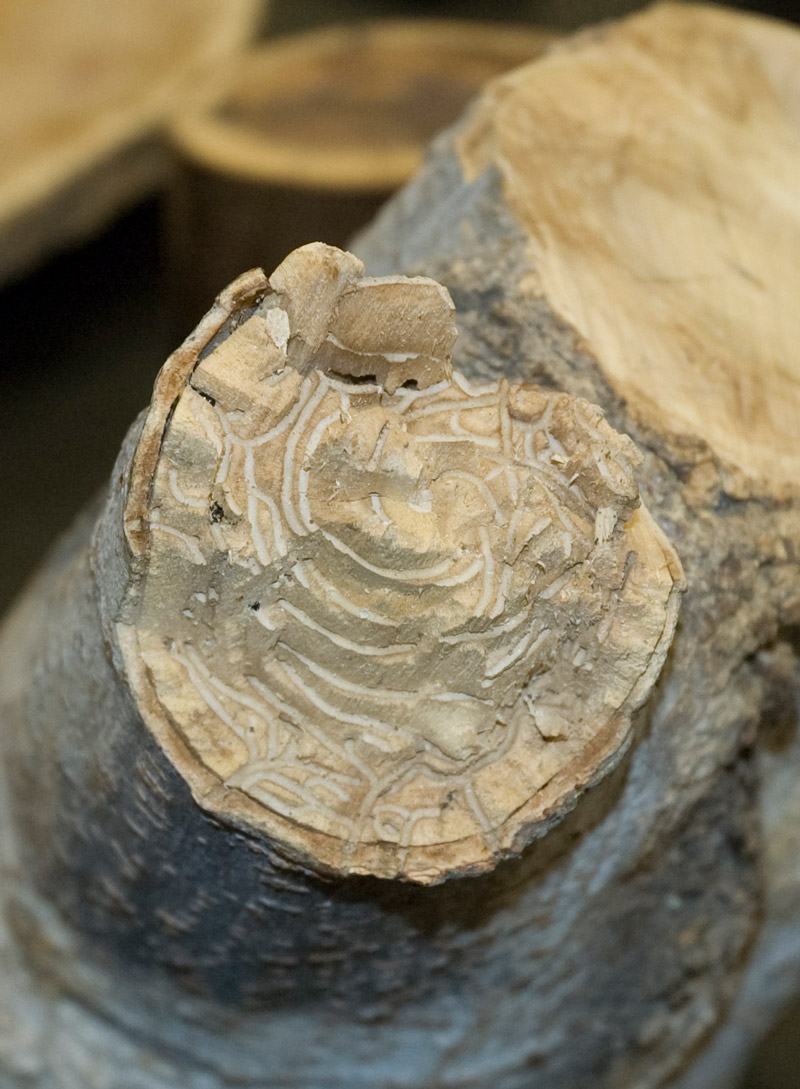 Cross-section of a branch showing the extensive galleries (the pale, snaking pathways) created by the Polyphagous Shot-Hole Borer.
Insects that cause serious damage through their own boring and feeding activity, including Red Palm Weevil, which attacks palms; Goldspotted Oak Borer, destroying extensive stands of mature red oaks and spreading to native woodlands through transfer of firewood; and Ips Beetle, an insect that becomes highly destructive to pines and spruces during periods of drought such as we are experiencing.
Some insects threaten plants with "double jeopardy," because they can do damage in their own right as well as carry diseases that are equally destructive. These include: Polyphagous Shot-Hole Borer, a newly recognized species of ambrosia beetle. The trees most seriously affected are maples, sycamores, camellias, coast live oaks, English oaks, valley oaks, and willows.
Things are grim, but believe it or not, you can help stem this tide. In almost every instance, human activity has contributed to the spread of these pests and diseases. It can happen through such innocent actions as transporting firewood cut from a dead tree at home to a vacation cabin in the mountains, or bringing grafting tissue from an infected region into a backyard orchard.
Being more proactive means gardeners need to stay informed. Helpful resources are just an online search away. For information on the Polyphagous Shot-Hole Borer, check out the following links: Center for Invasive Species Research; LA County Agricultural Commission; and University of California Integrated Pest Management Program.
Jim Folsom is the Telleen/Jorgensen Director of the Botanical Gardens at The Huntington.