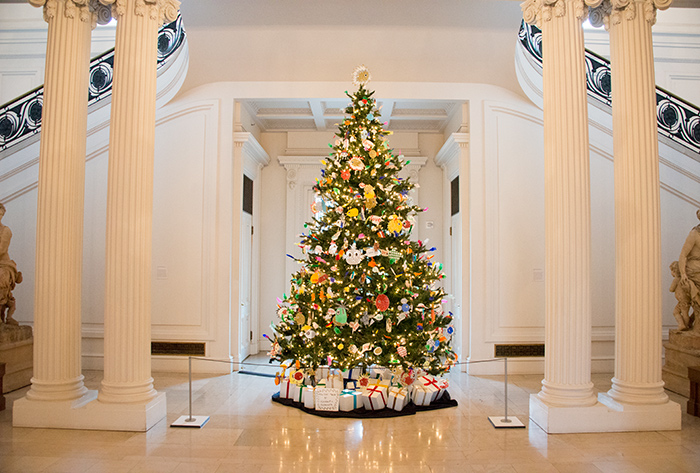 For the second year in a row, The Huntington has brought in an outside designer to make its holiday tree come alive. This year, it's artist Konstantin Kakanias.
The Huntington Art Gallery has a cool holiday tree again. Last year, a cacophony of colorful piñatas covered the noble fir, a concept developed by designer David Netto. This year, artist Konstantin Kakanias conceived of a tree adorned with whimsical birds whose cartoon speech bubbles silently declared "love," "freedom,"  "harmony," and "I adore you."
But they were silent only in the concept stage. Then serendipity took over the creative process.
"We were here late one night, trying to finish the tree, and we were getting a little punchy," admitted Catherine Hess, chief curator of European art. "And Konstantin said something like, wouldn't it be great if you could hear little birds twittering when you were near it?"
Just then, from behind a ladder, came a magical sound. "It was perfect! Suddenly, there was this joyous, high, clear birdsong surrounding us!"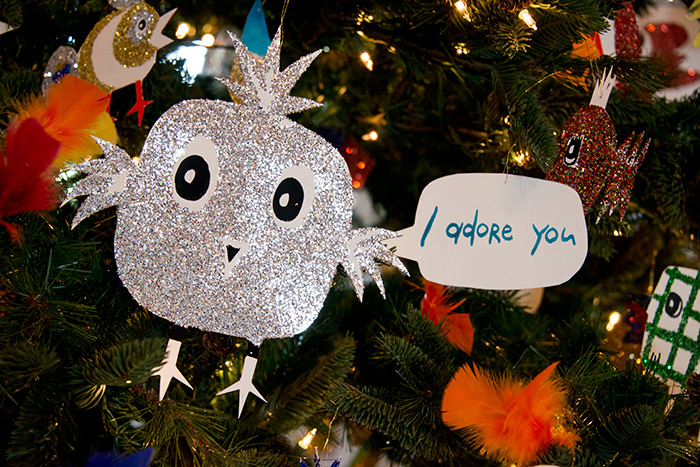 A glittery bird tweets to passersby.
Turns out the sound was a unique and astonishingly lifelike bird call that security officer Rachel Yates is able to make. Hess quickly rustled up the staff necessary to record and amplify the sound, and . . . voila! The annual designer tree was complete.
The tree's creator, Konstantin Kakanias, is a painter and multimedia artist who lives in Los Angeles. His work is often whimsical, as with the tree. He contributes drawings to the New York Times and has worked for Vanity Fair and Vogue, as well as for Yves Saint Laurent and Tiffany. But he's not too haute couture to work with construction paper and glitter. And he got some help. To cut and decorate the 200 little birds on the tree, Konstantin enlisted students from Art Division, a nonprofit based in the Rampart area of L.A. that's dedicated to training and supporting underserved Los Angeles youth studying visual arts.
Kevin Salatino, director of the art collections, praises their work. "We wanted to instill the Huntington mansion—which can sometimes seem a very serious place—with a little bit of whimsy and good cheer for the holidays. I think Konstantin and his talented team have brilliantly accomplished exactly that."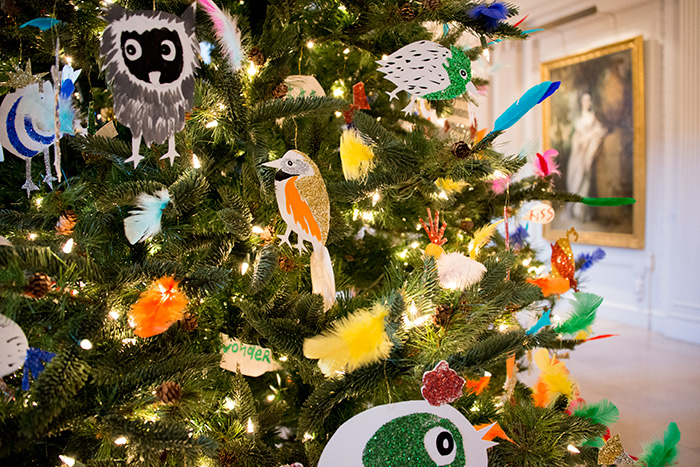 Whimsical birds bring some cheer to the Huntington Art Gallery.
To view a couple of animated GIFs of the holiday tree, head to our Tumblr.
Thea M. Page is the director of marketing communications at The Huntington.