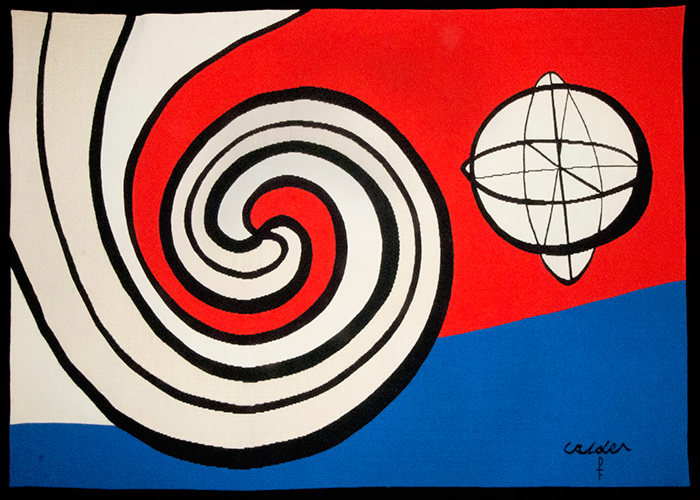 Alexander Calder,
Sphere and Spiral
, 1975, wool, 41 x 59 in. Gift of the Berman Bloch Family. Copyright © 2015 Calder Foundation, New York / Artists Rights Society (ARS), New York. The Huntington Library, Art Collections, and Botanical Gardens.
The year was 1976, and the country was 200 years young. The gritty film Rocky filled movie theaters and a new TV show, "The Bionic Woman," flashed across TV screens. It was a time happily poised between the end of the Vietnam War and the beginning of long gas station lines. "Let's have a party!" the Bicentennial Commission declared.
So, celebrate, we did, with tens of thousands of commemorative events—ceremonies, speeches, tall ship parades, covered-wagon trains, and American Freedom Trains loaded with historical artifacts traversing the country. America's living rooms were hijacked by "Bicentennial Minute" TV spots, and just about everyone got into the act with a barrage of tacky souvenirs and commercial tie-ins. Red, white, and blue bottle of 7-Up, anyone?
In the midst of all this national merry-making, what was an artist already famous for colorful and playfully kinetic sculptures to do? Alexander Calder decided that a series of flag-shaped tapestries was just the ticket.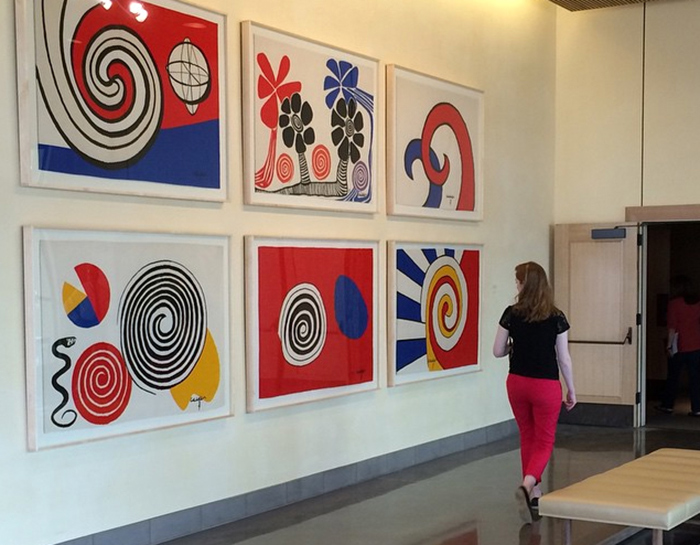 Alexander Calder,
Bicentennial Tapestries
, 1975, wool, each 41 x 59 in., on display in Rothenberg Hall. Gift of the Berman Bloch family. Photo by Lisa Blackburn. The Huntington Library, Art Collections, and Botanical Gardens.
A set of his limited edition series Bicentennial Tapestries was a recent gift to The Huntington and hangs in Rothenberg Hall, with titles such as Blue Spot, Sphere and Spiral, Palm Trees, and Serpent, Pear and Cheese. Each of these firecracker combinations of bold red, white, and blue (and black and yellow) shapes practically leap out at you, with more American enthusiasm than Rocky Balboa training for his big fight. And tapestries aren't as much of a stretch for a sculptor as you might think.
"While closely related to Calder's two-dimensional paintings, prints, and drawings, these tapestries are, in a way, quite sculptural," said Jessica Todd Smith, chief curator of American art, during a recent visit to the installation. Look closely and you see rugged plateaus of fuzzy blue towering over tight, neat rows of uniform white stitches. "Their subtle topography gives a feeling of depth and dimension," she said.
Maybe Calder was feeling an extra shot of exuberance in the mid-1970s, infused with a Great American Birthday spirit. Certainly others in the art world were.
Detail of
Blue Spot
. Variations in the texture and color of the materials used by the weavers at Pinton Frères in Aubusson, France, give the lively tapestries three dimensions. Photo by Thea M. Page. The Huntington Library, Art Collections, and Botanical Gardens.
"This was a time when scholars and collectors began to consider American art more seriously, and the field began to grow," Smith said. The Philadelphia Art Museum, among others, started creating American art divisions, distinct from other collecting areas. The Virginia Steele Scott Foundation, which would later form the basis of The Huntington's American art collection, began purchasing American art around that time.
Isn't it wonderful to know that the great Bicentennial bacchanal made Calder's bold, dynamic Tapestries possible and ushered in important advances in American art collecting? It's enough to make you want to celebrate . . . with an ice-cold Tab and a few "Charlie's Angels" reruns.
The Bicentennial Tapestries are currently in conservation and will be reinstalled soon.
Thea M. Page is the director of marketing communications at The Huntington.